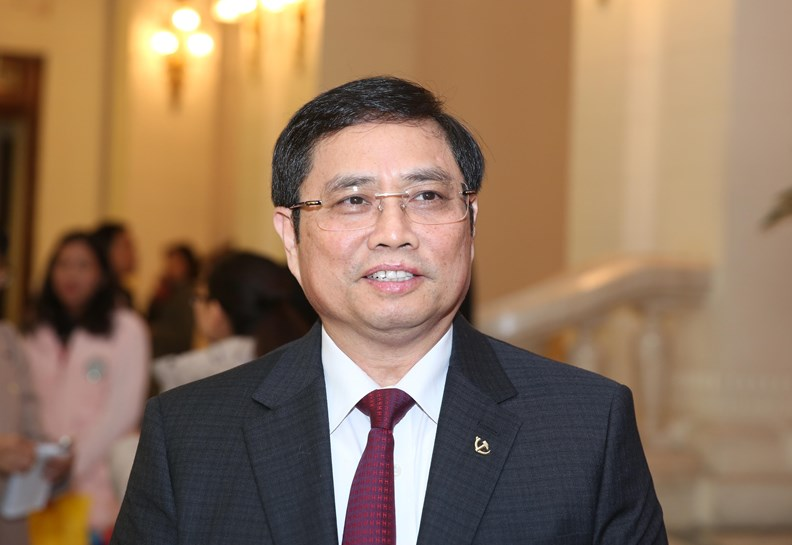 Prime Minister Pham Minh Chinh. Photo: VGP
His attendance is made at the invitation of Tsuyoshi Hasebe, president and chief executive officer of Nikkei Inc that will organise the function.
The Future of Asia is an international gathering where political, economic and academic leaders from the Asia-Pacific region offer their opinions frankly and freely on regional issues and the role of Asia in the world.
Held by Nikkei every year since 1995 (it has been canceled due to the new coronavirus pandemic last year), it is considered one of the most important global conferences in Asia.
This year's conference, titled "Shaping the post-COVID era: Asia's role in the global recovery" brings together leaders in Asia including former Malaysian Prime Minister Mahathir bin Mohamad, Thai Prime Minister Heng Swee Keat and Indian External Affairs Minister Subramanyam Jaishankar, according to Viet Nam News.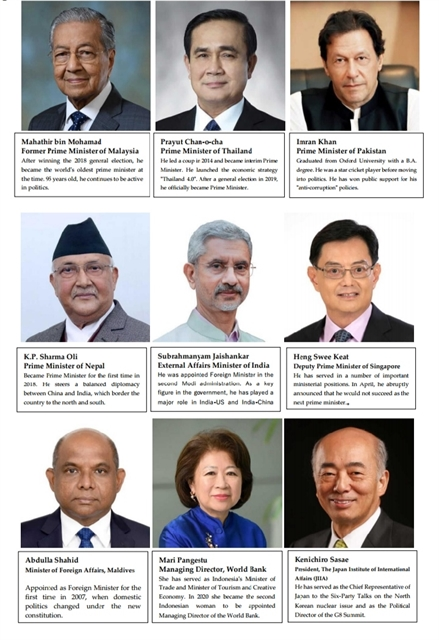 Speakers will join the 26th International Conference on The Future of Asia this year. — Photo Courtesy of Nikkei Inc
During the conference, discussions will focus on how Asia can enter a new era during this time of uncertainty when the coronavirus outbreak is changing the shape of Asia.
Amid anxiety over the spread of the virus, populism and authoritarianism are rising. Some people worry that democracy is receding.
Some have asked if Asian leaders can pave the way for the post-Covid era while preserving the principles of peace, stability and diversity.
Besides political leaders' speeches, experts are also invited to talk about issues including the topic on Asia and the new US administration, international co-operation to fight the pandemic, and innovation in the COVID-19 era.
The 25th conference opened in Tokyo on May 30, 2019 with the theme of "Seeking a new global order - Overcoming the chaos."
Deputy Prime Minister Pham Binh Minh attended and delivered a speech on the first day of the conference.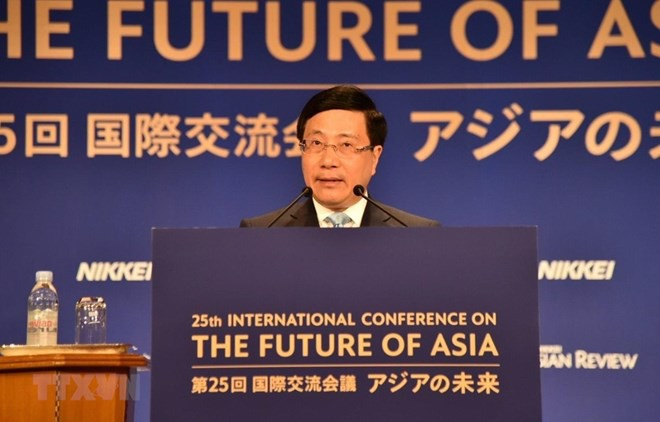 Deputy Prime Minister Pham Binh Minh. Photo: VOV
In his speech, Minh pointed out three standards for a new sustainable and effective world order which include strengthening inclusive multi-lateralism, enhancing trust and cooperation, and building a global governance system capable of addressing major challenges of the 21st century while upholding international law with the UN being the central role and ensuring the principle of fairness and equality, VOV reported.
Minh said Vietnam upholds the compliance of international law, and prevention and peaceful solutions to disputes, supports multi-lateralism, promotes peace and stability for the sake of interests and prosperity of countries in the region and around the world.
Vietnam pursues a foreign policy of independence, self-reliance, cooperation and development, multi-lateralization and diversification of relations, strengthens economic integration and economic reforms, improves the business environment, focus on education and human resource development.
High on the agenda of the conference is the US-China trade war and its impact on Asia./.
Rosy Huong