New Prime Minister Vows To Continue Reform Process In First Policy Speech
Prime Minister Pham Minh Chinh on Monday vowed to continue accelerating the reform process while delivering his first speech after his swearing-in ceremony.
(Video: VGP)
Chinh expressed thanks to the National Assembly for electing him Prime Minister of the Socialist Republic of Viet Nam, saying that this is an honor and also a heavy responsibility entrusted to him by the Party, State and people.
He also expressed sincere respect for and deep gratitude to great President Ho Chi Minh and former leaders, veteran revolutionaries, heroes and martyrs, Vietnamese heroic mothers, wounded and sick soldiers for their immense contributions to the cause of construction and protection of the Fatherland, as reported by VGP.
Chinh said he is deeply aware of the significant role and position of the Government and its operations in building and developing the nation and in safeguarding national independence, sovereignty, unity, and territorial integrity for the goal of wealthy people and a strong, democratic, fair, and civilized nation.
Regarding future orientations, PM Chinh stressed the need to build an action plan to translate the Resolution adopted at the 13th National Party Congress into reality, with a focus on the following tasks:
(i) Continue improving the socialist-oriented market economy institutions, mechanisms, and policies; innovate growth model and restructure the economy.
Decentralization of power will be further strengthened while responsibility of organizations and individuals will be clarified to promote autonomy and creativity of all levels and sectors.
(ii) Continue stepping up the building of a law-governed State, uphold the rule-of-law spirit, strengthen discipline in the State apparatus and the whole society; actively prevent and consistently and perseveringly fight corruption and wastefulness through adoption of strong mechanisms and solutions; promulgate mechanisms to encourage and protect those who dare to think, dare to do and dare to take responsibility for common benefits.
(iii) Mobilize and effectively use all resources in favor of national development; foster strategic infrastructure development; attach importance to national digital transformation and digital economy based on science and technology development; create more favorable environment and conditions conducive to businesses; stay active and introduce effective solutions to overcome negative impacts of national calamities, climate change, environmental pollution, and epidemics, especially the COVID-19 pandemic.
(iv) Resolutely and perseveringly safeguard national independence, sovereignty, territorial integrity; ensure national defense, security, social order and safety; continue pursuing consistently the foreign policy of independence, self-reliance, multi-lateralization and diversification of external relations for peace, cooperation and development as well as active and proactive international integration, making Viet Nam a responsible and trusted member of the international community.
(v) Build mechanisms and policies to promote the cultural and human values, serving as driving force for socio-economic development; take measures to raise the quality of healthcare, education and training; lay emphasis on high-quality workforce development, and attract and use talents.
Develop inclusive social welfare system, with a focus on remote, border, island regions, ethnic-inhabited areas, and vulnerable groups.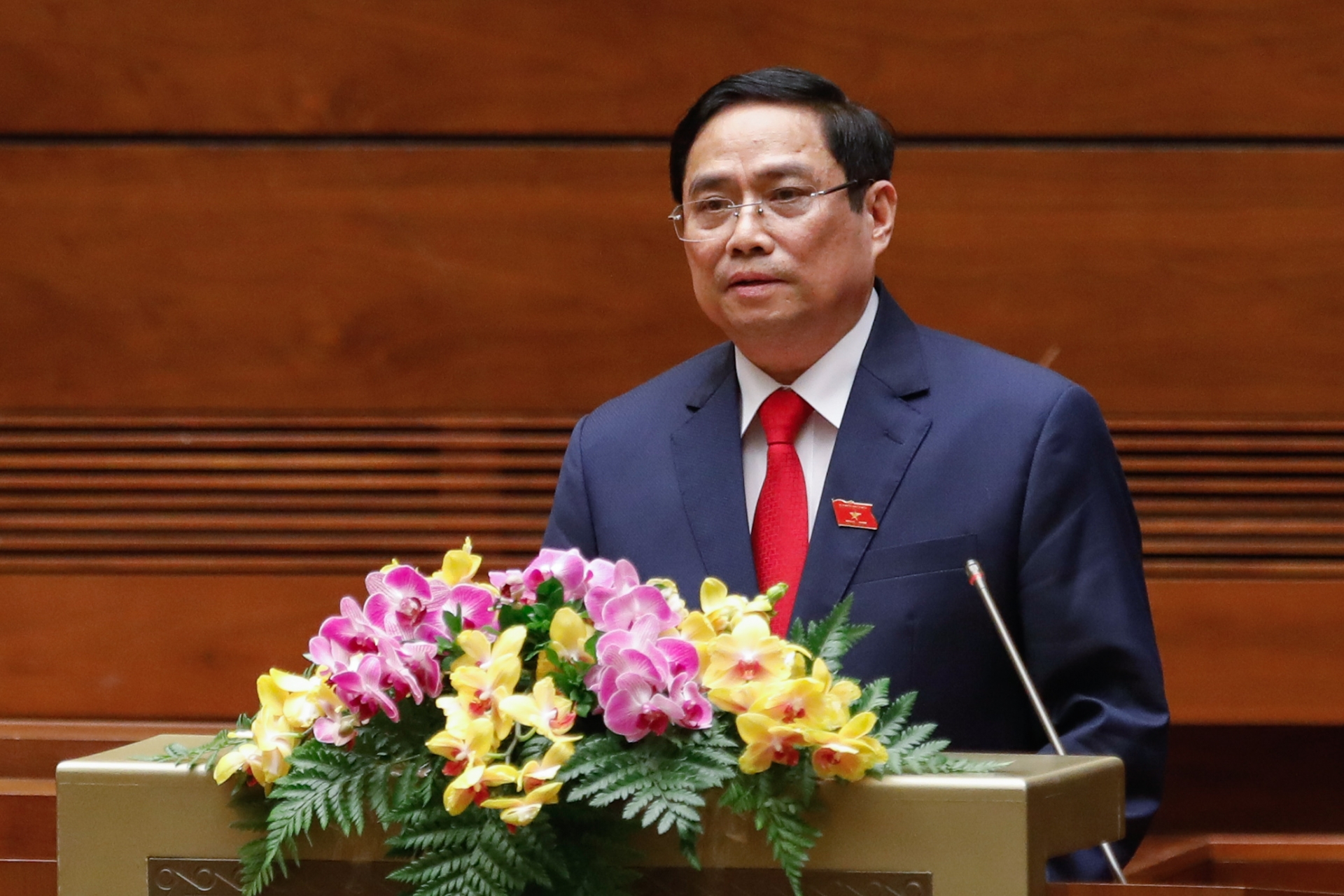 Prime Minister Pham Minh Chinh delivers his first policy speech after swearing-in ceremony at the 11th working session of the National Assembly, Ha Noi, April, 2021. Photo: VGP
Biography of Prime Minister Pham Minh Chinh
Date of birth: December 10, 1958
Native land: Hoa Loc Commune, Hau Loc District, Thanh Hoa Province
Date of Party admission: December 25, 1986
Education: Civil and industrial construction engineer, Doctor of law, Associate Professor of Security Science
Rewards
- Third-Class Military Exploit Order
+ Two Second-Class Feat Orders
+ Second-Class Labor Order
+ First-Class Glorious Fighter Medal
+ Prime Minister's Certificate of Merit
Positions
- Member of the Party Central Committee: 11th, 12th, and 13th tenures
- Politburo member: 12th, 13th tenures
- Secretary of the 12th Party Central Committee, Chairman of the Party Central Committee's Organization Commission
- Prime Minister of the Socialist Republic of Viet Nam (from April 5, 2021)
- Deputy to the 14th National Assembly; President of the Viet Nam-Japan Friendship Parliamentarians Group.