Police take part to enhance COVID-19 prevention in Hochiminh City
Vietnam Ministry of Public Security informed on 26 March, the Ho Chi Minh City Police's Steering Committee for COVID-19 prevention and control has directed local police units to take preventive measures against the disease amid the complicated COVID-19 situation.
The local police agencies and units strictly followed the directions of the MPS and local authorities on the disease prevention. They paid due attention to ensuring good health for police officers and soldiers, especially those who are involved directly in fighting the disease or working at high-risk places.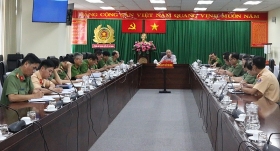 The Ho Chi Minh City Steering Committee for COVID-19 prevention and control holds a meeting on their task performance. (Photo: MoPS)
Local police units also instructed police officers with signs of COVID-19 infection to quarantine themselves at home. The local police hospitals coordinate with functional forces to establish quarantine zones for the Ho Chi Minh city police officers.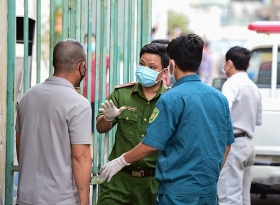 The local police forces ensure security and order in quarantine zones (Photo: MoPS)
Furthermore, the local police units have proactively drawn up plans to prevent the virus from spreading to local detention facilities and ensure good health for all detainees. The Ho Chi Minh city police forces also tightly monitor foreigners and Vietnamese nationals coming from epidemic-hit areas, contributing to early detecting and quarantining COVID-19 suspects in accordance with the Ministry of Health's guidance.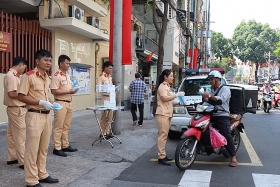 The Ho Chi Minh city police offer free medical facemasks to local people.(Photo: MoPS)
Besides, the local police also inspect local entertainment establishments, restaurants, hotels and commercial malls for violations of the city's ban on their operation. The local police in coordination with relevant agencies detect and strictly handle cases of spreading false information about the COVID-19 situation causing public anxiety and social instability.
bocongan.gov.vn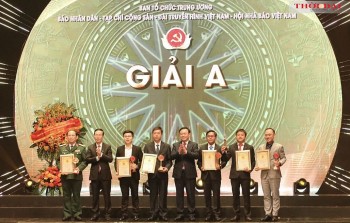 Viet's Home
The 7th National Press Prize on Party Building (named Golden Hammer and Sickle) - 2022 has been bountiful with thousands of entries on a variety of topics, rich in genres, closely following hot topics, outstanding events, key tasks of the political system and the country. Content relating to party building process was clarified and further exploited compared to previous years.