At the Vietnam-Poland High School's libruary where the computers will be set up. Photo: Embassy of the Republic of Poland in Hanoi
Attending the ceremony were among others the Ambassador of the Republic of Poland in Hanoi, Wojciech Gerwel and other Embassy officials, Ngo Thi Mai Huong – Principal of the school, together with the Board of Management of the School and the Parents Association, representatives of the Polish sponsor, Department of Education of Hanoi, Hoang Mai district and the Vietnam - Poland Friendship Association.
Over 10 sets of computers for the library under the scheme of "Small Grants of Polish Aid" and 10 multifunctional screens from the Polish business have been handed over to the school.
This is the second consecutive year that the Embassy and Polish company are implementing a project to support equipment for the school. Last year 20 multi-function educational screens were equipped in 20 classrooms.
Speaking at the handover ceremony, Polish Ambassador to Vietnam Wojciech Gerwel emphasized: "The School is a powerful symbol of the biding friendship between two countries. This symbol is prominent especially during the time of 70th anniversary of establishing diplomatic relations between Poland and Vietnam. As Ambassador of Poland, I am honored that Hanoi has a school named after Polish-Vietnamese Friendship, as it is rare and unique sign of special, traditional and deep relations between two countries."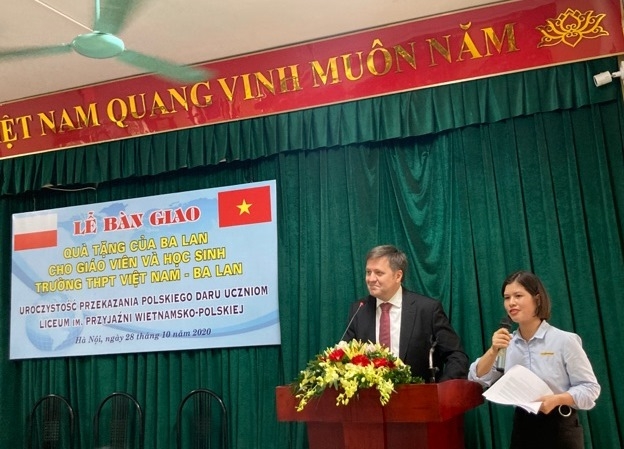 Polish Ambassador Wojciech Gerwel said the school is a vivid symbol of the firm friendship between Vietnam and Poland. Photo: Embassy of the Republic of Poland in Hanoi
Principal of Vietnam-Poland High School Ngo Thi Mai Huong thanked Polish Embassy and Adamed for their generous gifts, saying: "The Polish Government has been generous to the school especially over the two last years. To date, we have received a total of 30 monitors and 10 computer sets - which are very useful for improving the quality of teaching and learning methods. Our school was established 60 years ago. Almost from the start it launched a partnership with a school in Poland and since then, the school has always been named Vietnamese-Polish Friendship School. It is a great honor for the school to hold such name".
Poland was one of the earliest countries to recognise and establish diplomatic relations with Vietnam. The European country supported Vietnam in wartime as well as in the cause of national defence and building.
Between 1960 and 1990, Poland trained over 4,000 Vietnamese students and scientists, and over 3,500 labourers, mostly in the coal and shipbuilding sectors. Many had came back home to build the nation, he said, adding that they have served as a bridge to nurture the friendship and traditional relations between the two countries.
2020 marks the 70th founding anniversary of diplomatic relations between the two countries (February 4, 1950)./.
Hannah Nguyen