Pompeo claims himself as loyal servant of the president
In the final days of Donald Trump's presidency, Secretary of State Mike Pompeo has remained steadfastly loyal, even as others have distanced themselves or resigned in protest.
Secretary of State Mike Pompeo and President Donald Trump share a laugh during a Cabinet meeting at the White House in 2018. (Photo: Getty)
Pompeo's close alignment with Trump
Secretary of State Mike Pompeo has doubled down on his defense of Trump, criticizing those who have broken ranks and ingratiating himself with Trump's followers, who will be vital for his own presidential ambitions. "I think history will remember us very well," Pompeo told a group of House Republicans only days after Trump egged on a mob that stormed the U.S. Capitol on Jan. 6.
Pompeo embraced Trump's skepticism of European allies and international organizations, using a brash tone that echoed Trump's. He ignored an unwritten rule that secretaries of state were supposed to avoid bare-knuckled partisan brawls, never hesitating to take shots at the previous administration or Democrats in Congress, said NBC.
He achieved what few were able to accomplish inside the administration: building a direct line to Trump. His predecessor, Rex Tillerson, along with other Cabinet members and senior officials, ended up clashing with Trump, triggering his wrath, often in tweets. But Pompeo survived without a major public falling-out. As a result, foreign governments believed Pompeo had Trump's ear.
President Trump "is my leader ... I would love to serve for him just as long as I can," Pompeo said on "CBS This Morning" Tuesday.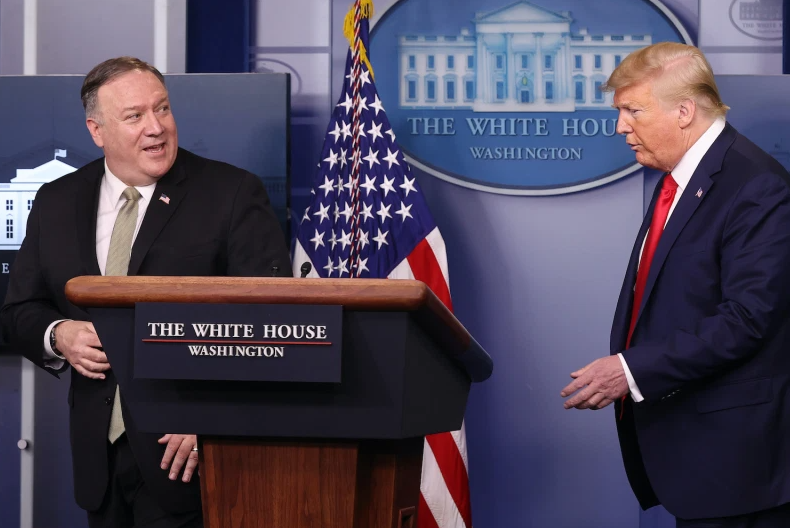 U.S. Secretary of State Mike Pompeo leaves a news conference with President Donald Trump following a coronavirus task force briefing at the White House in Washington on April 8, 2020. (Photo: Getty)
Pompeo's imprint in Trump's term: Sanctions as diplomatic weapon
Sanctions became the favored diplomatic weapon of choice for Pompeo and the Trump administration. But sanctions against Venezuela failed to topple the Maduro regime in Caracas. International sanctions helped push North Korea to the negotiating table, but the talks quickly collapsed. Pyongyang's nuclear and missile arsenal has continued to grow since Trump entered office.
A wave of sanctions against Iran, a major focus for Pompeo, has inflicted serious economic damage, but the regime remains in power, continues to maintain proxies across the Middle East, and is now closer to securing a nuclear weapon. "Under Secretary Pompeo's leadership, the U.S. has forged historic achievements," the State Department said, citing a list of policies, including the recognition of Israel by several Arab governments.
Just 4 days ago, the United States announced sanctions against six Hong Kong or Chinese officials it blamed for implementing a new security law in Hong Kong, following the mass arrests of pro-democracy activists this month. Pompeo also said last week that Washington would explore restrictions against the Hong Kong Economic and Trade Office in the United States, Reuters cited.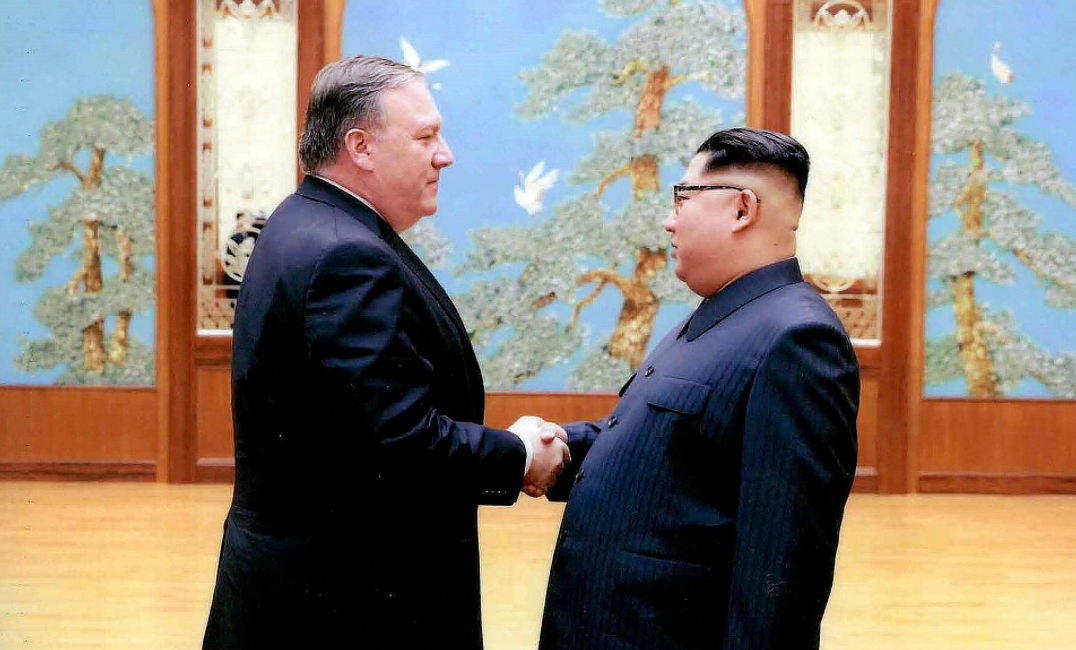 Mike Pompeo shakes hands with North Korean leader Kim Jong Un in Pyongyang, North Korea, in April 2018. (Photo: Getty)
Seek to position himself as the president's successor
As Trump's term comes to a close, most senior figures are keeping low profiles, but not Pompeo. He has issued a flurry of policy decisions and tweets, portraying himself as a history-making secretary of state and a loyal servant of the president.
Earlier this month, US Secretary of State Mike Pompeo accused Iran's leadership of providing "sanctuary to the terror group's senior leaders as they plan attacks against America and our allies." The top diplomat is an Iran hawk and has been pivotal to the Trump administration's campaign to ramp up diplomatic and economic pressure on the Islamic Republic. He provided no evidence to back his allegations during a news conference, said Andalou Agency.
Pompeo's recent moves are "not just designed to make it difficult for Biden diplomatically but also so that he could go to his core constituencies and claim, 'I stood up for you, unlike that other guy,'" said Laura Kennedy, a retired ambassador who was a foreign service officer for 40 years.
Pompeo's acrimonious relationship with the media could play well with Republican voters if he decides to run for the GOP nomination in four years. For the moment, he has refused to talk about what he plans to do after his time at Foggy Bottom comes to an end, but he is encouraging his Twitter followers to stay tuned.