As a farewell, Vietnam Times would like to share an article about him in gratitude to this 'great' friend of Vietnam.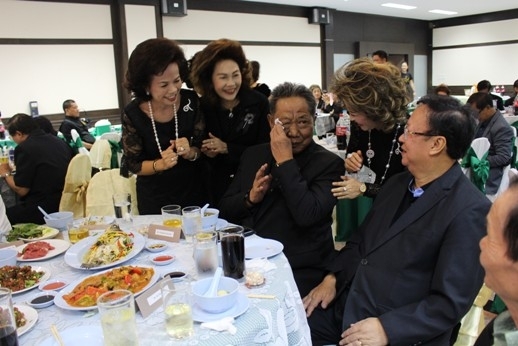 Prachuab Chaiyasan was touched when he heard a song about motherhood during the Vietnam - Thailand friendship festival
To some people, Prachuab Chaiyasan may seems to be a strict and even aloof man. Nonetheless, that is only the initial and superficial impression when you don't take notice of his emotional eyes. And you might either missed out a touching true story dating back to some decades ago. Ask anybody who knows Chaiyasan and they will surely tell you about it, about a Vietnamese woman he called "Mother". She was an inseparable part of his life, the greatest inspiration for him to dedicate his best to Vietnam.
And this is his story:
"In 1943, war broke out in Vietnam, the French colonists ravaged the Central region. Many people including my adopted parents fled to nearby countries seeking for peace. On their way to Thailand, the newly married couple were captured by the French troops. My adopted parents were stuffed into a sewn-up cloth bag and thrown down to the river. Fortunately, at that moment, my adopted dad brought a small knife with him. He used it to open up the bag and they found the way out. Afterwards, the two reached Mucdahan (Thailand).
After reaching Mucdahan inland, they continued their journey to Oamati. My adopted mom was pregnant with her first child. My mom, at the same time, was pregnant with me. I was born at almost the same time with my adopted mom's first child. I, the newborn infant had been crying fiercely due to the lack of staple food, as mom did not have enough breast milk to feed me. Meanwhile, my adopted mother had it in abundance despite her tough life full of hard work (she was processing and selling rice at the market). Even when her baby was full, there was still a lot of leftover milk.
During those years, my dad was the Governor of the Oamati area. Since all immigrants had to present themselves to local authority, he possessed all the records on people's arrival, departure, occupations, etc. When my dad noticed my adopted mum, the idea of asking her to help breastfeed me came to his mind
From that day on, I had the privilege of being nurtured by her breast milk, together with my Vietnamese brother, we shared the milk every day. At that time, my adopted mother had to work in a remote market to raise the family. Being afraid that I might get hungry when she was home away, my Vietnamese mom squeezed the milk prior to the trip to market and left it at home for me. Later, she even took us to her pavilion and fed us there.
My adopted mom's household was in deep poverty, the house was built on soil ground, the roof was made of dried leaves. The wall was made of mud and buffalo dung mixed together, propped up by bamboo frame. Despite that hardship, she never left us in starvation. The milk was always sufficient. She even often carried both of us at one time in her two arms. Whenever I got hungry, I would instantly find the milk on my own. That was how I was nurtured and brought up.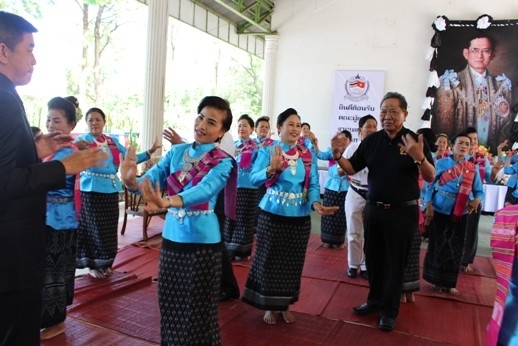 Mr. Prachuab Chaiyasan attended the first Vietnam - Thailand Friendship Festival 2016
Gratitude
In 2016, Prachuab Chaiyasan frequently took part in Viet-Thai friendship related activities. People often saw him paid tribute to Uncle Ho in his memorial site in May village or accompanied Thai carnival troupe to Vietnam for exchange festival. Besides, he always tried to take good care of his Vietnamese friends when they visited his hometown – Udon Thani.
Sometimes, people around him even noticed his tears drop while listening to a Vietnamese song about motherhood. He shared: "I grew up being nurtured by my Vietnamese mother's breastfeeding, therefore I must do something to pay back that kindness. I always remind myself to contribute back to Vietnam."
When being asked about what he has done to foster the bilateral ties between Vietnam and Thailand, he continued to share:
I have no idea of since when I and my adopted mother had become close like real family members. Her son who was born at the same time with me and I had become trusted friends. In later years, his other two siblings were born, in which the youngest is 62 now. Throughout the last 70 years, we have maintained mutual care and connection. When I grew up, I went to Bangkok for my higher education, secured a career and managed to support my adopted family since then. Currently, apart from the youngest one, my adopted parents and other family members have passed away. I keep regarding the youngest daughter of the family as my little sister."
At the first Vietnam-Thailand People's friendship festival, Prachuab Chaiyasan had joined the string-tied ritual which signified the establishment of brotherhood relationship between himself and Mr. Ta Quang Ngoc, Chairman of the Vietnam-Thailand Friendship Association. Chaiyasan stated: "We can work together better as brothers, and moreover, it will facilitate sharing and cooperation. We feel more comfortable like we are born in the same family, as brothers are those who can put heads together discussing common issues. In the past, I was Thailand's Minister of Foreign affairs and Mr. Nguyen Manh Cam was my counterpart then. When I visited Vietnam, I had made a request to become his younger brother. Until now I still treasure this relationship very much. It was no different from the relations I and Ta Quang Ngoc shared nowadays. Our brotherhood makes everything smoother and more effective, it is much easier to get thing done."
Most people know about Chaiyasan as the Chair of Thai-Viet Friendship Association, who grew up by a Vietnamese mom's breastfeeding. People remember about him as the former Minister of Agriculture, Education, Culture and Deputy Prime Minister of Thailand. Not many people know about his contributions which have gone far beyond those positions. He is the person who keeps on cultivating the friendship between Vietnam and Thailand. From my points of view, he is the one who has done three great things to strengthen the Viet-Thai ties. The first one is issuing citizenship for Vietnamese immigrants in Thailand. Many of them came to the country without identity document, without any social status. They had to take on lowest-class work for livelihood, their kids were not able to go to school. They were not under the protection of laws, and did not possess the rights Thai citizens normally have. When Prachuab Chaiyasan became Thailand's Minister of Foreign Affairs, he instantly proposed to the Cabinet to issue citizenship status to these immigrants. Secondly, he and Prime Minister Chachai had jointly announced the policy of turning East Sea from a battlefield to a market. Instead of confrontation, Indochina and Thailand have become business partners. And, there is another thing we cannot forget about Chaiyasan's contribution: The charter of Thailand-Vietnam Friendship Association was credited to him. In addition, he also contributes to the success of marking territorial sea and sea border between the two countries.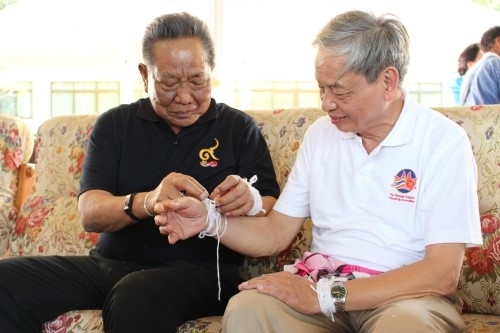 Mr. Prachuab Chaiyasan made a wrist tie with Mr. Ta Quang Ngoc, President of Vietnam - Thailand Friendship Association
When Chaiyasan sent us home, he shed tears again. Our special Thai friend kept talking and singing songs about motherhood. He told us to save a date for our reunion next spring at Red Sea lake - when Thailand's biggest lotus there are in full bloom.
For our part, we look forward to seeing the Viet-Thai friendship blossom more beautifully next year – an eventful year marking various milestones on the journey the two countries have shared.
"We are very saddened to hear of MrPrachuab Chaiyasan's passing away. We would like to express our sincere condolences to you and your family. It was an honor to have known such a great person and we will truly miss him.
Mr. Prachuab Chaiyasan had a special love for Vietnam. He has contributed to strengthen solidarity and relationship between Thailand and Vietnam, especially relations between the two Friendship Associations. All of his activities are expressions of his love for Vietnam. He is no more. But he will be deeply missed by all who knew him. Please accept my deepest condolences for your family's loss. May his soul rest in peace."
Mr. Ta Quang Ngoc, President of Vietnam – Thailand Friendship Association wrote in message of condolences.
Jennifer Tran