Vietnamese Embassy in Australia works on citizen protection
Vietnamese Embassy in Australia stands ready to conduct the necessary citizens protection, to guarantee legitimate rights and interests of Vietnamese citizens in Australia.
Australian Prime Minister Scott Morrison (Source: AFP/VNA)
The Vietnamese Embassy in Australia has provided updated information about the Australian government's adjustment of its policies for foreigners amid the rapid spread of the COVID-19 pandemic.
Right after receiving information about Australian Prime Minister Scott Morrison's April 3 recommendation that international tourists and students who are not financially secure should leave Australia, the embassy actively contacted with local authorised offices to clarify the leader's statement.
Accordingly, in the context of complicated developments of the pandemic, the Australian government encourages foreign backpackers to return home if they can not support themselves.
For nearly 600,000 foreign students, the government encourages them to rely on family support, part-time work where available and their own savings to sustain themselves.
Those who have lived in Australia for more than one year are advised to withdraw up to 10,000 AUD (6,000 USD) of their Australian superannuation this financial year to help them through the crisis.
The Vietnamese embassy has popularised these policies to the Vietnamese students' association in Australia, and coordinated with the overseas Vietnamese association in the country to encourage Vietnamese people there to help them feel secure.
On April 1, Vietnamese Ambassador Ngo Huong Nam and ambassadors of other ASEAN members states sent a letter expressing wish that Australia would offer appropriate physical and material support to international students from ASEAN nations, amid the complicated developments of the COVID-19 pandemic.
The letter was sent to the Minister for Education, the Minister for Foreign Affairs, the Australia-ASEAN Joint Cooperation Committee, and the ministers for education, skills and employment of six states and two territories of Australia.
Opening the letter, the ambassadors expressed their solidarity with Australia and believed that working together, all will weather the existing difficulties.
They hoped that the Australian government, ministries and agencies concerned will consider several flexible regulations to not only meet important demands but also offer suitable measures to international students coming from the ASEAN countries after the crisis.
To implement the direction of Ministry of Foreign Affairs, Vietnamese Embassy in Australia shall continue to monitor the situation, regularly update the modification of Australian government's towards foreigners and health condition of Vietnamese citizens in Australia. The Embassy also stands ready to conduct the necessary citizens protection, to guarantee legitimate rights and interests of Vietnamese citizens in Australia.
As at 3:00pm on April 5, there have been 5,687 confirmed cases of COVID-19 in Australia. There have been 139 new cases since 3:00pm yesterday.
Of the 5,687 confirmed cases in Australia, 34 have died from COVID-19. More than 297,000 tests have been conducted across Australia.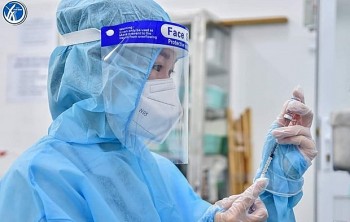 National
Vietnam News Today (December 9): Vietnam confirms 14,595 new Covid-19 cases; Vietnam, New Zealand sign action program to promote strategic partnership; HCM City to inject third Covid-19 vaccine jab from December 10; Hanoi may ban motorbikes in inner areas from 2025.