President Biden's administration will use "all available tools" against China's unfair trade practices
The Office of the U.S. Trade Representative said on Monday that President Joe Biden's administration will use all "available tools" to fight China's unfair trade practices and address Beijing's forced labor program targeting Uyghurs and other ethnic and religious minorities.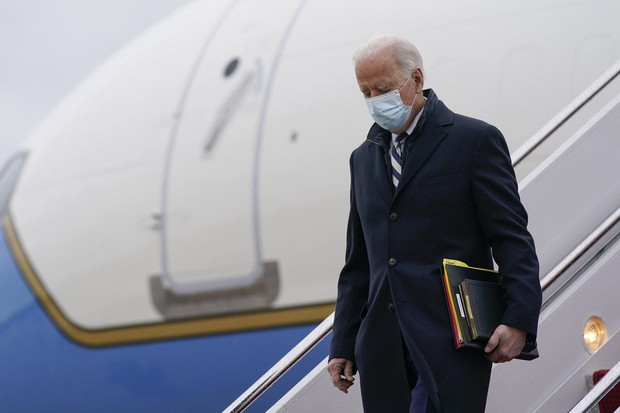 U.S. President Joe Biden steps off Air Force One at Andrews Air Force Base in Maryland, on March 1, 2021. (AP Photo/Patrick Semansky)
The document released on Monday did not specify the tools that the administration will use, but it formalized statements made by Biden and members of his team in the last few months on how they will handle China and other trade priorities, according to CNBC.
"Addressing the China challenge will require a comprehensive strategy and more systematic approach than the piecemeal approach of the recent past," read the report.
"The Biden Administration is conducting a comprehensive review of U.S. trade policy toward China as part of its development of its overall China strategy," it added.
While noting that a review of U.S. trade policy toward China is under way, the report said the one-month-old administration is "committed to using all available tools to take on the range of China's unfair trade practices" including intellectual property theft, forced technology transfer and industrial subsidies.
The report also called it "a top priority" to address the widespread human rights abuses of the Chinese government's forced labor program against the ethnic and religious minority groups in the far-western Xinjiang autonomous region and elsewhere in the country.
The report outlined a few "detrimental actions" from China, such as barriers to restrict market access, "government-sanctioned forced labor programs" as well as unfair subsidies.
"They also include coercive technology transfers, illicit acquisition and infringement of American intellectual property, censorship and other restrictions on the internet and digital economy, and a failure to provide treatment to American firms in numerous sectors comparable to the treatment Chinese firms receive in those sectors in the United States," the report said.
Collaboration with allies
Biden's administration will cooperate with partners and allies to make sure that China lives up to its trade obligations, the report said.
The administration will also make it "a top priority" to address China's alleged forced labor programs that target Uighur Muslims and other minority groups, said the report.
The release of the report comes as Katherine Tai, Biden's nominee for U.S. Trade Representative, awaits Senate confirmation.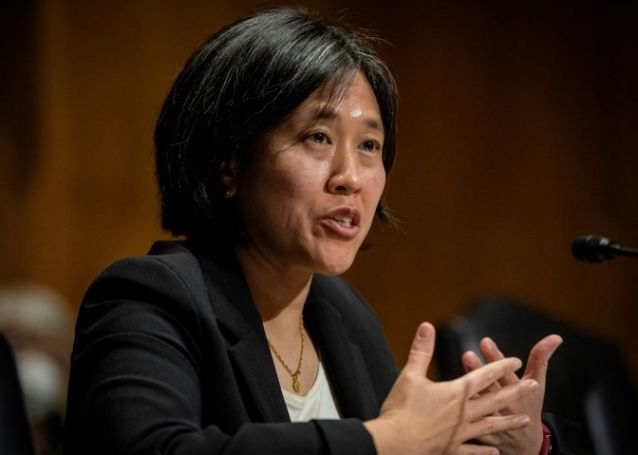 Katherine Tai, nominee to be the next US Trade Representative, will be tasked with realizing President Joe Biden's trade priorities such as dealing with China (Photo: Yahoo! News)
In written answers to senators' questions following her confirmation hearing last week, Ms Tai said she would seek to use the enforcement consultation process in former President Donald Trump's "Phase 1" trade deal with China to ensure the protection of American intellectual property, Reuters reported.
"I am open to exploring a wide range of options to address our long-standing problems with China's unfair trade practices, including bilateral talks," Ms Tai wrote.
"However, I will not hesitate to act if those talks prove ineffective," she added, without naming specific consequences.
She said she would work to address market access restrictions that prevent US companies from competing in the Chinese market, including for cloud computing.
She told Republican Senator John Cornyn that Chinese government censorship policies also disadvantage US businesses, and that if confirmed, she would work with him "to develop trade policies that treat censorship as a trade barrier."
Ms Tai's written answers to Senate Finance Committee members'questions were seen by Reuters as the US Trade Representative's Office released a report on the Biden administration's trade agenda that included consideration of a border adjustment tax on goods from countries with high carbon pollution and a vow to combat China's use of forced labor in its Xinjiang region.
Ms Tai also said she would work with the Department of Energy and the Department of Agriculture to promote market access for American energy exports, including liquefied natural gas and ethanol.
The US Trade Representative's office pledged on Monday that the Biden administration will use "all available tools" to take on abusive trade practices by China.
On the high-profile trade spat between Washington and Beijing, the report acknowledged the damage done by "China's coercive and unfair trade practices," which "undermine our national interests."
"The Biden administration is committed to using all available tools to take on the range of China's unfair trade practices that continue to harm US workers and businesses," the report said.
U.S-China trade war continues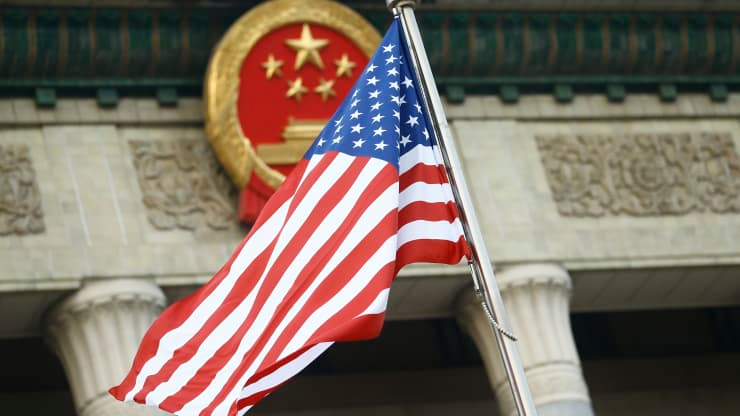 The U.S. flag flies at a welcoming ceremony between Chinese President Xi Jinping and U.S. President Donald Trump in 2017. Thomas Peter | Getty Images
The Biden administration has not made changes to tariff structures and is said to be examining the Phase One trade deal. Wang Yi, the Chinese foreign minister, recently asked President Joe Biden to restart talks with China to remove tariffs and sanctions. Wang pointed out that the United States has greatly diminished bilateral talks at all levels.
While talks to discuss the trade war have yet to materialize, at the end of February, Biden signed an executive order to analyze global supply chains in four industries that were strongly affected by the pandemic. These include computer chips, large-capacity electric vehicle batteries, pharmaceuticals, and critical minerals in electronics. The semiconductor industry faced serious bottlenecks at the outset of the global pandemic, when Chinese factories were in lockdown. These industries were also hit by the U.S.-China trade war, and the two external shocks led many C-suite executives to reassess their firms' global supply chain resilience, according to the Diplomat.
Biden's new supply chain strategy will require 100-day reviews for producers and distributors in these critical industries, and a year-long review of supply chains in six broader industries. The main purpose of the reviews is to understand to what extent the industries are at risk, and eventually to induce industries at risk to move suppliers out of risky circumstances or locations. How the Biden administration will change supply chain structures is unclear. (For its part, China has noted that the semiconductor industry requires global cooperation for healthy growth, but that it would also like to increase self-sufficiency in competitive technologies.)
The results of the supply chain review can be used to enter into conversations with China regarding existing supply chains. However, U.S. trade officials have not asserted that this will be used as a jumping off point to review the conditions of the trade war. Until the trade war is resolved, losses from higher costs will continue to mount. High U.S. tariffs remain on $370 billion of products imported from China. These cover a wide range of goods, from machinery parts to seafood.
The ongoing trade war is costly and should be addressed now. The issues that were to be addressed throughout the trade war go beyond an exploration of supply chains. They cover the material in the Phase One agreement, including intellectual property rights, technology transfer, and expansion of trade purchases, as well as a general adversarial approach to U.S.-China trade that views a trade surplus between the two countries as unfair to the United States. Time should be taken to carefully address these issues through a series of meetings between the U.S. and China.
The Biden administration has expressed a wish to discuss U.S.-China trade issues with its allies first. It is critical that they do this immediately so that relations between the United States and China can be repaired. The implication of the U.S. government's prioritization of supply chain review is that Washington wishes to secure its supply chains to reduce reliance on China and to increase competitiveness with China in manufacturing of goods like semiconductors. Even so, the United States should not waste time in engaging with China to reinforce what has been, in the past, a mutually beneficial relationship.
The necessity for immediate engagement with China is especially important if aspects of China's technology regime are viewed as "techno- authoritarianism." As the United States prepares a review and legislation that would ultimately strive to bring chip manufacturing back home and to invest more in technology, the focus in U.S. talks with China should be on ways that the two countries can cooperate and reduce the worst effects of the trade war.