President Ho Chi Minh in the Hearts of African People
On the occasion of the 133rd birthday of President Ho Chi Minh (May 19, 1890 - May 19, 2023) and 20 years after the first international conference on Vietnam-Africa relations (May 28-30/2003 - 2023), the Vietnam Times sat down with Ambassador Ha Huy Thong, former head of the West Asia - Africa Department (Ministry of Foreign Affairs), about the love that African friends have for President Ho Chi Minh.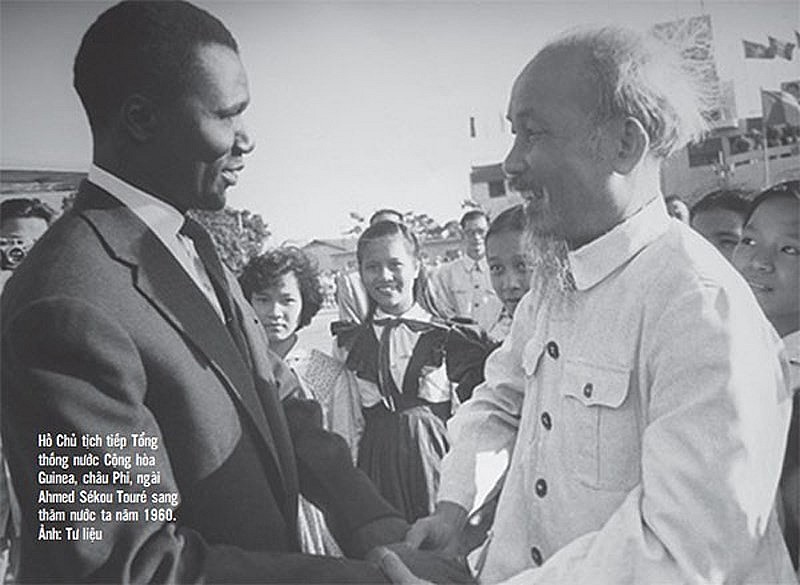 President Ho Chi Minh receives Guinean President Ahmed Sékou Touré in Vietnam, in September 1960. (Documentary photo)
Why do people in African countries admire, love and respect President Ho Chi Minh?
First of all, perhaps because Uncle Ho had been to Africa, had sympathy, and understanding and saw many similarities between Vietnam and Africa. After leaving Nha Rong harbor on June 5, 1911, the young Nguyen Tat Thanh went to a number of African countries such as Algeria, Tunisia, then Congo, Guine, and Benin.
Before leaving Africa for the Soviet Union, he left a letter to his comrades in the Colonial Union "Dear friends, we have been working together for a long time. Although we were different from each other, from different countries, and different religions, we were as dear to each other as brothers.
We share the same suffering, the tyranny of the colonial regime. We are fighting for a common ideal, liberating our compatriots and gaining independence for our Fatherland".
For him, the sufferings and woes of his African brothers are also the sufferings of the nations and himself.
Later, when receiving many high-level African delegations, he still recalled his memories with Africa.
When welcoming President of Guine on September 15, 1960, he recalled his memories of coming to Conarkry - Guinea's capital "More than 40 years ago, a group of patriotic youths, colonists, including Vietnamese and Guinean youth together unite against colonialism, gain freedom and independence for the country.
For the people of Africa, President Ho Chi Minh is not only a hero for the liberation of the Vietnamese people, but he is also a symbol of encouragement. He lit the fire of the struggle for freedom and independence for the enslaved peoples of oppressed peoples in Africa.
The first black president of the Republic of South Africa, head of the African National Congress (ANC) Nelson Mandela praised "President Ho Chi Minh and the spirit of the Vietnamese people in the struggle for freedom, national independence and reunification are a source of encouragement for the South African people to walk firmly on the long road to freedom.
Vietnam is always in my heart. Ho Chi Minh, the Ho Chi Minh trail and the cause of liberation of Vietnam always had a deep impression on me. During my time in prison, I gained strength from reading The Prison Diary of Ho Chi Minh".
What are your memories and impressions of the love that African friends have for President Ho Chi Minh?
The love of African countries for Uncle Ho has been shown many times, especially in the exchange of high-level delegations between African countries and Vietnam.
On this occasion, I would like to recount the meeting General Vo Nguyen Giap had with representatives of African countries and international partners to attend the first international conference on relations with Africa under the theme "Vietnam - Africa: Opportunities for Cooperation and Development in the 21st Century," held on May 30, 2003, at the Government Guest House.

General Vo Nguyen Giap received the heads of the African delegation at the Conference "Vietnam - Africa: Opportunities for Cooperation and Development in the 21st Century" in May 2003.
At the meeting, General Vo Nguyen Giap said "Vietnam - Africa relations have been cultivated by President Ho Chi Minh and leaders of African countries for nearly 100 years, recently, that friendship is strengthened. The friendship will grow forever".
On behalf of international delegates, Namibian Minister of Agriculture, Water and Rural Development Helmut K. Angula said that when visiting Ho Chi Minh Mausoleum and his stilt house, all members of the delegation were surprised, touched and admired his simple life. Despite being the leader of a country, in the office as well as the bedroom, there are only necessary and simple things, which shows his simplicity, humble but great personality.
According to Helmut K. Angula, in the 60s and 70s (of the 20th century), Ho Chi Minh was a familiar name to every citizen and family in Africa. President Ho Chi Minh's books on strategies of the struggle for national liberation are always carried by African revolutionaries as a handbook and a source of motivation to fight for independence and freedom for the nation.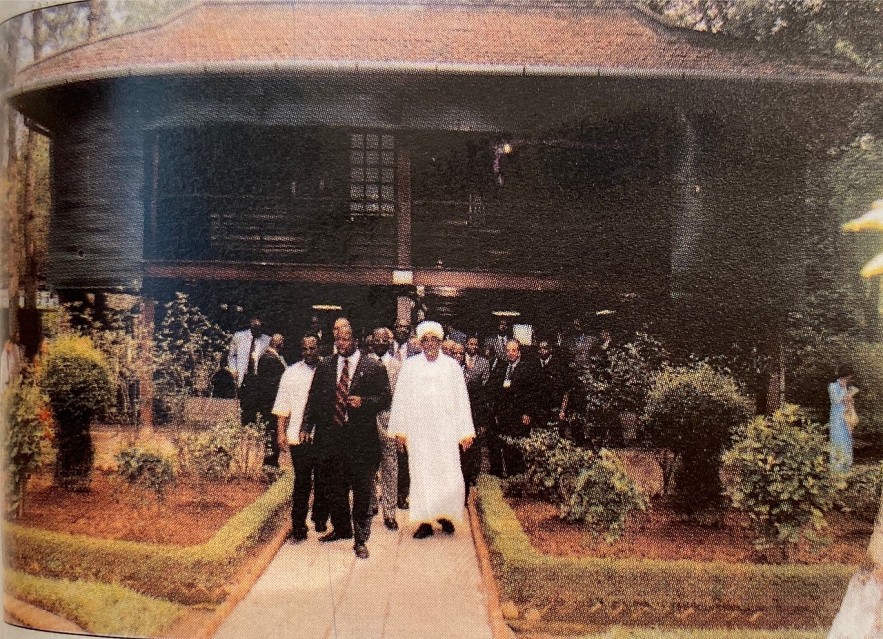 Delegates visited President Ho Chi Minh's residence and working place.
In the new context, what should we do to further strengthen relations with African countries?
There are 3 things I can share on this occasion. Firstly, at the first international conference on Vietnam - Africa, the delegates appreciated the renewal process of Vietnam.
The fact that we continue the renewal process, implement the Sustainable Development Strategy to 2030 and 2045, and build our country as President Ho Chi Minh advised will be a source of encouragement and basis to promote the relationship between Vietnam and the African countries.
Second, at the first international conference on Vietnam - Africa (2003), Prime Minister Phan Van Khai gave four priority directions in relations with Africa:
(i) Promote friendship and cooperation, (ii) Enhance economic, trade, agricultural, and investment exchanges in various forms, (iii) Share experiences on hunger eradication, poverty alleviation, disease prevention, environmental protection, efficient use of resources, (iv) Combination of bilateral and multilateral cooperation, strengthen coordination in different international forums.
Over the past 20 years, our relations with African countries developed in these four directions.
The problem is now how to continue to implement these 4 directions in a new context after 20 years, but must be more effective and profound. When the international situation has important changes and we have new foreign affairs requirements, we will raise initiatives to update and flexibly adapt.
Third, history shows that it was President Ho Chi Minh who took the lead, promoting people-to-people diplomacy between Vietnam and Africa more than a century ago. Currently, people-to-people diplomacy is becoming an integral part of foreign policy and comprehensive diplomacy. Therefore, it is necessary to further strengthen this field.
People-to-people cooperation between Vietnam and Africa developed. However, it is not commensurate with the potential of the two sides.
Therefore, the Vietnam-Africa Friendship and Cooperation Association can prioritize cooperation fields such as tourism, education, agriculture, technology transfer, poverty alleviation, cultural information exchange, and research.