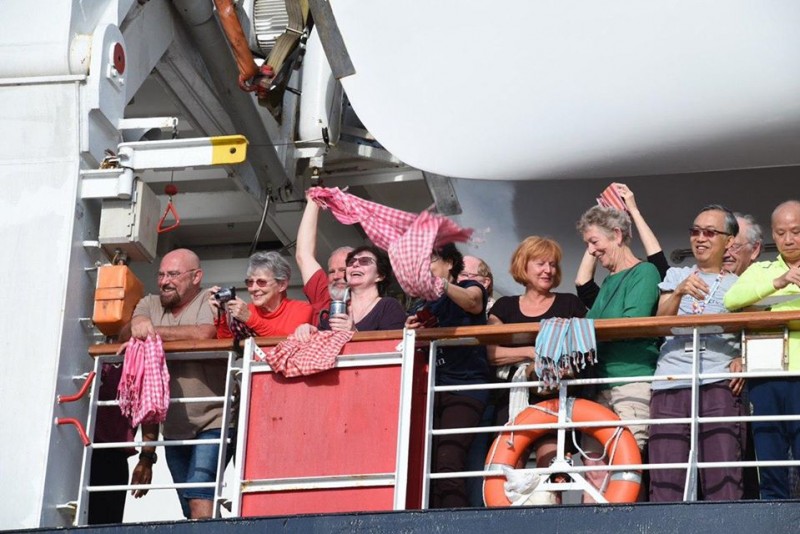 Passengers of MS Westerdam, a cruise ship that spent two weeks at sea after being turned away by five countries over fears that someone aboard might have the coronavirus, get off as it docks in Sihanoukville, Cambodia on Feb 14, 2020. REUTERS/Soe Zeya Tun
Five countries turned away the Westerdam, worried its passengers could be carrying the coronavirus despite it having no known cases before Cambodia's Prime Minister, Hun Sen, agreed the passengers could disembark there.
"Thank you to the beautiful country of Cambodia for accepting the @CarnivalCruise ship Westerdam into your port. The United States will remember your courtesy," Trump tweeted late on Friday (Feb 14).
The Westerdam, operated by Carnival Corp. unit Holland America Inc, docked in the port of Sihanoukville on Thursday after being shunned for two weeks. Its 1,455 passengers began to disembark on Friday to head home.
The passengers were tested regularly on the ship and Cambodia also tested 20 once it docked. None were found to have the new coronavirus that has killed more than 1,500 people, the vast majority in China.
Cambodian Prime Minister Hun Sen on Feb 14 personally greeted the passengers with handshakes and bouquets of roses as they stepped off the ship and boarded a waiting bus.
World Health Organization chief Tedros Adhanom Ghebreyesus praised Cambodia for its example of "international solidarity" that the WHO has been calling for.
Stoking authorities' fears in countries on the ship's route had been the quarantine in Japan of the Diamond Princess cruise ship, also managed by a unit of Carnival Corp. Of the 3,700 passengers and crew on that vessel, 218 have tested positive for the virus.
According to CNBC, the US is evacuating its citizens and their families who are onboard the Diamond Princess cruise ship off Japan that has been quarantined for almost two weeks, according to the Wall Street Journal, which cited an official from the U.S. Centers for Disease Control and Prevention.
There will be two evacuation flights from Japan for around 380 people, the report said./.
VNF/Reuters/CNBC