Priceless Gifts from Overseas Vietnamese to Ho Chi Minh
President Ho Chi Minh has always paid special attention to overseas Vietnamese and in return for that love, many people have given him very precious memorabilia.
The thematic exhibition "Each memorabilia is a story" (Collection of Uncle Ho's gifts 1945-1969) took place at the Ho Chi Minh Museum in Hanoi from October 13, 2022, to February 15, 2023. Guests can see memorabilia that overseas Vietnamese gave him. There are very familiar memorabilia, but not everyone knows its origin.
Valuable memorabilia of overseas Vietnamese in Thailand
When President Ho Chi Minh operated secretly in Thailand under the alias of Thau Chin in the period from 1928 to 1929, he was protected by Thai compatriots and overseas Vietnamese.
Here, he opened small classes to propagate and educate patriotism for overseas Vietnamese and brought some overseas Vietnamese youth to China for training.
Due to the complicated situation in Thailand in early 1959, overseas Vietnamese were herded to some southern provinces and the host government intended to hand them over to Ngo Dinh Diem's government. Our compatriots united and resolutely opposed these actions and demanded repatriation to North Vietnam.
The Communist Party of the Government of Vietnam under the direct leadership of President Ho Chi Minh has paid special attention to this issue. On June 20, 1959, the Agreement on repatriation for overseas Vietnamese was signed. Accordingly, overseas Vietnamese in Thailand began to repatriate in the early 1960s.
During this time, President Ho Chi Minh wrote the article "Our overseas Vietnamese in Thailand always look to Vietnam" under the pseudonym V.K, published in the People's newspaper, issued on January 8, 1960, praising the patriotism of overseas Vietnamese. This article also recalls memories of his activities in Thailand.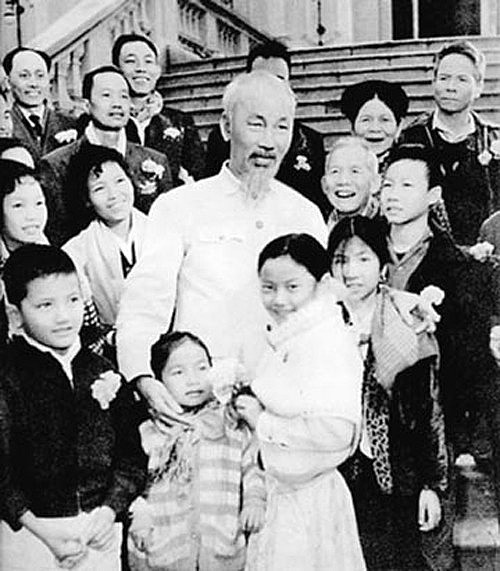 Documentary photo of Uncle Ho with Thai expatriates. Photo: Vietnamtimes
Our overseas Vietnamese in Thailand were extremely touched and deeply grateful to the Government and President Ho Chi Minh for helping them return to their homeland. They were warmly welcomed and given all conditions to develop their careers. Therefore, many of them have voluntarily contributed their efforts and resources to Vietnam.
In particular, with infinite affection for Uncle Ho, the Thai expatriates sent many gifts to him, including the GRUNDIG radio, a type of radio that uses electronic lights and a white plastic shell. This radio has a trapezoidal beveled shape, a large bottom of 28.5 cm, a small bottom of 27.5 cm, and a height of 17.3 cm.
The records of this artifact are kept in the archives of the Ho Chi Minh Museum, with a letter sent by the Central Committee of Overseas Vietnamese to the Office of the Presidential Palace. In the letter, it was written that "the radio using electronic lights of the GRUNDIG brand from the wedding of Lien and Duc respectfully presented to Uncle Ho brought back by Mrs. Then on the eighth trip".
The letter was sent on June 7, 1960, with the seal of the Central Committee for Overseas Vietnamese. In the signed form, Tran Van Vuong (officer of the Office of the Presidential Palace) has received the above gift.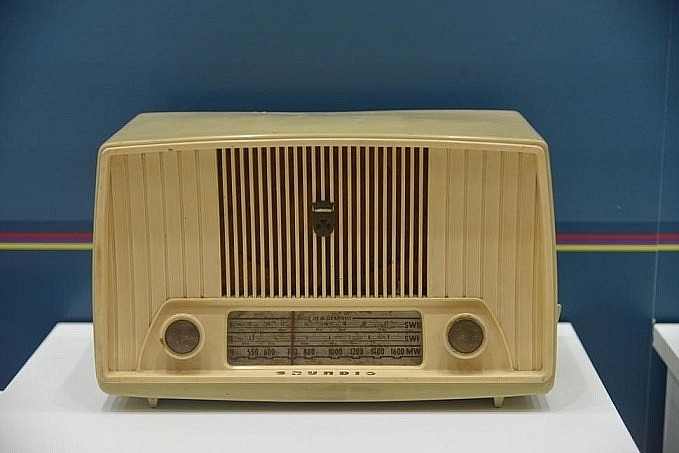 Photo: Vietnamtimes
The radio was placed on the desk next to the bed in the bedroom on the second floor of the stilt house, every day, through this radio, Uncle Ho listened to domestic and international news.
Once, the radio was repaired in July 1968 and some components were replaced at the request of agency 41 (the Office of the Presidential Office). This is a piece of historical evidence, an artifact symbolizing the deep affection of our overseas Vietnamese in Thailand for President Ho Chi Minh.
It was one of the means to help him keep track of news to promptly direct the revolutionary work in the country and was respectfully used and preserved by Uncle Ho for a long time until his death.
After President Ho Chi Minh passed away, in order to preserve the original relics directly related to him for a long time, this radio and other artifacts were put into preservation in the warehouse of the Ho Chi Minh Museum.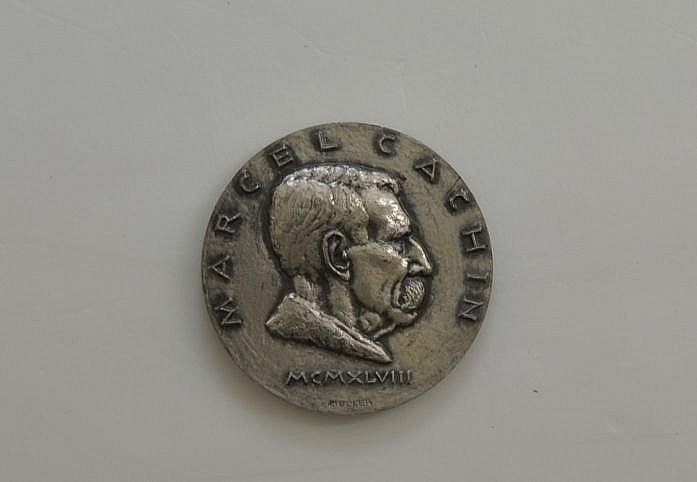 The Marcel Cachin badge was given to President Ho Chi Minh by Nguyen Viet Ty. Photo: Ho Chi Minh Museum
Meaningful gifts from overseas Vietnamese in France
The Overseas Vietnamese Patriotic Association in France is a close organization with a revolutionary spirit. This organization was established in the years of the resistance war and has made many spiritual and material contributions to the cause of the nation. This association has attracted thousands of Vietnamese from all walks of life who live, work and study in France to think of their homeland.
President Ho Chi Minh visited France as a high-ranking guest in 1946. He regularly met and discussed with delegates and overseas Vietnamese. He helped them better understand the situation in Vietnam after the August Revolution; about our people's iron will and determination to defend our independence, unity, and territorial integrity.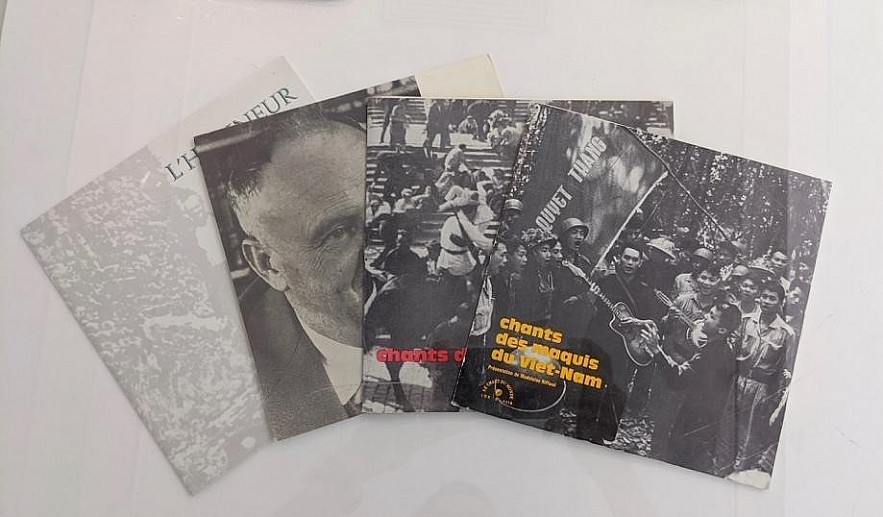 Photo: Ho Chi Minh Museum
It is the personality and virtue of President Ho Chi Minh that has won the admiration of overseas Vietnamese patriots. The closeness and intimacy in the meetings, and the kindness in his instructions made people far from home more deeply aware of their responsibility for the homeland and the Fatherland. He also encouraged overseas Vietnamese to emulate and strive together, contributing to the common cause of the whole nation.
Nguyen Viet Ty is a patriotic overseas Vietnamese who came to France in 1921. Destiny came to Nguyen Viet Ty when he was honored to become a chef to serve President Ho Chi Minh and the Vietnamese Diplomatic Mission to Paris during his trip to Paris in an official visit to the French Republic in 1946.
When he met Ho Chi Minh, he was aware of President Ho Chi Minh's views on the country and the people of Vietnam. After Uncle Ho returned home, Nguyen Viet Ty asked Nguyen Duc Tho to bring him some gifts from Paris to express his affection and admiration.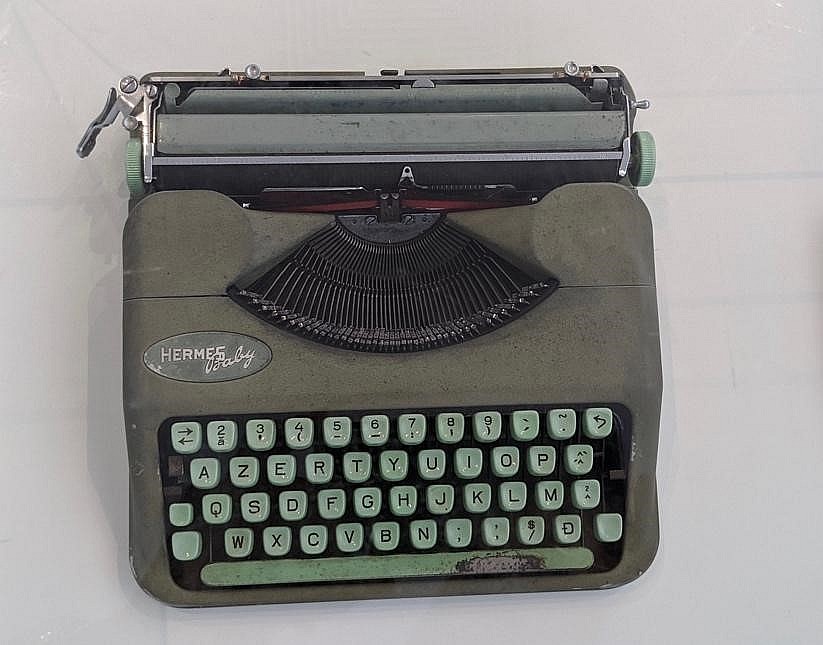 Hermes Baby typewriter sent by Nguyen Viet Ty to President Ho Chi Minh. Photo: Ho Chi Minh Museum
Those gifts include The Marcel Cachin Badge. (Marcel Cachin is a French politician, an ideal mutual friend when Uncle Ho did revolutionary activities in France in the 20s of the twentieth century); The disc "The Voices of the Seas of Vietnam" introduces revolutionary songs selected by French journalist Madeleine Riffaud and the "World Songs" Program; Hermes Baby typewriter (Swiss version).
The set of gifts that Nguyen Viet Ty gave Uncle Ho represents the deep affection of French expatriates towards President Ho Chi Minh. This set of gifts along with other artifacts have been put into preservation in the Ho Chi Minh Museum to promote their value.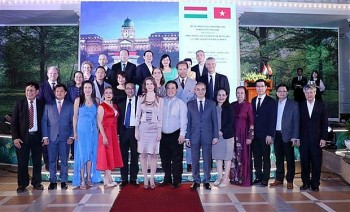 Viet's Home
Saigontourist Group in coordination with the Hungarian Consulate General held a series of events within the framework of the Hungarian Food and Culture Festival 2022 in Ho Chi Minh City