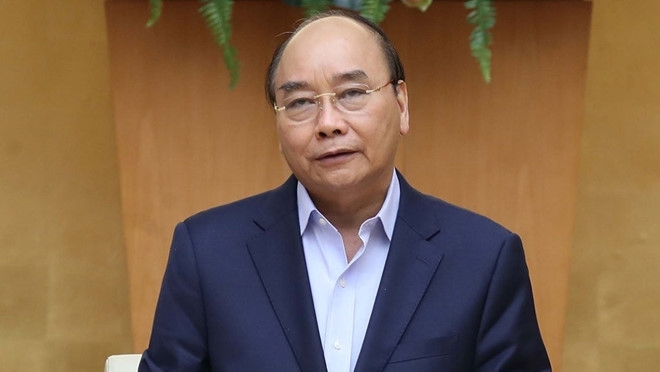 Prime Minister Nguyen Phuc Xuan has announced an initiative to encourage Vietnamese couples to get married before the age of 30 and start popping out children early. Photo: VNA
As VNA reported, Prime Minister Nguyen Xuan Phuc has approved a birth rate adjustment programme towards 2030 which sets up goals for specific provinces with low or high birth rates and instructs local governments to devise appropriate policies to facilitate the goal fulfillment.
From now until 2030, Vietnam aspires to increase the total fertility rate by 10% in provinces with low birth rates. Provinces and cities in which each woman of reproductive age has two to 2.2 children should maintain the rate or so-called desired fertility at replacement level.
The targets aim to help Vietnam accomplish the national population strategy by 2030.
To reach the desired target, the PM encourage Vietnamese couples to get married before 30 and start having children early. Women are encouraged to have their second child before 35.
PM Phuc also implored provincial authorities to establish schemes to help their citizens, such as family planning assistance and access to contraceptives in provinces with high birth rates.
Conversely, provinces with low birth rates are urged to come up with benefits for couples with two children, such as income tax breaks, preferential admission to public schools and other public support systems.
Couples who have two children will have their income tax reduced and be assisted with children's tuition fees or expenses to rent houses or buy social housing. Children of these families will have priority to be admitted to public schools.
Local authorities have been asked to pilot marriage and family consultation services such as dating clubs and pre-marriage health consultations.
Pregnant women or those having two children have access to mother and baby healthcare and malnutrition prevention consultations.
According to data from the General Statistics Office of Vietnam, as of 2019, the country's total fertility rate is 2.09 babies per woman. The figures are 1.83 and 2.26 in urban and rural regions, respectively. Ho Chi Minh City has the country's lowest birth rate, at just 1.39 babies per woman, while Ha Tinh Province has the highest, at 2.83 babies.
While the new birth rate program is in line with Vietnam's healthy development goals, raising more children continues to be a challenge to some local families, especially in metropolitan areas like Saigon. High living cost, increasingly competitive school admissions and long work hours all contribute to the decision to have fewer children by urban parents.
Vietnam to overcome aging population

Vietnam is among middle-income countries but its population is aging fastest. Therefore, this is a problem to be solve, Deputy Prime Minister Vuong Dinh Hue ...
Coping with an aging population in Vietnam

To manage the trend of the aging Vietnamese population it's important for people to rethink their education, work, and retirement plans, says the General Department ...
Jennifer Tran