Prime Minister: Prevent Covid Without Hesitation, Prioritize Public Life And Health
The Government Office recently released notification from Prime Minister Pham Minh Chinh at the online meeting with Ho Chi Minh City and seven major economic areas in southern Vietnam on Covid prevention. Accordingly, while the ultimate objective is to ensure the double goal of economic growth and Covid prevention, the immediate goal is to protect the lives and health of the public. More drastic measures that effectively use all available resources should be applied to curb the pandemic in Ho Chi Minh City and neighboring provinces.
On June 26 – 27, Prime Minister Pham Minh Chinh went to check the situation in Ho Chi Minh city and other major economic areas in southern Vietnam.
On July 4, Chinh chaired an online meeting with Ho Chi Minh city and seven major southern economic areas on Covid prevention. Joining the meeting from the government office were Deputy Prime Minister Pham Binh Minh, Deputy Prime Minister Vu Duc Dam, heads of some ministries such as the Ministry of Health, the Ministry of Foreign Affairs and the Ministry of Planning and Investment, heads of the State Bank of Vietnam, Central Propaganda and Training Commission, Vietnam Social Insurance and Vietnam Bank for Social Policies. From Ho Chi Minh city, the meeting was attended by Secretary of Ho Chi Minh City Party Committee Nguyen Van Nen, Deputy Prime Minister Truong Hoa Binh, heads of the provincial People's Committees, head of the Steering Committee of Covid Prevention and Control, heads of the relevant departments and managers of industrial parks.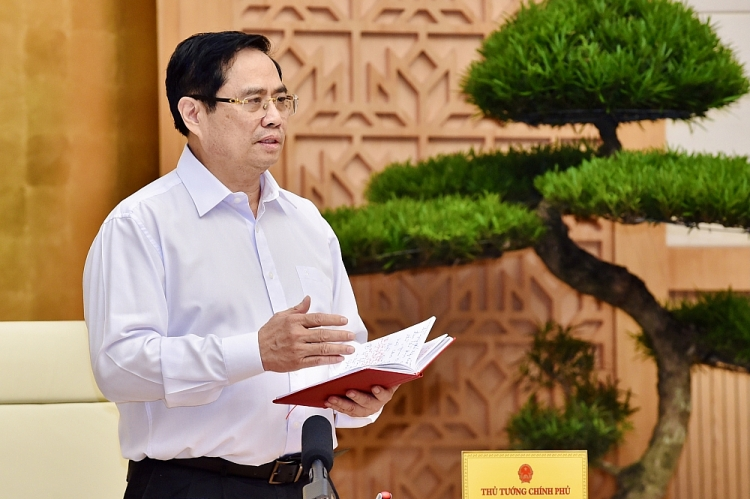 Prime Minister Pham Minh Chinh. Photo: VGP
Upon hearing the report of the Ministry of Health, the speech of the Deputy Prime Ministers and the comments of the participating localities and ministry heads, Prime Minister Pham Minh Chinh highlighted the following points:
The Prime Minister appreciated the efforts of provinces and cities currently experiencing Covid outbreaks, particularly Ho Chi Minh city, and the Ministry of Health. So far, Covid is basically controlled in southeast Vietnam. However, more drastic measures should be applied to curb Covid in major areas, especially Ho Chi Minh City.
Covid prevention principles
First, the motto "fighting against Covid like fighting against invaders" should be upheld. Leaders must closely follow Covid situations to make decisions. The application of strict measures should be carefully taken into consideration due to their potential to disrupt production and supply chains. However, the lives and health of the public must be prioritized.
Second, localities should be flexible to effectively use the available resources to prevent the pandemic in Ho Chi Minh city and the neighboring provinces.
Third, localities should be proactive in mobilizing human resources to prevent Covid.
Implementation strategies
Although ensuring economic growth while fighting Covid is the ultimate objective, protecting the lives and health of people is the most important task, especially when Covid occurrences are currently complex and unpredictable, as in the case in Ho Chi Minh city.
Duty decentralization and responsibility individualization should be promoted to improve Covid prevention effectiveness and avoid being passive when the number of cases increases and Covid development becomes more complex. At the same time, the following three conditions must be met: Avoid lack of budgets and means; Avoid lack of human resources; Avoid lack of mechanisms and policies.
The modes of social distancing and quarantine should be based on real situations effectively, suitably, actively and flexibly. In addition, care must be taken to trace all suspected and confirmed cases.
Effective procedures to cope with developing pandemic
Authorities at all levels must closely follow regulations of the government and specialized agencies while flexibly adding rules and regulations as necessary to suit the specific situations at localities. In each area, an official should be assigned to be the focal person and coordinate all staff involved effectively and consistently.
The "5K + vaccines" rules must be strictly followed. Technologies should also be applied widely in a controlled manner in Covid prevention.
The Ministry of Health must complete the regulations and procedures and guide the pilotting of quarantine at home as soon as possible, in a safe and effective manner.
The Ministry of Transport must collaborate with the Ministry of Public Security to ensure smooth transportation flow while preventing Covid.
The Ministry of Industry and Trade must ensure there is no disruption in the production and trade chains while fighting against Covid.
The Ministry of Education and Training must provide instructions to localities, especially Covid hotspots, to carry out the high school exit examination safely.
All localities must closely monitor Covid situations to legalize and implement regulations proved to be effective, right and supported by the majority. For unprecedented but necessary rules, localities should gradually and carefully pilot, adjust and expand these rules.
Individuals and organizations breaking Covid prevention rules must be punished appropriately. At the same time, those who contribute effectively to pandemic prevention must be timely rewarded.
Applying policies to support workers affected by Covid
Localities must flexibly apply Resolution No. 68/NQ-CP dated July 01, 2021, of the government to support workers affected by Covid based on the real situations.
Due to the limitation of the Covid vaccine supply at least until the end of September 2021, localities are encouraged to find vaccine sources where possible. The Ministry of Health shall be responsible for controlling vaccine quality, storing and managing Covid vaccines safely and providing free vaccines for the public timely, quickly, safely, effectively and in accordance with current laws.
Localities should be proactive in mobilizing the public and businesses to cooperate with and support Covid prevention measures.
Ensuring Covid prevention and return to normal life
Ministries must closely coordinate with Ho Chi Minh city and other localities currently under large-scale social distancing to minimize negative impacts on people's lives.
The People's Committee of Ho Chi Minh City must work with neighboring provinces to control the flow of people in and out of the city while allowing a smooth flow of commodities.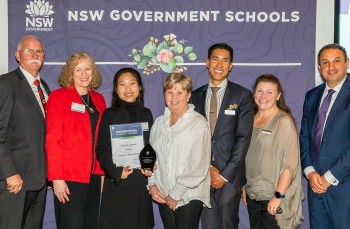 Overseas Vietnamese
The award for international students studying at New South Wales state schools (Australia) honors excellent ones from many countries, including a Vietnamese female student.