In Photos: touching sketches of Saigon during social distancing
A female doctor feeds a baby girl infected with Covid-19, and zero-dong stalls come to life through the brush strokes of an acclaimed Vietnamese painter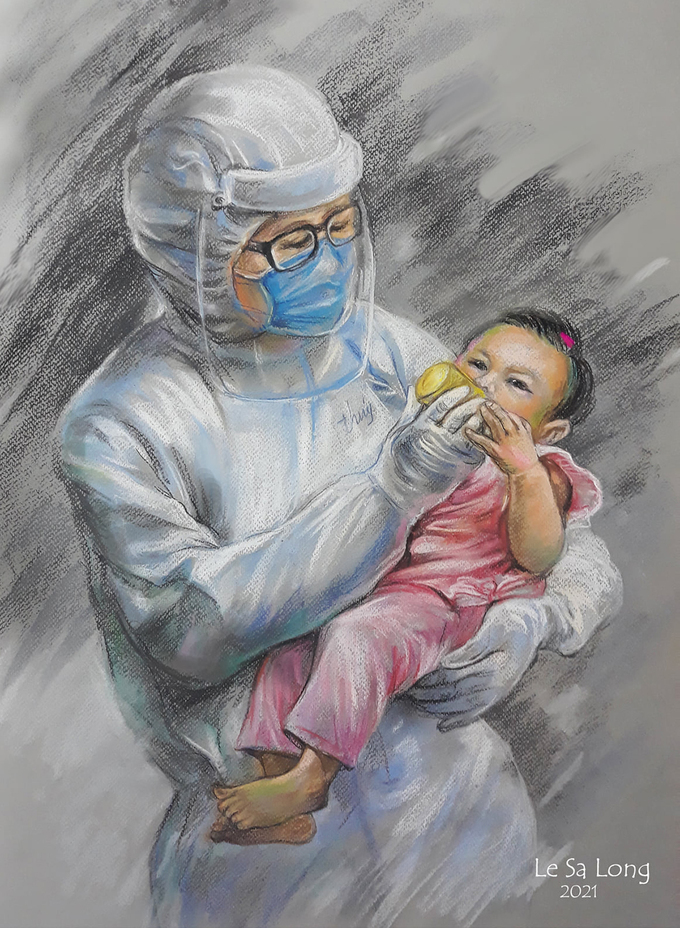 A doctor feeds a baby while waering a protective suit. Photo: Le Sa Long
"Sweet milk" is a recently completed paintings belonging to the collection "Saigon in the days of social distancing" by artist Le Sa Long. The artist was touched by the story of doctor Pham Thi Thanh Thuy daily feeding a 7-month-old baby girl at Trung Vuong Covid-19 Treatment Hospital.
The baby, her father and 25-month-old brother - both infected with Covid-19 - are being treated here, while her mother has severe respiratory failure and is being treated at Pham Ngoc Thach hospital. Having a child about the same age as the girl, Thuy takes on the task of feeding the baby. The moment she gave the baby milk in a protective suit was recorded by colleagues and spread on social networks.
Zero-dong stalls in Ho Chi Minh City. Photo: Le Sa Long
With the city social distancing, zero-dong stalls appear everywhere, targeting poor workers who have lost their income. Painter Le Sa Long chose to paint that scene to portray the chivalry of the Saigonese. For him, Saigon is a land of honest and generous people, free iced tea, boxes of bread and all manner of people helpig the needy in whatever way they can.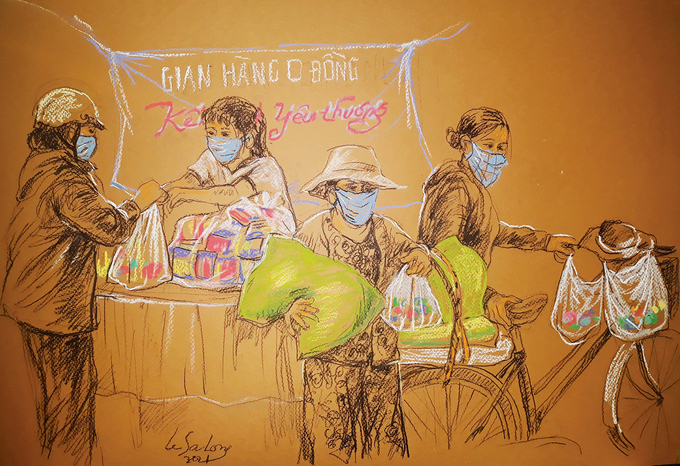 Zero-dong stalls in Ho Chi Minh City. Photo: Le Sa Long
Most of the artist's artworks were sketched with pastels, charcoal on Canson paper or watercolors.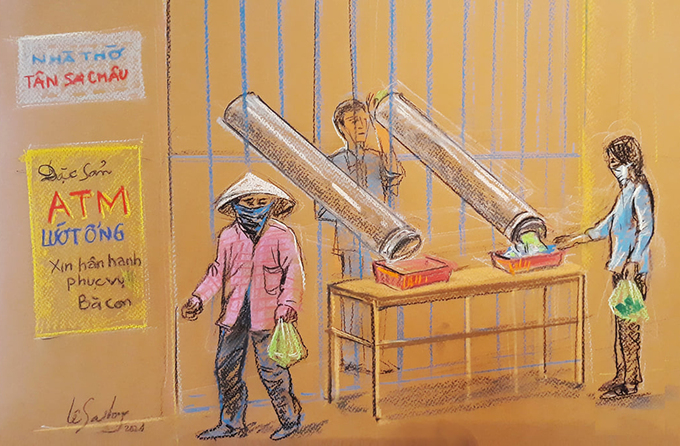 "Tube-surfing ATM." Photo: Le Sa Long
"Tube-surfing ATM" is a form of distributing charity necessities with plastic pipes, to ensure safety at Tan Sa Chau church on Le Van Si street, Tan Binh district. Gifts are divided by volunteers into small bags, easily gliding through the tubes into people's hands.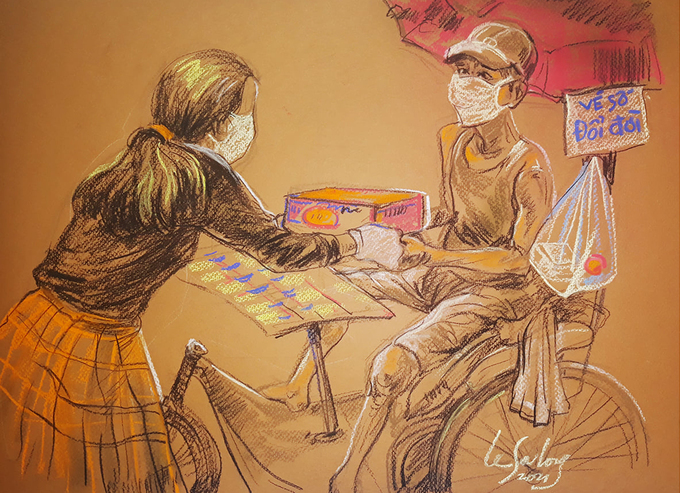 Saigonese amid social distancing. Photo: Le Sa Long
The artist recorded the moment a girl gave a box of noodles to a lottery ticket seller with the message: "Please take the box of noodles, when you need it, just come to this charity place."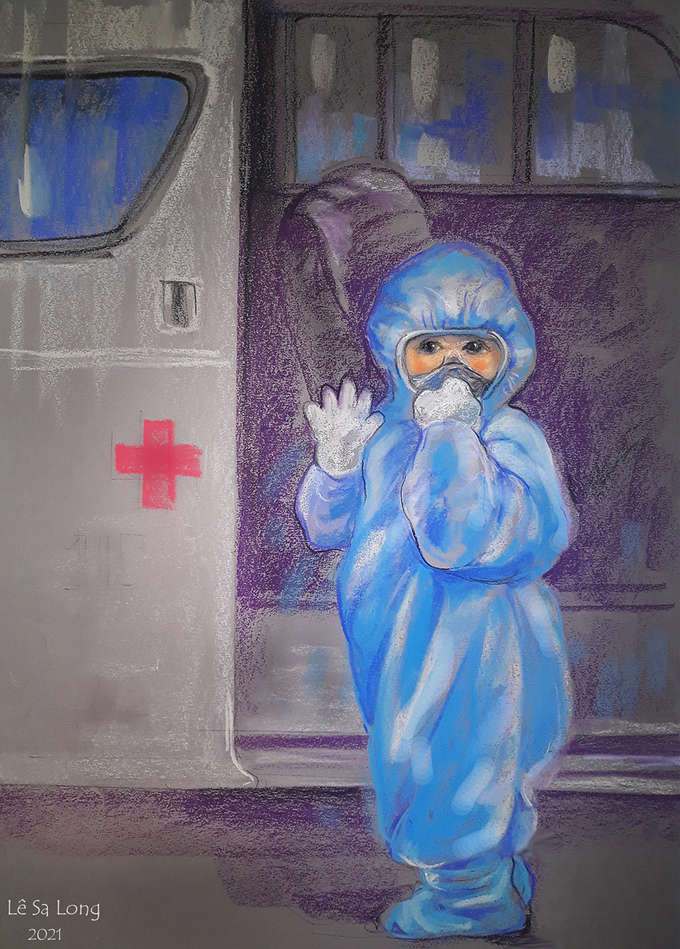 "Angel of the pandemic season." Photo: Le Sa Long
"Angel of the pandemic season" is one of the artist's most emotional works. He painted it on the evening of June 24, while watching a video - recorded by a nursing staff in Binh Chanh district, of a 5-year-old Covid-19 patient being taken to treatment.
Before that, her father was infected and was taken to treatment, her mother was F1 and was isolated in concentrated isolation. She lived with her grandmother and aunt, who later also contracted Covid-19, so she had to get on a medical vehicle herself to go to Trung Vuong Hospital. The figure of a little girl in baggy personal protective equipment, alone away from her family, climbing into an ambulance, aroused much sympathy.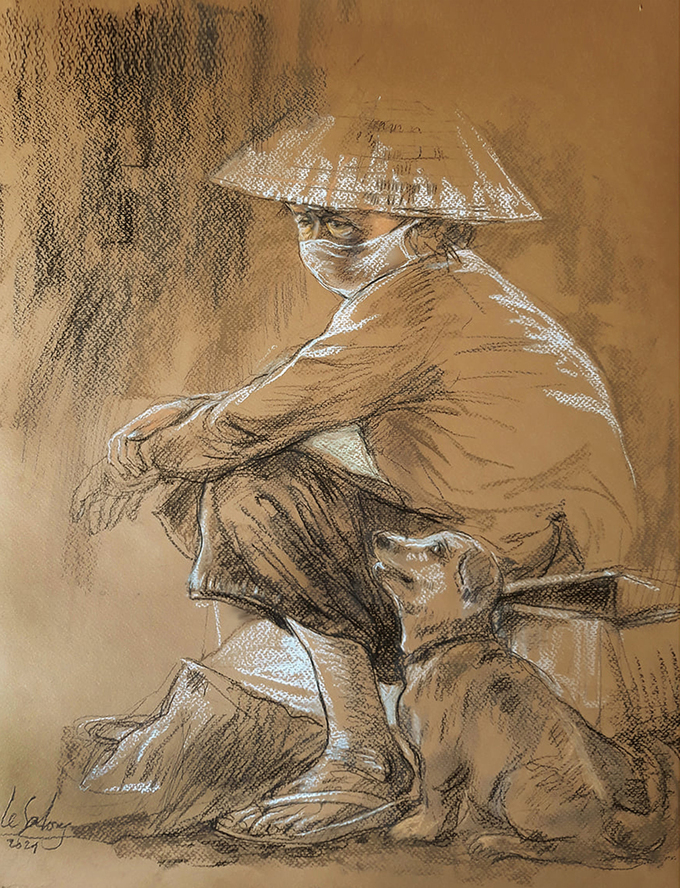 "Woman and small dog." Photo: Le Sa Long
The status of poor workers making a living during the pandemic also evoked many emotions for the artist. "Woman and small dog" was painted at the beginning of June. At that time, he met a woman picking up bottles, she said: "The shop is no longer open, there is no scrap or leftovers to collect. If the pandemic continues like this, I have no money left to live." The dog she raised for the past 5 months is innocently wrapped around her feet.
The artist painted a woman selling lottery tickets at 11 a.m., in the middle of the intersection wiping sweat and complaining: "Only a few lottery tickets are sold this morning, please support me."
He hurriedly bought her a few lottery tickets, comforted her and then hurried away, feeling guilty. He named the painting "Dream to be a millionaire."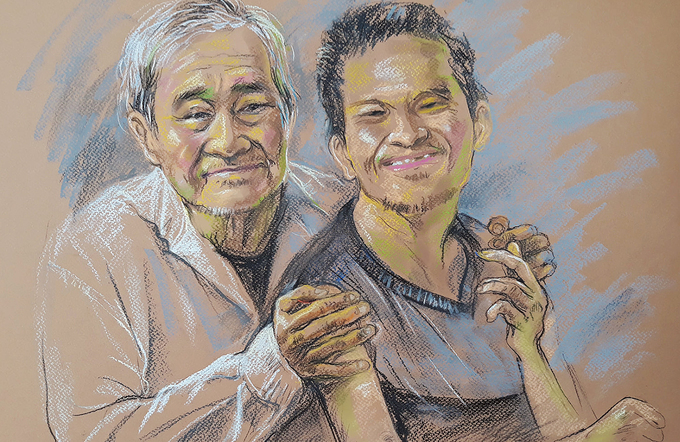 Painting of father and son. Photo: Le Sa Long
The painting of father and son making a living during the pandemic was painted on Father's Day (June 20). His wife died a long time ago, and the 58-year-old father drives a motorbike taxi to raise his 34-year-old son with congenital cerebral palsy.
When the pandemic broke out, unemployed, father and son lived on charity, but fortunately a benefactor gave them a motorbike. The artist said: "I draw Hung with the image of hands holding Tai's shoulders as if to protect his child, and Tai smiling and pointing at his father as if to say: That's my great father!"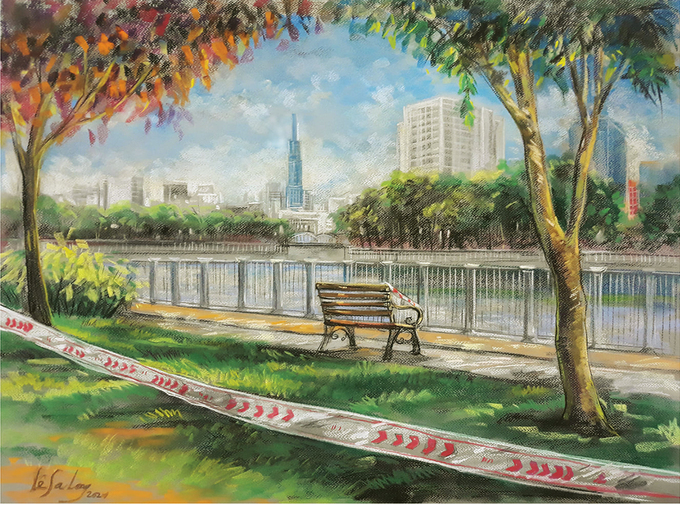 Scenery of Truong Sa street, Nhieu Loc canal. Photo: Le Sa Long
The scenery of Truong Sa street, Nhieu Loc canal (Phu Nhuan district) is of a morning during social distancing. The painting is painted with chalk and charcoal on canson paper.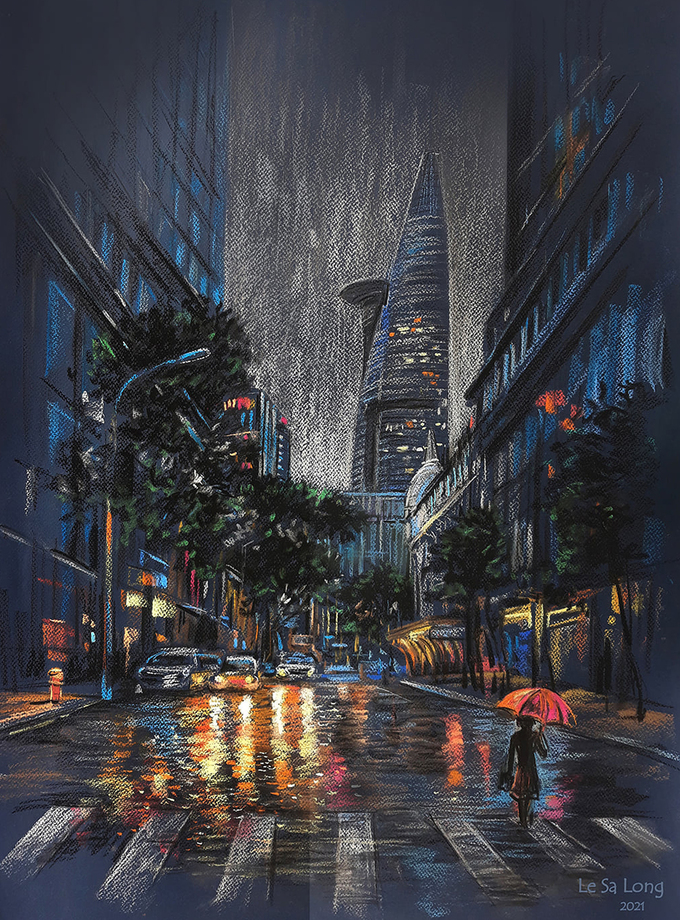 Ngo Duc Ke street (District 1) amid Covid-19. Photo: Le Sa Long
Ngo Duc Ke street (District 1) is from the early days of the social distancing. The busy street now only has a few lights on under the night rain.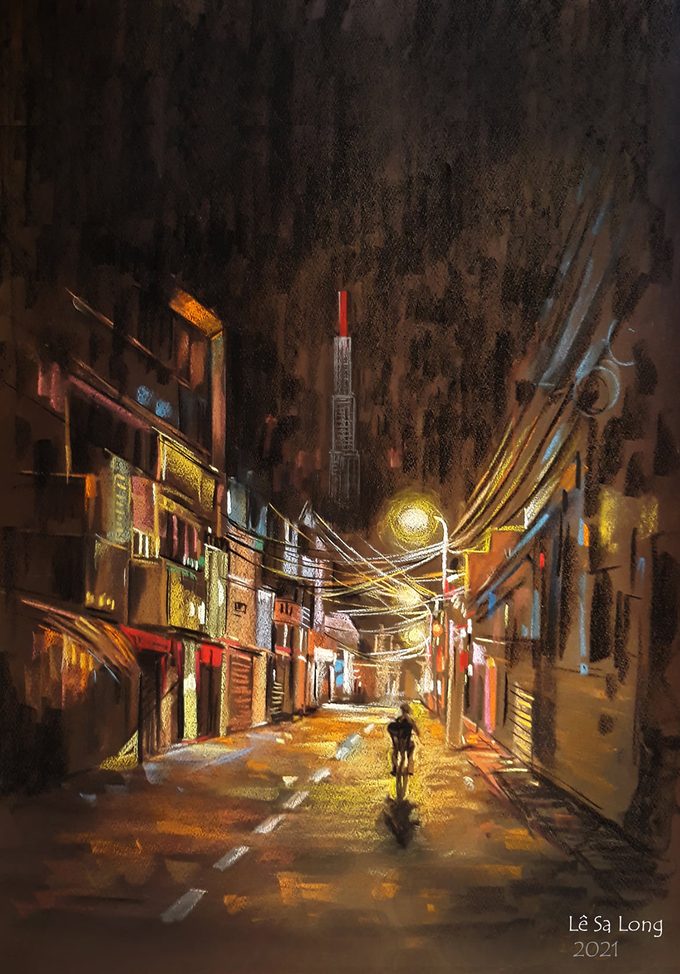 Vu Huy Tan street, Binh Thanh district, late at night, is quiet, with only the sound of vendors selling bread. Photo: Le Sa Long
Painter Le Sa Long graduated from Ho Chi Minh City University of Fine Arts, and won the first prize "Watercolor sketch portrait" in 1999 co-organized by the Fine Arts Association of Ho Chi Minh City.
In 2018, he won the second prize for drawing about the country and people of Romania organized by the Romanian Consulate in Ho Chi Minh City. In 2020, he attracted attention with a series of paintings about musician Trinh Cong Son and "music lovers." Currently, he is a lecturer at the Department of Graphics, Open University of Ho Chi Minh City.