Project RENEW/NPA's team destroys explosive ordnance cache in Quang Tri
Technical survey teams of Project RENEW/Norwegian People's Aid (RENEW/NPA) located a cache of explosive ordnance in Ha Loi Trung village, Gio Linh commune, Gio Linh district, Quang Tri province on January 28, while they were working to define contaminated land that will be targeted for full clearance.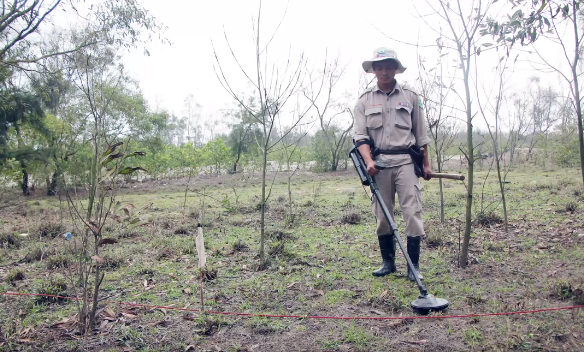 Member of Technical Survey teams of RENEW/NPA in the field. Photo: Project RENEW/NPA
Team Leader Pham Huu Hoan confirmed that his team unearthed a total of 11 pieces of explosive ordnance including projectiles, mortars, and rockets, and grenades. These dangerous explosives have been marked for a mobile explosive ordnance disposal team to come and conduct a safe demolition.
Ha Loi Trung village straddles the southern boundary of the former Demilitarized Zone and is about eight kilometers from Cua Viet, a former combat base of the US Marine Corps during the war. Due to its proximity to the former Demilitarized Zone, Ha Loi Trung village was subjected to heavy airstrikes and ground fighting from 1967 to 1972. Post-war explosive remnants have caused five deaths and one injury to local people since 1975.
After five days working in Ha Loi Trung village, four technical survey teams of RENEW/NPA have surveyed over 350,000 square meters of land, found and safely destroyed 80 items of explosive ordnance.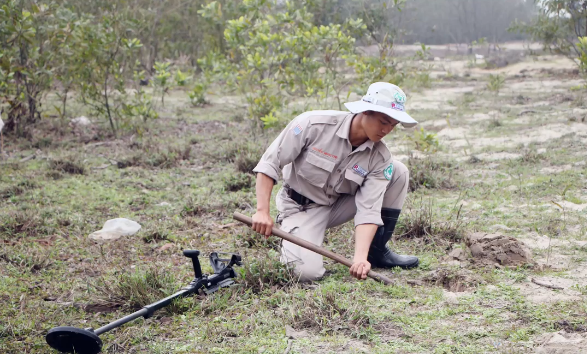 Unexploded ordnance cache found in Quang Tri. Photo: Project RENEW/NPA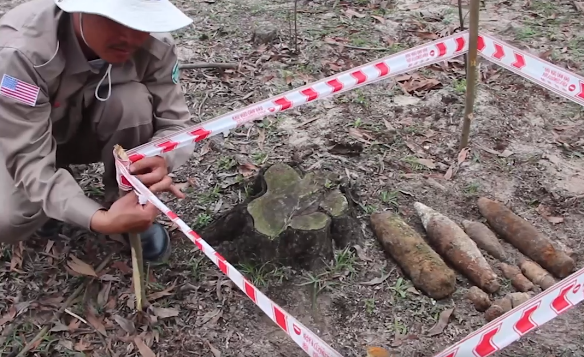 The pieces of unexploded ordnance have been discovered in Ha Loi Trung village, Gio Linh commune, Gio Linh district, Quang Tri province. Photo: Project RENEW/NPA
The survey and clearance operations of Project RENEW in cooperation with Norwegian People's Aid Vietnam in Quang Tri province are funded by the US Department of State and UK Foreign, Commonwealth, and Development Office.
According to the Ministry of Labour, Invalids and Social Affairs, Vietnam is one of countries most contaminated with unexploded ordnance (UXO).
It is estimated that about 800,000 tonnes of UXOs were left across the country after the war ended in 1975, mostly in the central region. Some 6.13 million hectares of land are polluted with or suspected of being polluted with UXOs, accounting for 18.82 percent of the country's total area.
Quang Tri is the most heavily war-impacted province in all of Vietnam. A startling 40 percent of all of the ordnance used during the war was deployed in this one province, which is just slightly larger than the state of Rhode Island.
Today, more than 40 years after the war's end, nearly 85 percent of the land in Quang Tri remains riddled with land mines, bombs, grenades, and other UXOs. Farmland continues to be heavily contaminated with the explosive remnants of war, including bombs weighing hundreds of pounds, mortar shells, cluster bombs and hand grenades./.