New survey and clearance projects started in Quang Binh
More than 27 million square metres of land will be surveyed for unexploded bombs and over 13 million square metres (approximately 3,200 acres) of land will be made safe from explosive remnants of war, directly benefiting at least 8,100 people.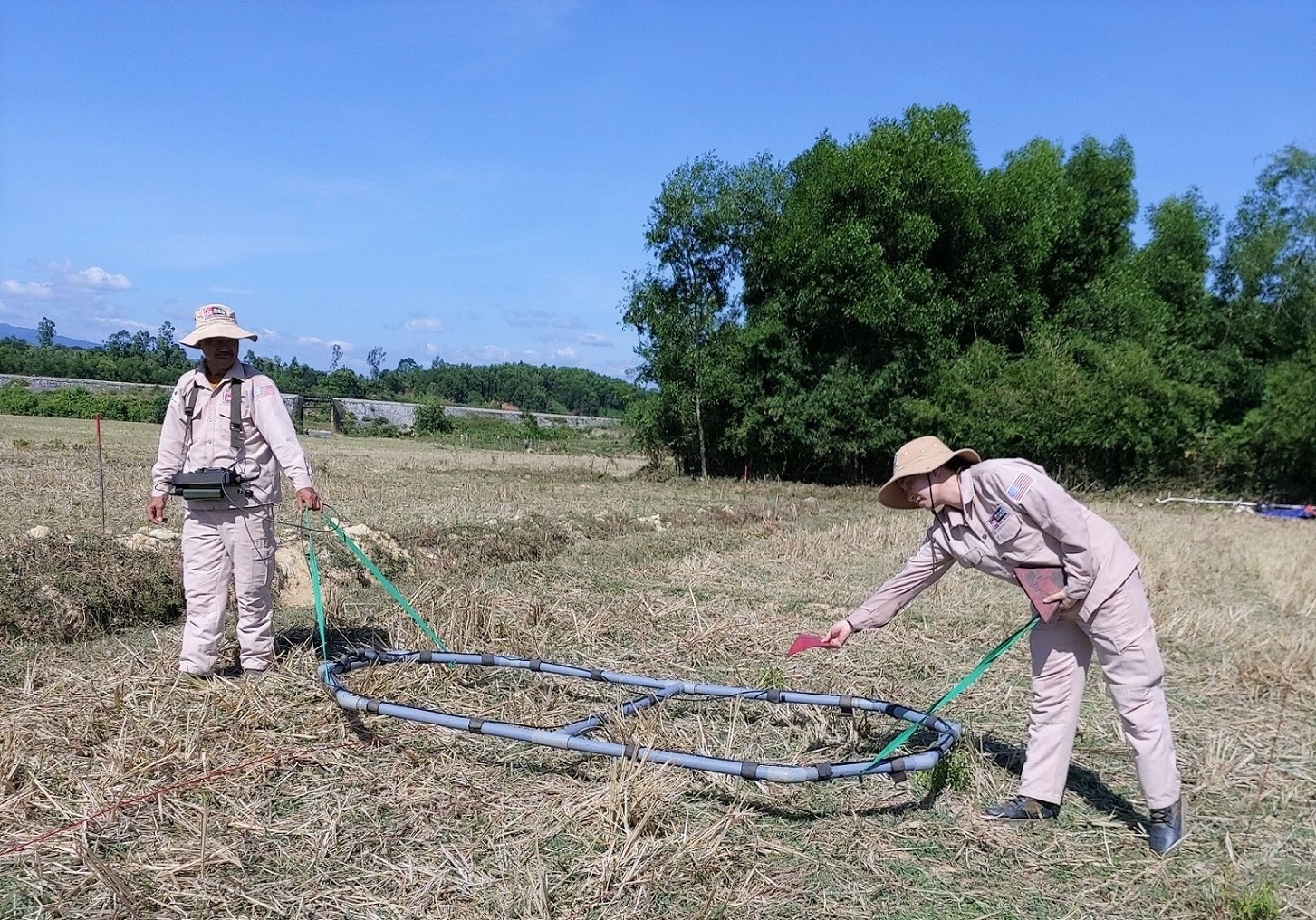 Deminers use a large-loop detector to search for unexploded bombs — a signal read by the detector is marked with a red triangle for further investigation. Source: MAG
Through the support of the Office of Weapons Removal and Abatement in the US State Department's Bureau of Political-Military Affairs, Mines Advisory Group (MAG), Norwegian People's Aid (NPA) Vietnam and PeaceTrees Vietnam are carrying out projects in Quang Binh to help the central province, which is heavily polluted with unexploded ordnance (UXO), detect and clear cluster munitions and other explosives from now to 2022.
The projects, funded with 5.5 million USD by the US State Department's Office of Weapons Removal and Abatement between 2020 and 2022, were introduced at a workshop held in Quang Binh on July 7, reported VNA.
This projects aim to maximize the combined value of multiple donor contributions and operational capacity to support mine action coordination in Quang Binh, determine the level of cluster munition contamination in the province, and clear high priority areas to improve community safety and support economic development.
Together, they aim to release 3,240 acres of land back for productive use to the residents of Quảng Bình. It is estimated that the consortium will respond to 3,042 Explosive Ordnance Disposal spot tasks reported through a hotline number, which will benefit about 8,167 people.
456 lifesaving risk education session will also be delivered to more than 8,000 people to support them to live safely and prevent accidents.
Under cooperation deals with the provincial People's Committee, the Norwegian People's Aid of Norway will implement a cluster munitions survey project and another on establishing and assisting a database unit and coordinating the settlement of UXO consequences in Quang Binh.
Meanwhile, PeaceTrees Vietnam is going to carry out a project on searching for and disposing UXO, and the UK's Mines Advisory Group will go on with its UXO detection and clearance project in the province.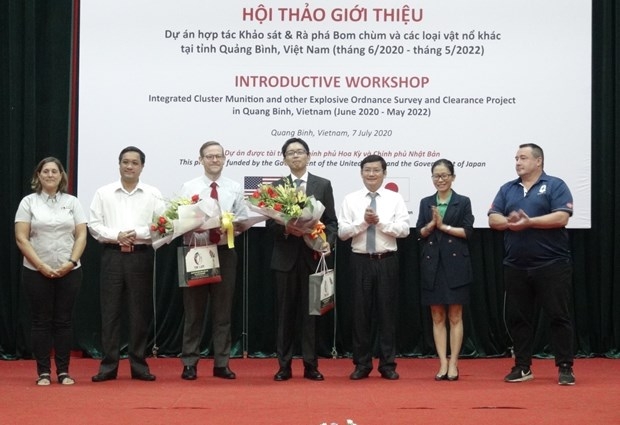 Quang Binh officials and representatives of the NGOs at the workshop introducing the projects on July 7. Photo: VNA
Quang Binh will also be assisted in setting up, developing and running a database management system and a mine action coordination system, thus helping with the collection, settlement, storage and analysis of data to serve the making of decisions related to mine actions at the provincial and national levels.
Additionally, local authorities and communities will be updated with UXO-related information in a timely manner, and public awareness of relevant risks is hoped to be improved thanks to the projects.
Quang Binh is a region which was heavily bombed during the war in Vietnam — and is still known to be among the most contaminated provinces.
According to statistics released in 2009 by the Defence Ministry's Technology Centre for Bomb and Mine Disposal and the Vietnam Veterans of America Foundation, nearly 225,000ha of land across all communes, wards and townships in Quang Binh was contaminated with UXO, accounting for 27.9 percent of the province's area.
In particular, UXO polluted 96.9 percent of residential land, 95 percent of agricultural land, and 84.3 percent of land under perennial trees.
MAG has been working in Quang Binh province since 2003. In 17 years, MAG has destroyed nearly 130,000 dangerous items to make safe over 25 million square metres of land to support the socio-economic development of local communities.
More than 227,000 local people have directly benefited from MAG's work in Quang Binh.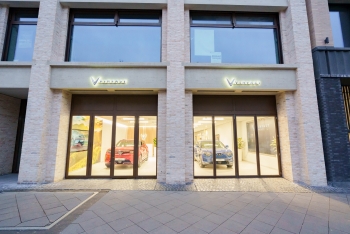 Economy
VinFast has officially opened its first two VinFast Stores in Cologne, Germany, and Paris, France.