Promoting green transportation and developing green cities
The German development agency Deutsche Gesellschaft für Internationale Zusammenarbeit (GIZ) and the Vietnamese Ministry of Construction just signed a Memorandum of Understanding (MoU) to build a new partnership aims to put bicycles back on city streets.
At the signing ceremony. Source: GIZ in Vietnam
Kia Fariborz, Chief Technical Advisor at GIZ and Mai Thi Lien Huong, Director General of MoC's Administration of Technical (ATI) Infrastructure signed the MoU on the development of technical guidelines for the design of cycling infrastructure. Vietnamese cities are expected to benefit from greener transport accordingly.
Being commissioned by the German Federal Ministry of Economic Cooperation and Development (BMZ), GIZ will support ATI by providing a technical cooperation package. The support package will engage experts from across the world and include stakeholder consultation workshops with both national and international organisations.
Mai Thi Lien Huong, ATI Director General, said, "In order to motivate urban residents to use bicycles, this type of transport needs to be considered and facilitated through urban traffic infrastructure systems to create convenience and safety for users".
The experience of organisations and cities from around the world will provide valuable practical insights for the ATI, ensuring that the guidelines meet the needs of Vietnam's urban residents.
"The Guidelines will be the basis for upscaling the pilot projects on cycling infrastructure in Hoi An and Thua Thien-Hue, where GIZ is supporting the development of Bicycle Development Plans and public bike-sharing schemes. These will pave the way for infrastructure for non-motorised mobility in urban areas throughout Vietnam" said Kia Fariborz, Chief Technical Advisor at GIZ.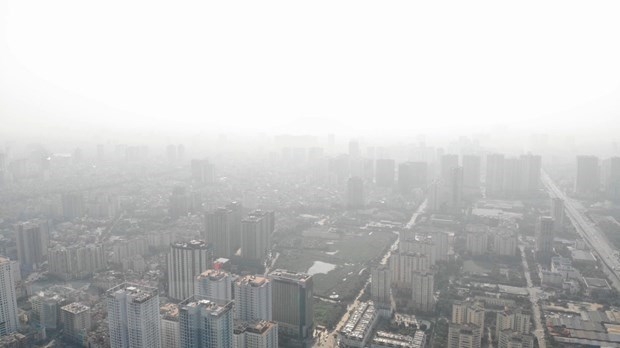 Hanoi is suffering bad air days. Photo: VNA
Vietnam has completed an updated Nationally Determined Contribution (NDC) with plans to reduce total greenhouse gas emissions 9 percent by 2030 in an attempt to respond to climate change.
The country suffers around 10.8 – 13.2 billion USD worth of economic losses associated with ambient air pollution each year, equivalent to 4.45 – 5.64 percent of the country's GDP, a research project of the National University of Economics (NEU).
Associate Professor Dinh Duc Truong, Director of the NEU's faculty of environment, climate change and urban development, also cited another research project conducted by the Bill and Melinda Gates Foundation which claimed that some 71,000 deaths in Vietnam in 2018 were caused by environmental pollution, with around 50,000 deaths directed related to air pollution.
President of the Vietnam Clean Air Network Hoang Duong Tung said that emissions from vehicles are a major source of air pollution in urban areas (60 percent), adding Vietnam is the world's fourth largest motorcycle market with 46 million vehicles, after China, India and Indonesia./.