Promoting Trade, Investment Cooperation between Vietnam and Algeria
The two countries' trade value remained modest compared to their potential and strength.
The bilateral diplomatic relations between Vietnam and the Algerian Republic, which were established in 1962, have been expanded to economic, technical and financial cooperation.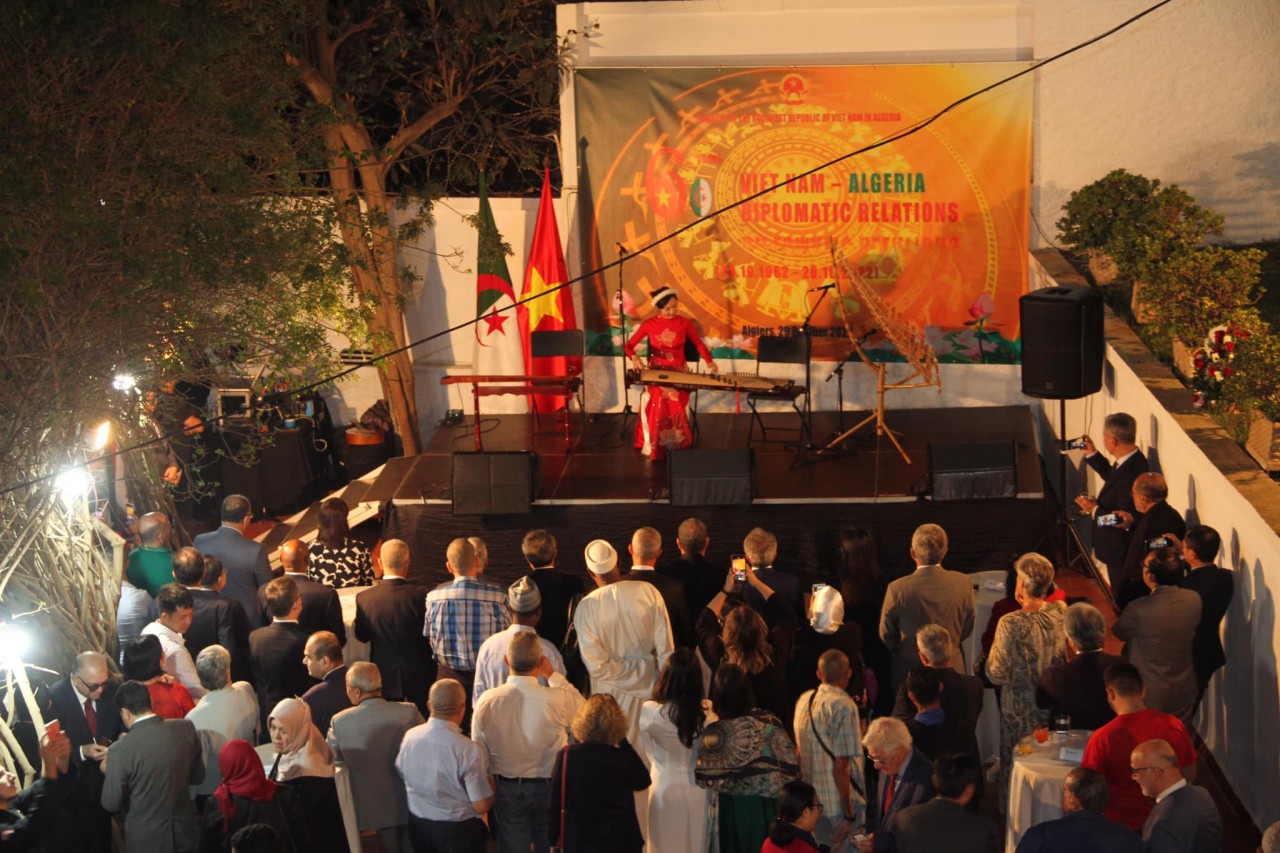 Vietnam's art performance at the event. Source: Vietnamese Embassy in Algeria
The Vietnamese Embassy in Algeria hosted a ceremony in Algiers to mark the 60th founding anniversary of the diplomatic relations between the two countries (October 28, 1962 - 2022), VNA reported.
Ambassador Nguyen Thanh Vinh recalled the development of the traditional friendship and solidarity relationship between the two countries, saying the bilateral relations have been increasingly expanded through multifaceted cooperation.
In recent years, bilateral cooperation mechanisms such as the Intergovernmental Cooperation Committee and the Political Consultation between the two Foreign Ministries have served as a basis for orienting cooperation fields between Vietnam and Algeria.
According to data from Algeria's National Agency for the Promotion of Foreign Trade (ALGEX), two-way trade between Vietnam and the African nation reached USD 262.5 million in 2021, and USD 140 million in the first six months of 2022. Algeria remains the fourth largest importer of Vietnamese goods in Africa.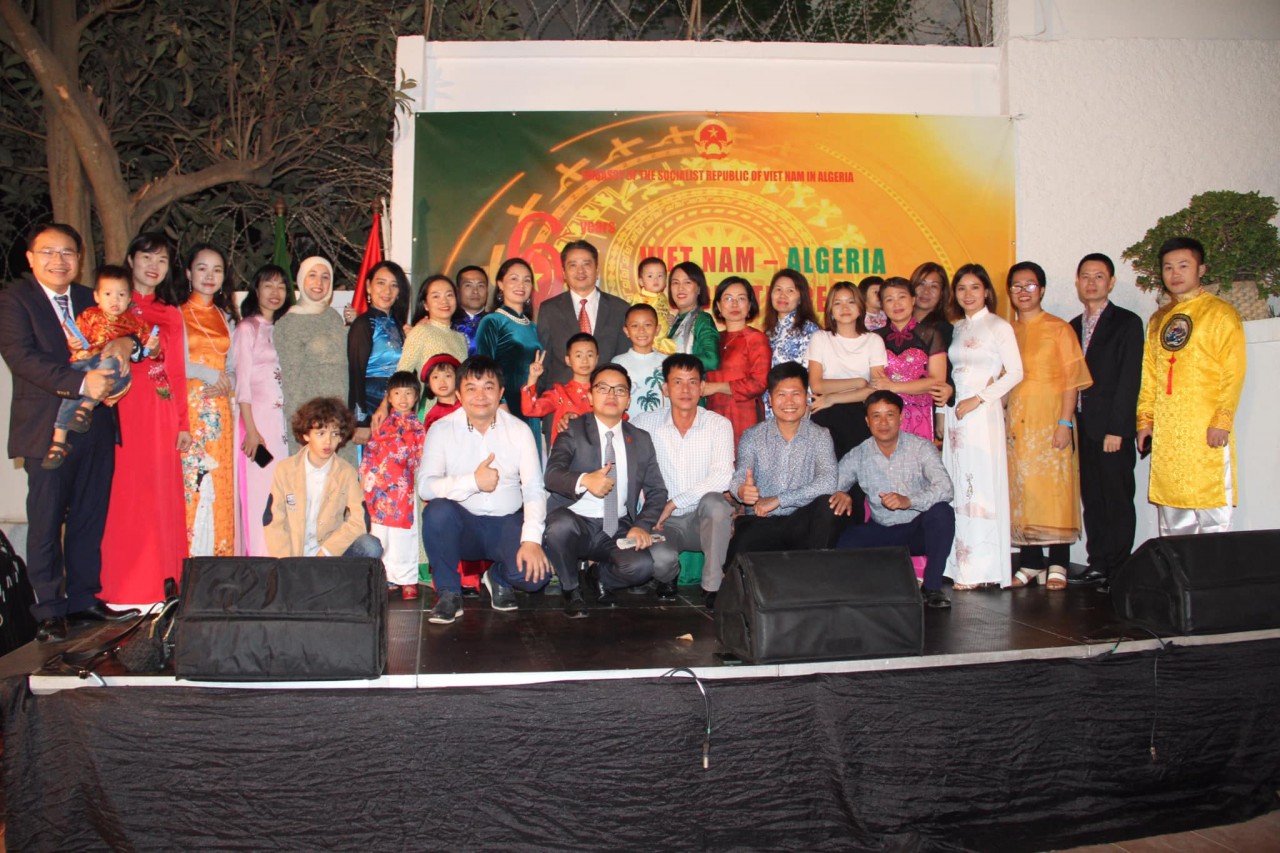 Ambassador, embassy's staff and Vietnamese community at the event. Source: Vietnamese Embassy in Algeria
Petroleum, phosphate, dates, olive oil, etc are some of the key commodities of the Algerian economy that Vietnamese companies can import, with the potential to develop into a more extensive trade partnership.
In the field of investment, the oil and gas exploration and production project of PetroVietnam Exploration Production Corporation (PVEP) has become a typical project for economic cooperation between Vietnam and Algeria.
In addition, based on the traditional friendship between the two countries, cultural cooperation has always been a bright spot and has been widely deployed in Algeria. Cultural cooperation has really become a "bridge" between Vietnam and Algeria, in which cultural values are shared on the basis of respecting differences.
There are currently two streets named after President Ho Chi Minh - in the capital Algiers and the city of Oran. President Ho Chi Minh, General Vo Nguyen Giap, Vice President Nguyen Thi Binh are heroic symbols in the hearts of the Algerian people.
During his visit to Vietnam in 2018, Algerian Foreign Minister Abdelkader Messahel said that the two countries share many similarities, and Vietnam has a special place in the heart of the Algerian people.
On the celebration occasion, the Vietnamese Embassy in Algeria organized a special celebration program with performances of Vietnamese and Algerian national instruments along with Vietnamese traditional martial arts performed by Algerian students, a Vietnamese traditional long dress (Ao dai) display, and an introduction of traditional Vietnamese dishes.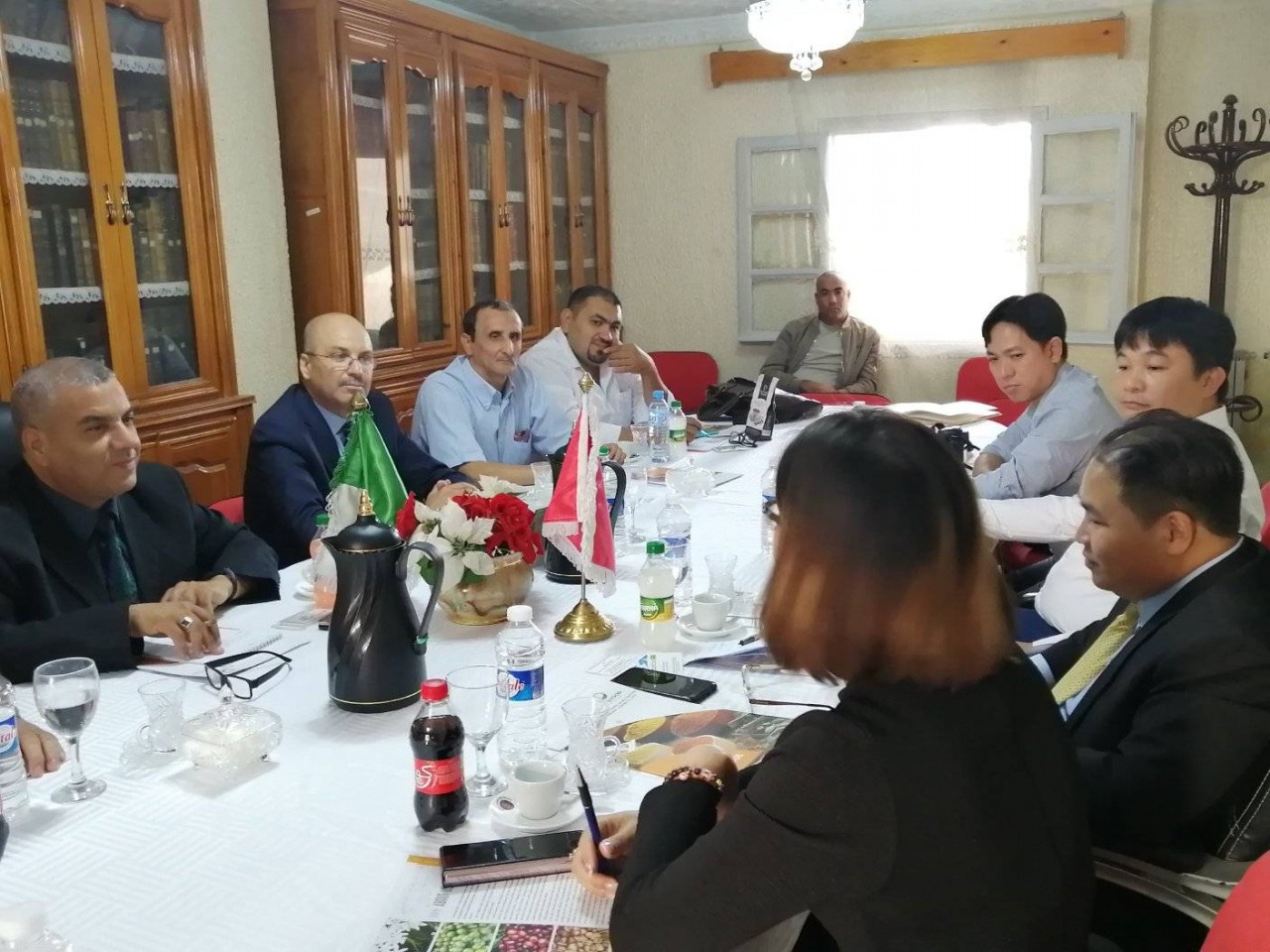 At the working session in Constantine province of Algeria. Source: CCIR
The authorities and businesses from Constantine province of Algeria want to step up cooperation with Vietnam and learn from the country's experience in such areas as aquaculture, tourism, and garment-textile, Riad Larkem, a representative from the province's Rhummel Chamber of Commerce and Industry (CCIR) made the statement at a working session with the Vietnam Trade Office in Algeria on October 27.
The CCIR representative also emphasised that, in July, Algerian President Abdelmadjid Tebboune issued a new investment law with many changes in regulations and incentives for investment in priority sectors, including agriculture, mining, healthcare, remote services, and tourism, in order to attract foreign investment.
Hoang Duc Nhuan, Commercial Counsellor of Vietnam in Algeria, introduced to Algerian firms Vietnam's economic potential and key exports, as well as the two nations' trade and investment ties.
On this occasion, Vietnamese farm produce exporter Rong Dong Duong met with local businesses and introduced its products such as peppercorns, coffee, and turmeric powder.
According to CCIR data, the spice market in this North African country is relatively large with an import volume of more than 30,000 tonnes of spices per year.
While in Constantine, the Vietnamese delegation also visited an international exhibition of food and packaging industry products.
Vietnam recognised the provisional government of the Algerian Republic on September 26, 1958, one week after its establishment announcement.
In Hanoi, the Vietnam – Algeria Friendship Association (VAFA) on October 27 also hosted a ceremony to celebrate the 60th founding anniversary of diplomatic ties.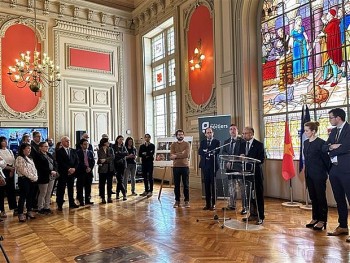 National
Vietnam News Today (Mar. 26): Vietnam and Thailand promote labour cooperation; Vietnamese, French localities look to step up cooperation; Attractive incentives on offer at Hanoi Tourism Festival 2023; E-commerce accounts for 60% of Vietnamese digital economy.