Reuters: Chinese Haiyang Dizhi 8 survey vessel returns to Vietnam's EEZ
The Chinese Haiyang Dizhi 8 survey vessel has returned to waters within Vietnam's Exclusive Economic Zone (EEZ), Reuters cited ship tracking data on April 14.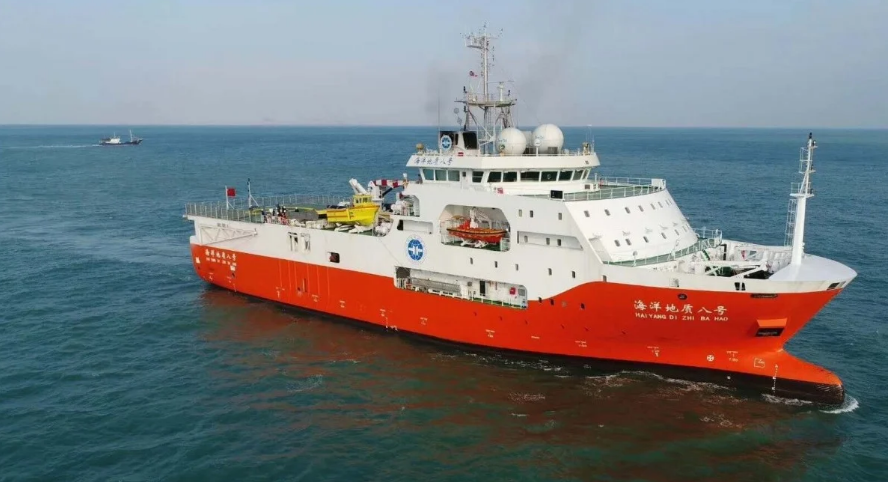 The Haiyang Dizhi 8 at sea. Photo: Weibo/SCMP
The ship, which is used to conduct offshore seismic surveys, on April 14 could again be seen 158 km (98 miles) off Vietnam's coast flanked by at least one China Coast Guard vessel, according to data from Marine Traffic, a website that tracks shipping.
The presence of the Haiyang Dizhi 8 in Vietnam's EEZ comes towards the scheduled end of a 15-day nationwide lockdown in Vietnam designed to curb the spread of the coronavirus (from April 1 to April 15).
It also comes after China's sinking of Vietnamese fishermen's boat with eight crew members onboard on April 4 off the waters of Hoang Sa (Paracel) islands, an incident not only drew sharp criticism from Vietnam, but also earned condemnation from the US and the Philippines, who is also a territory claimant in the resource-rich seas, as well as international experts.
Accoring to VOV, the 1982 UN Convention on the Law of the Sea is a legal framework for all activities in maritime areas. Under the Convention, coastal states have exclusive economic zones, a 200-nautical mile continental shelf, and 12 nautical miles of territorial waters. Coastal states which claim sovereignty in the East Sea – China, Vietnam, Malaysia, Philippines, and Brunei – signed and ratified the UNCLOS in 1982.
It is confirmed that China has no "historical right" in the East Sea and the "buffalo-tongue" or "9-dash" line that it unilaterally draws violates the 1982 UNCLOS.
China's sovereignty claim, based on its so-called "historical right", is not defined in international law. In 2016 China's sovereignty claims based on the 9-dash line and historical rights were rejected by the International Court of Arbitration in The Hague. Beijing has not accepted the PCA's ruling and has persisted in trying to affirm its sovereignty by unilateral, illegal, coercive measures.
China has sent the Haiyang Dizhi 8 and its armed escort vessels to hamper Vietnam's oil and gas exploration activities in Vietnam's territorial waters. It's not the first time China has done so. In 2017 and 2018 China forced Vietnam and its partner to halt oil and gas exploration in this sea area.
Last year, at least one China Coast Guard vessel spent weeks in waters close to an oil rig in a Vietnamese oil block, operated by Russia's Rosneft while the Haihyang Dizhi 8 conducted suspected oil exploration surveys in large expanses of Vietnam's EEZ, Reuters added.
"The deployment of the vessel is Beijing's move to once again baselessly assert its sovereignty in the South China (East) Sea," said Ha Hoang Hop, at the Singapore-based ISEAS-Yusof Ishak Institute.
"China is using the coronavirus distraction to increase its assertiveness in the South China (East) Sea, at a time when the US and Europe are struggling to cope with the new coronavirus."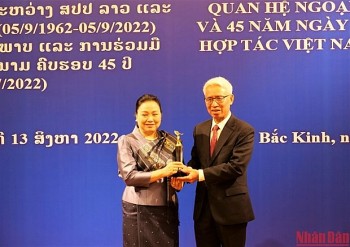 Friendship
The embassies of Vietnam and Laos in China held a friendship exchange in Beijing on August 13 in celebration of the 60th anniversary of the two countries' diplomatic ties (September 5) and 45 years since of signing of the Treaty of Friendship and Cooperation (July 18).