Rice in Vietnam: Discover The Finest Rice Varieties
Rice is one of the most important parts in Vietnam's daily life, and here is the finest and most delicious rice varieties you can try only in this country.
For Vietnamese, rice can mean much more than a type of staple. It is not overstated to assert that rice is the most influential factor in Vietnamese traditional culture and a driving force for history. It is not just because rice is the most popular grain, which cannot be absent in any Vietnamese meal. It is also because rice feeds the population, and that it contains a hidden beauty that can adorn the already elegant Vietnamese culture. Rice is Vietnamese's unofficial symbol.
1. Nị Rice
Photo: Tandoor Vietnam
Nị rice is a traditional dish of Cham people at Chau Giang, An Giang province. Nị rice is usually cooked with milk but some people like to add dried grapes to increase its flavor.
People in Cham consume Ni rice with Ca Pa, another distinctive beef dish. Cham's distinct flavor comes through in the blend of the two dishes. People who eat N rice and Ca Pa will taste the fat of milk, the sweetness of nuts, the saltiness of meat, and the spiciness of chile.
2. Chicken Rice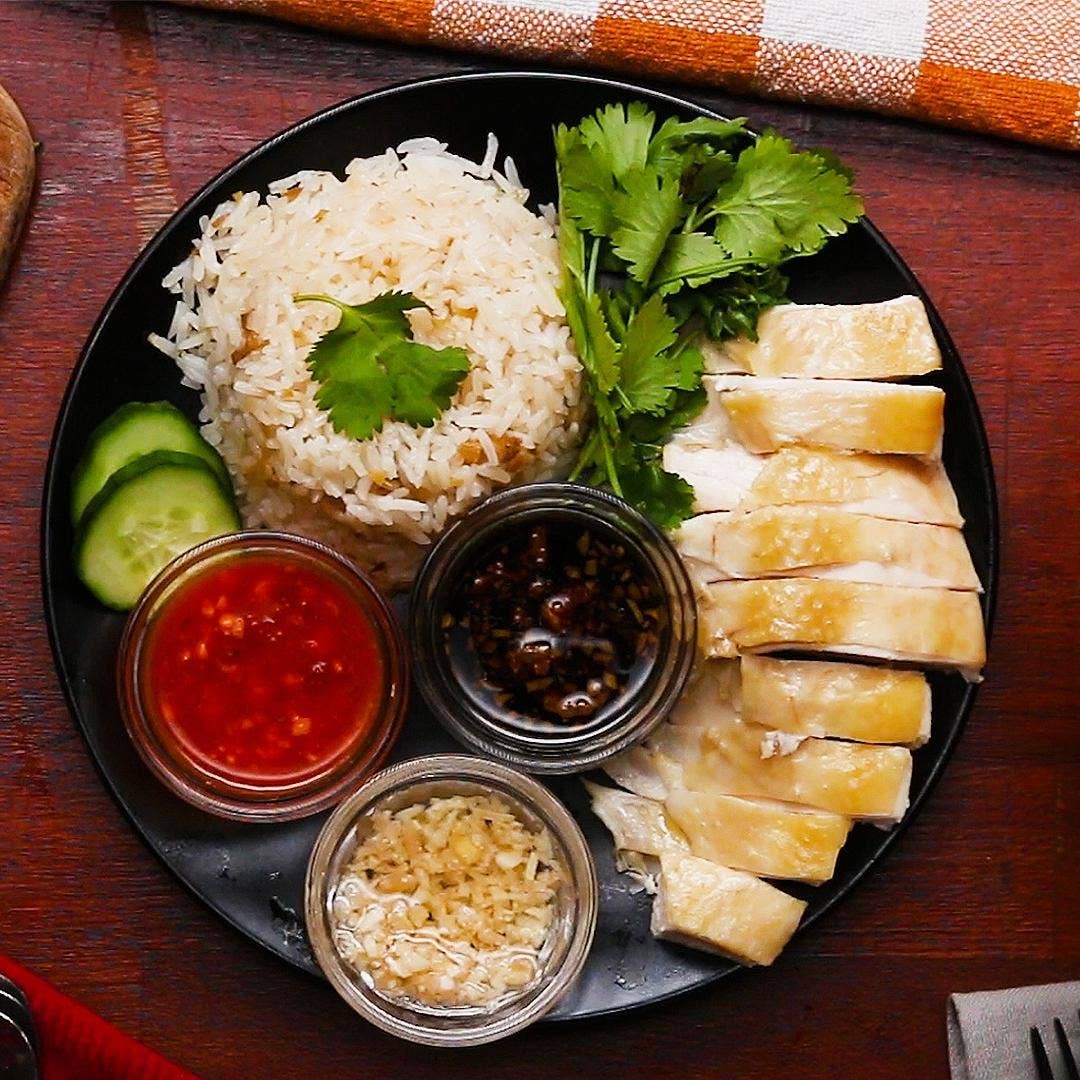 Photo: Tasty
Everyone who comes here is advised to sample the chicken rice because it is so tasty and common. The residents of Hoi An are proud of this cuisine, and it is considered one of their delicacies. Chicken rice is just rice cooked with chicken bouillon and a pinch of turmeric, which explains why the rice in this dish isn't white, but rather a light yellow color from the chicken fat.
Even though the recipe merely calls for rice, chicken, coating sauce, and pickled vegetables, preparing an excellent chicken rice plate is not easy. The chicken is broken into little pieces and mashed with smashed onions, Vietnamese coriander, and other spices in this meal.
This mixing stage is crucial and demonstrates the cook's delicacy. The springy chicken pieces and fragrant rice are garnished with peppermint, shredded green papaya, and pickled vegetables before being presented to clients.
3. Com Hen ( Rice with baby clams)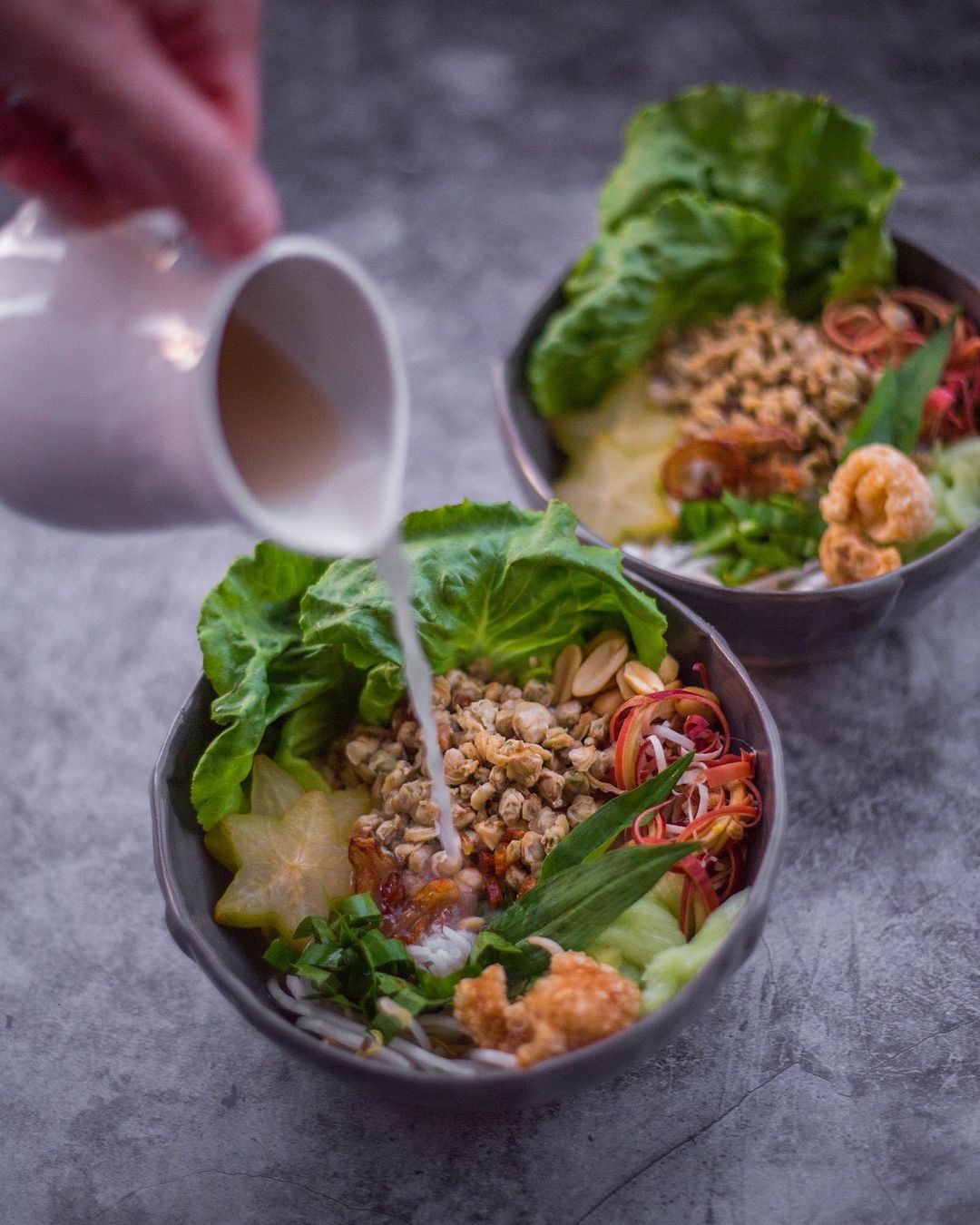 Photo: @mmbonappetit
Com hen has a sweet-smelling flavor of rice, onion, as well as strange tastes of sweet, buttery, salty, sour, and peppery-hot. This special kind of food is of great ancience, simplicity and deliciousness. Hence it is always attractive to many foreign tourists when visiting Hue, the ancient citadel of Vietnam.
Con Hen is served with a little rice and a lot of vegetables, herbs and fruit, add clams in the center, top with fried pork fat, roasted peanut, fried shallots, or you can drizzle on some fermented shrimp sauce and clam broth.
It requires fifteen different raw materials to prepare for the dish, including mussel, watery grease, fried grease, peanuts, white sesames, dry pancake, salted shredded meat, chilly sauce, banana trunk, banana flower, sour carambola, spice vegetables, peppermint, salad, etc.
What makes this simple kind of food popular is revealed in the great endeavor to adopt and process its main ingredient – mussel. Mussels are sea species, which must be dipped in water for a long while before being processed.
Moreover, it is a low-priced specialy, thus you could eat it in luxurious restaurants in Hue or even in vendoring mobile shops on the streets.
4. Coconut Rice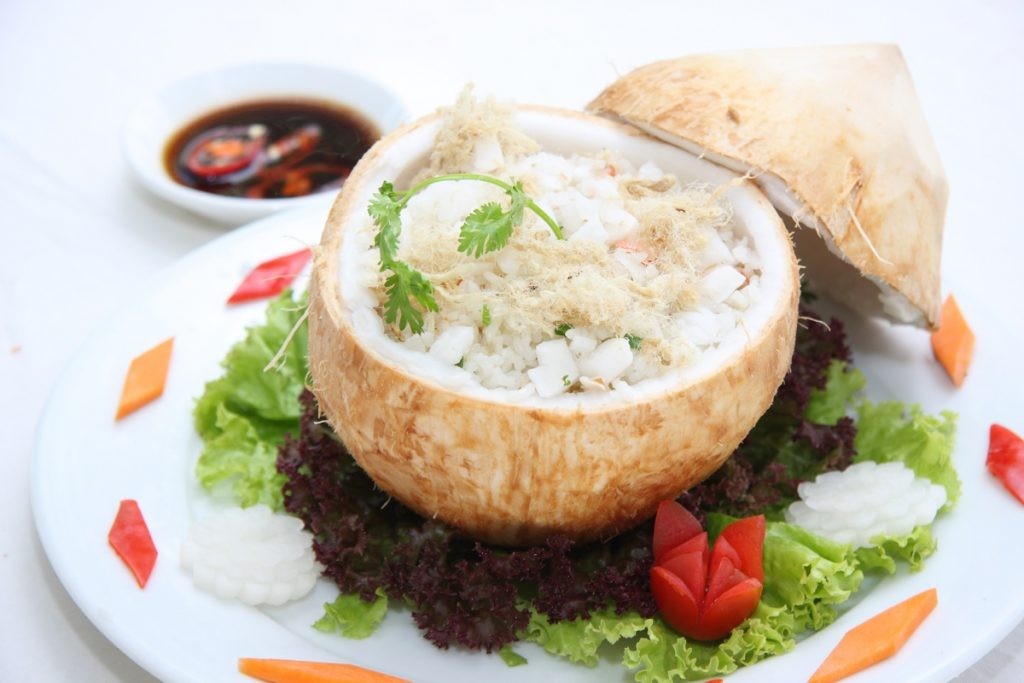 Photo: Saigon riders
It is not difficult to make this food. You only need delicious rice which has a sweet aromatic fragrance, a steamer, and some coconuts to make the dish. First, you have to peel freshly an outer layer and a fibrous husk of the coconut. Use the sharp knife to cut the top of the coconut let the water out, flatten the bottom and use the coconut as the cooking pot.
Place the rice in a colander or sieve and rinse in the cold water. Then, drain the rice. After that, place the rice in coconuts, add enough coconut water (enough to cover the surface of the rice) and put the lids on the coconuts. The hardest part is to measure the right amount of coconut juice, if there is too much water, the rice is wet, too little and the rice is dried. Finally, put all the coconuts in a steamer and leave the rice to simmer for about 1 hour, until the water is absorbed all and the rice becomes soft.
When the coconut rice is cooked, it is better to keep warm in a steamer and only take the coconut out when it is ready to use. If the rice is brought out early, it will become cold and yellow. One tip to enjoy all the tastiness is to eat with roasted shrimp with coconut water.
5. Hell Rice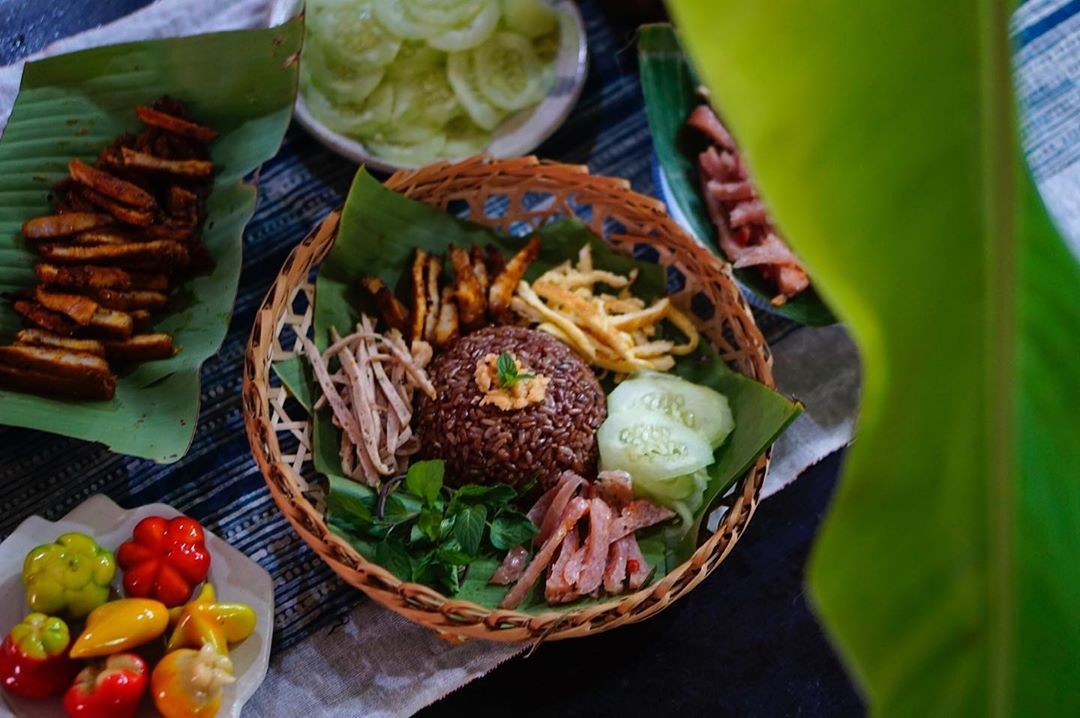 Photo: @lagomhomehue
Its name is perhaps too ominous for a dish, but it is a delectable Hue culinary art. According to Hue food expert Hai Phan Ton, the seven hues on a plate of "hell rice" reflect the Buddha's first seven feet.
Aromatic rice, thin julienne bacon, Hue's pork bologna, shrimp paste, Hue's grilled spring rolls, egg rolls, herbs, cucumber… all come together on a plate to provide a tasty and nutritious dinner.
This dish is fascinating not only because of its nutritional value, but also because it is relatively affordable and provides a very typical Hue definition.
6. Com Lam (Bamboo Rice)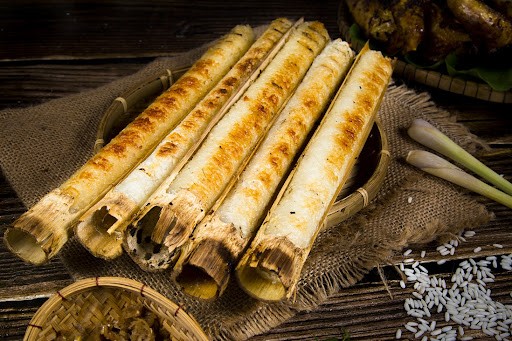 Photo: dulichvietnam.com.vn
It is rice, often glutinous rice, cooked in a tube of bamboo, served with salted roasted sesame, grilled pork or chicken skewers. The bamboo chosen should be fresh and young so that the new membrane inside the tube can wrap the rice, adding it a special flavor, fragrance and sweetness. To prepare the rice, first fill the tube with about 80% of rice and 10 % of water, in favor of water inherent in bamboo, then adding a little coconut water to make the rice more pleasant; wrap the tube with banana leaves and then burn it on fire until it smells pleasant.
When it is done, the singed skin of the bamboo is removed, leaving a thin cover that is also peeled away when you eat. Sniffing the blending fragrance of fresh bamboo, banana leave, and sticky rice as well as experiencing the sweet flavor of rice, bamboo, and coconut, and the greasy saltiness of sesame, or the great taste of grilled wild boar are certain to induce guests to fall in love with "Com Lam".
7. Burnt Rice Ninh Binh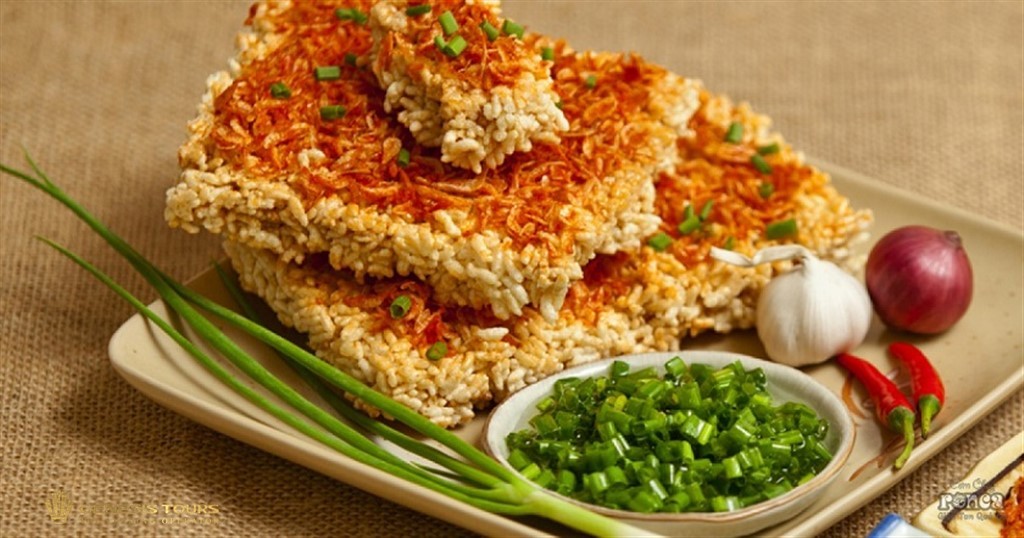 Photo: FantaSea
Burned rice is one of the special dishes of Ninh Binh. This dish is made from cooked rice sliced into round shapes. After cooled down, the round slices are soaked into hot oil pan until they turn yellow. Beef and pig's heart and kidney are crushed into thin slices and mixed with spices and ingredients like tomato, carrot, onion and mushroom. Then the mixture is well-fried and put into the burned rice bowl.
8. Vietnamese Fried Rice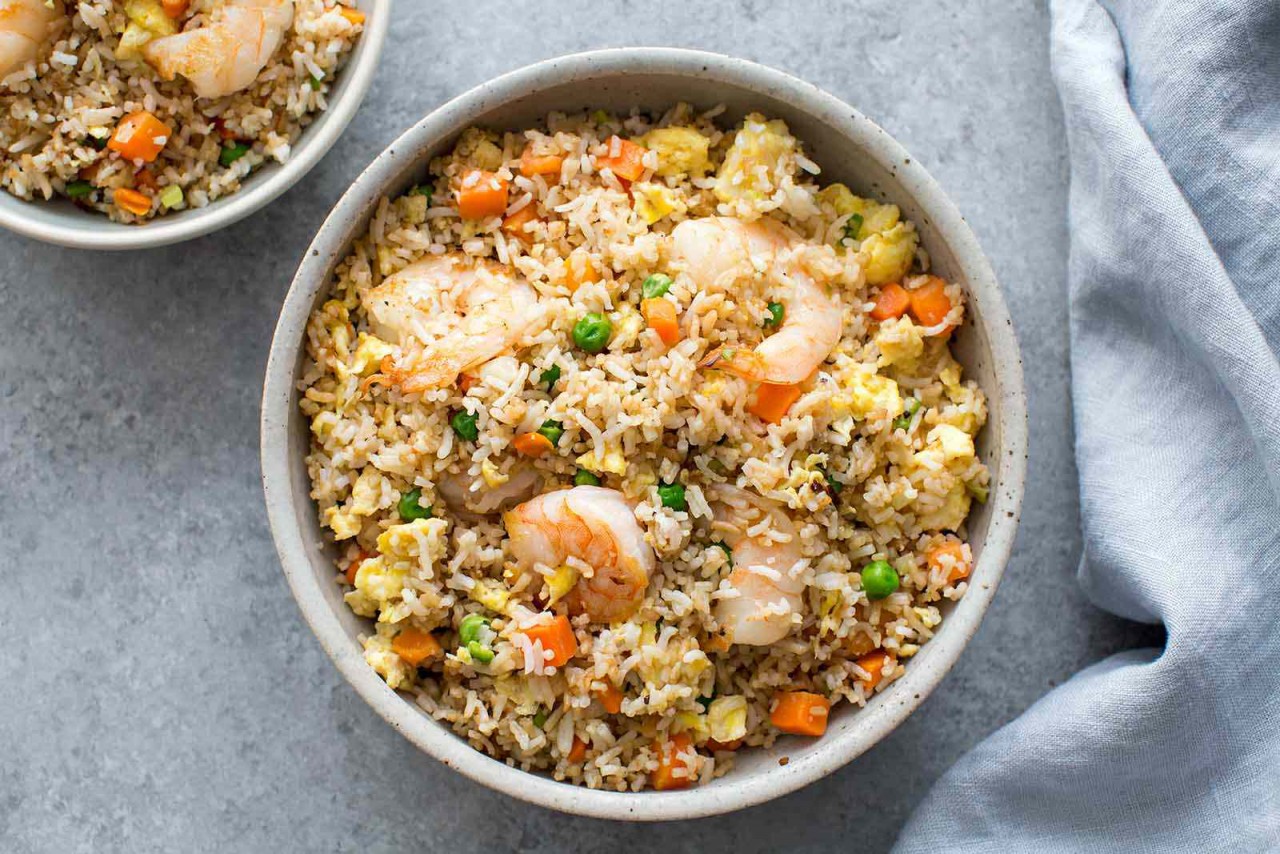 Photo: Simply Recipes
The Vietnamese version of fried rice called "Com Chien". Because virtually anything may be added to the rice to enrich it, the dish is quite diverse, but it's commonly made with white rice, garlic, salt, and pepper. After the rice has been prepared, it is stir-fried in heated oil.
Com chiên is served hot and can be topped with a variety of vegetables, eggs, or sausage meat. Seasonings such as soy sauce or fish sauce can be utilized, and chopped spring onions add texture and a beautiful visual contrast to the rice.
Economy
In the first two months of 2023, India's mobile phone exports exceeded $2 billion, equivalent to over Rs16,500 crore, due to increased production and shipments from manufacturers, particularly Apple and Samsung. This surge in exports brings the total export value to over $9 billion since April 2022.