RoK Honors Seven Vietnamese Scientists
The Vietnamese Embassy in the Republic of Korea (RoK) and the Vietnamese Science Technology Office in the RoK under the Vietnamese Ministry of Science and Technology and the Vietnamese Student Association in the RoK (VSAK) jointly organized an event themed "The 9th Annual Conference of Vietnamese Young Scientists" (ACVYS 2023) at Sejong University in Seoul, South Korea on July 16.
Speaking at the opening ceremony, Vietnamese Ambassador to the RoK Nguyen Vu Tung affirmed that the conference was an important event to honor young scientists studying and living in South Korea. In the future, young people will serve as a bridge to the relationship and development between Vietnam and the RoK. Therefore, the two countries have agreed to support collaborative projects of the Vietnamese and South Korean young generations.
The ACVYS 2023 is an event where young Vietnamese scientists have the opportunity to show their latest research results, share their passion and research experience, and put their research into practice.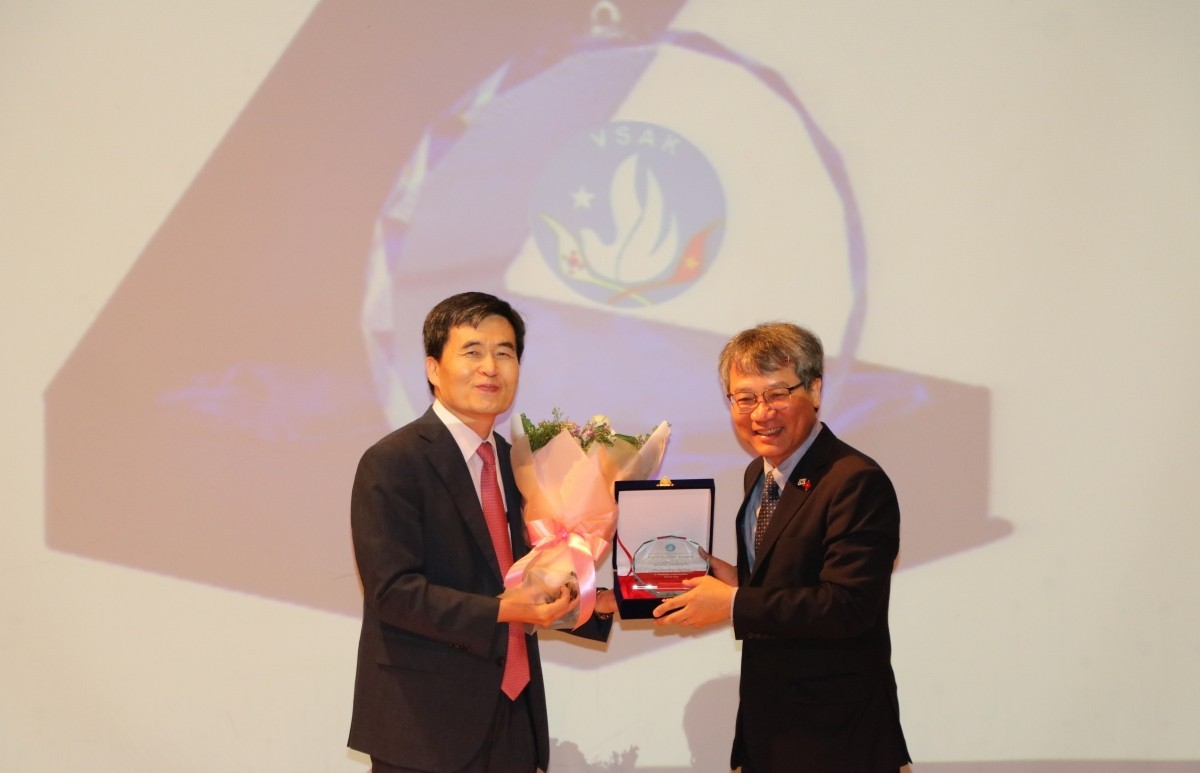 Vietnamese Ambassador to the RoK Nguyen Vu Tung (right) participated in the conference.
The 2023 conference attracted great attention from students, thereby receiving the largest number of submissions across various fields from nearly 500 Vietnamese students living in the RoK. The Scientific Council selected 41 reports in seven fields, including Energy, Information Technology, Aerospace Engineering, etc. The seven best reports voted by the Scientific Council were awarded.
President of the VSAK Nguyen Tran Hung said that the conference is an important event for the Vietnamese student community in South Korea. "The Student Association will make more efforts to better serve as a leading organization, bringing useful programs and developing opportunities for students in Korea," said Hung.
The seven best scientists were awarded.
Also within the framework of the event, the organizing committee launched registration for the award "Vietnamese Young Scientists in Korea Awards" (VYSK 2023) to award five candidates with the most outstanding research achievements to honor and enhance the spirit of research and study of Vietnamese students in South Korea.
A talk show titled "Vietnamese Students in Korea: Embracing Opportunities, Looking Towards The Future" was also held to help local students make the right choice when choosing majors, as well as research orientations.