Sentiment of Overseas Vietnamese in France for Homeland
With about 300,000 Vietnamese living and working in France, they have contributed to the country's concerted efforts in defending its sovereignty and independence, especially in the Bien Dong Sea, helping the international community and friends to better understand and support Vietnam.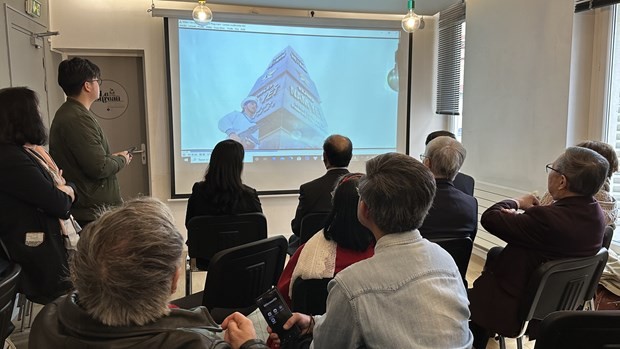 Participants to the launch of "Love Vietnam's seas and islands" watch documentary films recorded by overseas Vietnamese when visiting Truong Sa. Photo: VNA
A club named "Love Vietnam's seas and islands" was launched on March 19 in Paris following the movement "All for Vietnam's seas and islands" that is spreading across Europe.
Tran Thu Dung, a founder of the club, said the club aims to connect the community and French friends who love Vietnam in general and the country's seas and islands in particular.
The club is also expected to promote Vietnamese people, nature, marine culture, and specialties to attract visitors to Vietnam.
Dung said that the club will also engage in fundraising to support students, teachers, schools, community houses, and libraries on Truong Sa islands, contributing to socio-economic development and protecting Vietnam's sovereignty over the seas and islands.
Speaking at the launching ceremony, Ambassador Dinh Toan Thang highly appreciated the initiative, describing the event as a demonstration of the faith of overseas Vietnamese in France in their homeland and its seas and islands.
The diplomat said he hopes that the club will attract more and more members, organise useful and interesting activities towards the homeland, as well as make more contributions to the country in the coming time.
A launching ceremony of the club "Love Vietnam's seas and islands" was held on March 19 in Paris. Photo: VNA
Cao Hong Vinh, head of the Liaison Department for Vietnamese in Europe "For the sea and islands of Vietnam" and also the representative of the "Truong Sa - Hoang Sa Club" in Poland, said that this is the 5th organization established by people who love Vietnamese sea and islands in Europe.
On this occasion, the club introduced songs and documentary films about Truong Sa as well as books written by overseas Vietnamese who traveled to Truong Sa. Participants also joined in donating to build schools on islands in Vietnam.
Vietnamese intellectuals in France also work with domestic peers to form networks of scientists at national and international scales, which are a source of assistance for Vietnam.
Last weekend, on March 18, the Association of Vietnamese Scientists and Experts (AVSE Global) held a round-table discussion to review its activities in the recent past and introduce coming projects.
Prof. Nguyen Duc Khuong, chairman of the association, said the AVSE Global, whose predecessor was the Association of Vietnamese Scientists and Experts in France, was established in Paris in 2011 with a view to connecting overseas Vietnamese scientists and experts to capitalise on their potential.
With the participation of hundreds of Vietnamese experts and scientists around the world, it has been implementing a number of programmes to support the homeland's development. Its activities cover five main areas, namely organising annual workshops and forums, mostly in Vietnam, about different development topics; projects giving consultancy to central agencies, localities, and businesses; high-level training programmes; innovation projects; projects on research and development and foreign investment attraction.
The AVSE Global has set up 11 different networks of Vietnamese intellectuals to carry out those areas of activities, he noted.
With a focus on innovation in 2023, it will work to connect startup projects with partners and investors. Among them, the Hack4Growth initiative will be pushed ahead to attract startup projects and pave the way for many to be implemented in reality as seen so far.
The association is also set to hold two major events, Khuong said, elaborating that the second Vietnam Global Leaders Forum is schedule to take place in Ho Chi Minh City this June to gather Vietnamese talents from around the globe to discuss issues of the country's concern.
Meanwhile, the Vietnam sustainable development forum will be held in Phu Tho province after a three-year hiatus caused by the Covid-19 pandemic, focusing on post-pandemic economic recovery, cultural and heritage value promotion, and tourism development, according to him.
Besides, nearly 10 workshops on innovation, climate change fight, supply chain, and public policies will be organised in various localities nationwide. The AVSE Global will also continue providing development advice to localities, ministries, and sectors while helping them with personnel training.
Addressing the event, Vietnamese Ambassador Dinh Toan Thang applauded the AVSE Global's projects and said they should be further expanded to contribute more to national development.