Romantic first-sight love of American Facebook engineer and Vietnamese CEO
While talking to Morgan, a Facebook software engineer, Dieu Linh did not know that he sent her little sister a message that read: 'I love your sister'.
Photo courtesy of Linh & Morgan
One evening in early 2020, in a house in Mountain View, California, 24-year-old Morgan Howell, a Facebook software engineer, was chatting with his Vietnamese friend, also his colleague in Silicon Valley. After a while, Bach Dieu Linh, the sister of Morgan's colleague, joined the chat.
After a few questions, Linh opened her phone, held out a photo, and asked Morgan: "Which of these two packaging designs do you think is better?". At this time, Linh's company was preparing to launch a new product, so she gave this question to anyone she met. Unlike others, who often gave her unsophisticated words, Morgan gave an answer that surprised Vietnamese girl: "Pantone 183838 will be very eye-catching. If you use Sans-serif font, the spacing should reach this level. The message would stand out if you move this line a bit to the left".
At that time, Dieu Linh looked up into Morgan's eyes and realized that he was a delicate person in every detail. "Morgan is one of a few people who have the highest EQ (emotional intelligence) I've ever met," the female CEO of a company specializing in women's products recounted her impression at that moment. "Even though he is very young, he has a wide, sophisticated, and witty type of intelligence. I enjoy interacting with people with high EQ because lit is just so pleasant talking with them". Linh did not expect that the software engineer had also fallen for love at first sight with her - a Vietnamese businesswoman who has an independent and stylish personality, and very "nerd" hobbies such as astrophysics, literature, documentary. Just five minutes later, Morgan sent a text to Linh's younger sister Dieu Linh, saying: "I love your sister".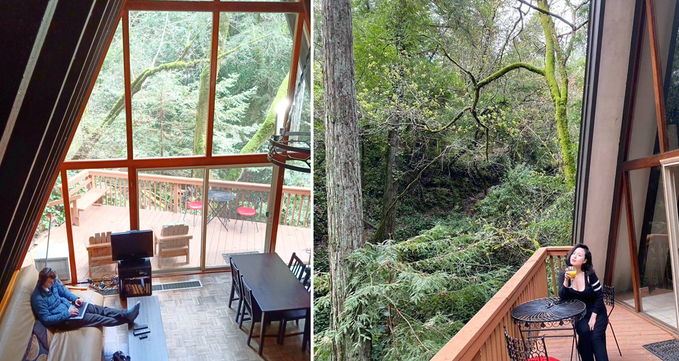 Photo courtesy of Linh & Morgan
Morgan still remembers that one of their first coincidences was about work. At Facebook, he is in charge of building a commercial platform that integrates payment technology right into Messenger, which is suitable for the Southeast Asian market. In Vietnam, Dieu Linh has built a business and a distribution system comes out of this social network stall. During a chance meeting, they were caught up in each other's stories, from life, work, to small hobbies. After that, they saw each other every day and chat incessantly.
A week before her flight back to Vietnam, Bach Dieu Linh had a fever and persistent cough. In the midst of Covid-19, she was worried that she might be infected, so she booked a test, canceled her ticket, and quarantined herself. At that time, Morgan was very busy but still managed to cook for "the girl who stole my heart". They said goodbye to each other, but Morgan said: "I'm not afraid of Covid-19, I'm just afraid of leaving you". Five days later Linh had her test results, turned out it was only bronchitis, but California issued a sudden blockade, Dieu Linh could not return to Vietnam, so the young couple decided to move in together.
Having only known each other for a few weeks, so their being together was a risky decision. Both Linh and Morgan had concerns. However, after only a short time, they concluded that their worries were redundant. Morgan always tried to make his girlfriend happy. Knowing his girlfriend has a habit of drinking matcha green tea every morning, he got up early to make it. He failed the first time but then succeeded after closely watching how Linh did her beverage. Dieu Linh also started to learn how to cook when she moved in with Morgan.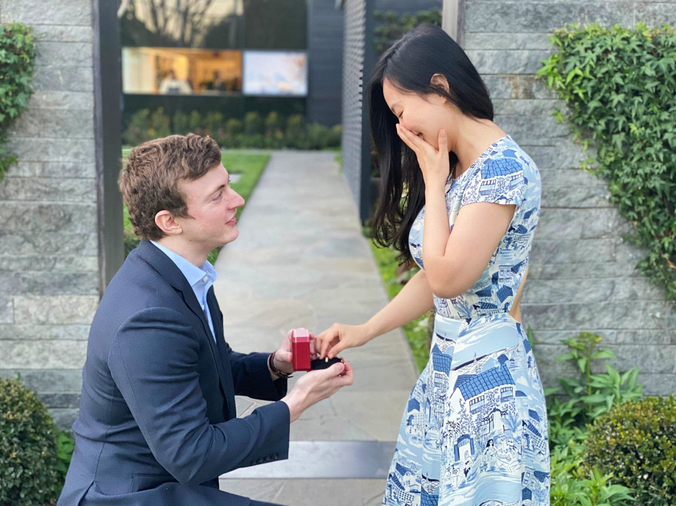 Photo courtesy of Linh & Morgan
Morgan was born in a low-income family. From the age of 15, he worked with programming rentals to earn money for the family. At the age of 24, he was one of the youngest engineers holding the position of E5 (senior engineer) at Facebook with very good remuneration and shares paying off over the years.
In June 2020, a startup invited Morgan to become Chief Technology Officer, but he was very much confused. Dieu Linh advised him to take the job as "risky is the privilege of youth": Morgan then decided to quit his job. Since then, the hardship doubled. "What really connects us is our progressive thinking. Both are constantly improving ourselves day by day to become a better spouse, a better person" Morgan shared.
On the last day of February, Morgan took Dieu Linh to Napa, a valley in the vineyards. They went to a nice little restaurant called the French Laundry Service. Here, Morgan knelt and asked Linh to marry him. The girl replied: "Over and over again". The man laughed as this is a sentence he said when she cooked him Hanoi pho. The couple has registered their marriage. They are planning to return to Vietnam to build technology platforms for Fintech and Edtech.
"We realize that Vietnam is developing at a tremendous speed, once applying correctly what has been done successfully in the US, we can bring a lot of positive changes for Vietnam", said Bach Dieu Linh.