Russia- the West tension soars, Putin vows to defend Russian interests
Russian President Vladimir Putin said Moscow will "firmly" defend national interests, as he denounced the return of "Russophobia" and warning of a revival of Nazism.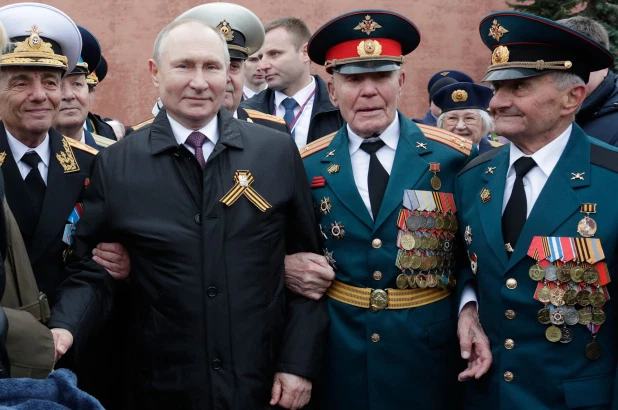 "We will firmly defend our national interests," Vladimir Putin vowed.SPUTNIK/AFP via Getty Images
Putin's speech on Sunday came at the start of an annual parade that sees military hardware roll through the streets of Moscow. More than 12,000 military personnel took part in the march, as well as some 190 pieces of military equipment and 76 fighter jets and helicopters, according to Al Jazeera.
Putin, who has been in power as either president or prime minister since 1999, stood beside Soviet war veterans on a review platform set up on Red Square.
"Unfortunately there are once again attempts to deploy many things from the ideology of the Nazis, those who were obsessed with a delusional theory on their exclusiveness. And not only (by) all sorts of radicals and international terrorist groups," Putin said in what appeared to be a common denunciation of the West but what the Kremlin said was aimed at the rise of neo-Nazism in Europe, Reuters reported.
"Russia will again and again uphold international law, but at the same time we will firmly protect national interests (and) ensure the security of our people."
Victory Day parades – which only became an annual event after the collapse of the Soviet Union in 1991 and have taken on increasing importance in projecting Russia's renewed military might during Putin's two decades in power – also took place in dozens of cities across the nation.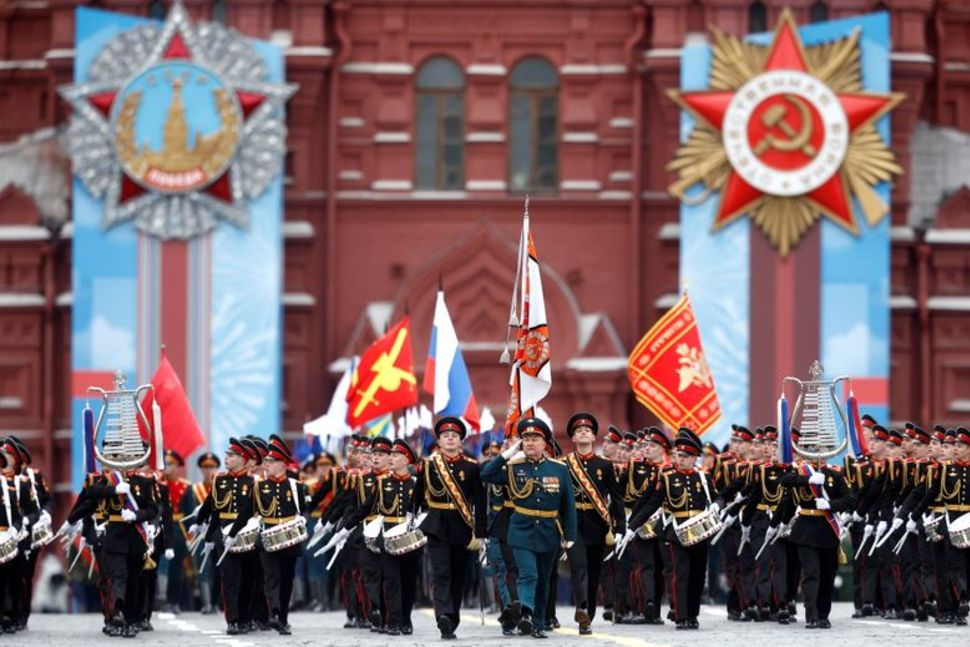 Russian service members and cadets march during a military parade on Victory Day, which marks the 76th anniversary of the victory over Nazi Germany in World War Two, in Red Square in central Moscow, Russia May 9, 2021. REUTERS/Maxim Shemetov
During Putin's two decades in power, the public holiday has taken on increasing importance in projecting Russia's renewed military might.
A survey this week by state-run pollster VTsIOM showing that 69 percent of Russians view it as the most important holiday on the calendar.
A third of respondents told VTsIOM they would take part in the celebrations, while a fifth said they would watch on television.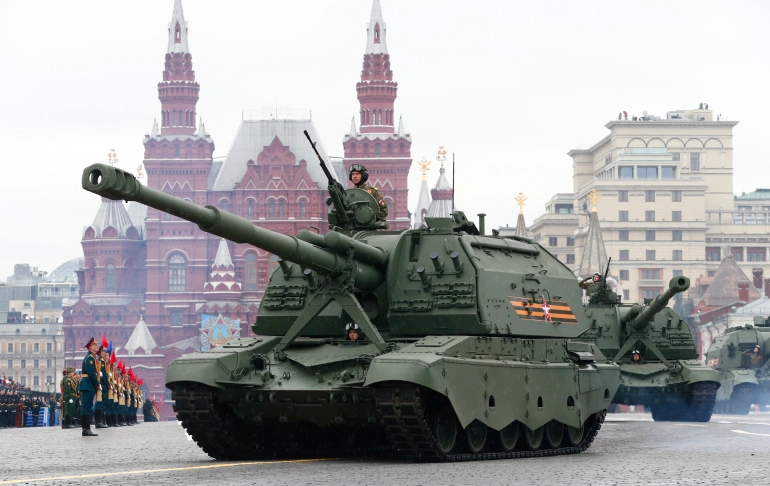 Russian tanks roll towards Red Square during Victory Day in Moscow [Alexander Zemlianichenko/AP]
Tensions with the West
Sunday's commemorations came as Russia in recent weeks has seen its diplomats expelled from a clutch of European countries over espionage scandals, while the United States and the European Union have levied new sanctions on Moscow over the treatment of jailed Kremlin critic Alexey Navalny and allegations of hacking and cyberattacks.
The imprisonment of the 44-year-old Russian opposition leader has prompted large protests in many parts of the country, and security forces have rounded up thousands of people at recent rallies, CNN reported.
He was arrested in January when he returned to Moscow from Germany, where he had been recovering from being poisoned, and sent to prison in February after a Moscow court on replaced a suspended sentence with jail time due to violations of his probation while out of the country.
On April 23 he said he was ending a weekslong hunger strike, following a warning from doctors close to him that he was close to death.
Tensions have also soared over the conflict in eastern Ukraine, which erupted after Russia annexed Crimea in 2014 and where Moscow is widely seen as backing pro-Russia separatists.
Clashes between the government and separatists have been intensifying since January in a conflict that has claimed more than 13,000 lives.
Russia last month amassed 100,000 troops near Ukraine's borders and in Crimea, its biggest buildup since 2014, though it announced a drawdown in what many saw as a test for new US President Joe Biden.
US Secretary of State Antony Blinken flew to Kyiv last week in a show of support for Ukraine before an expected summit between Putin and Biden next month.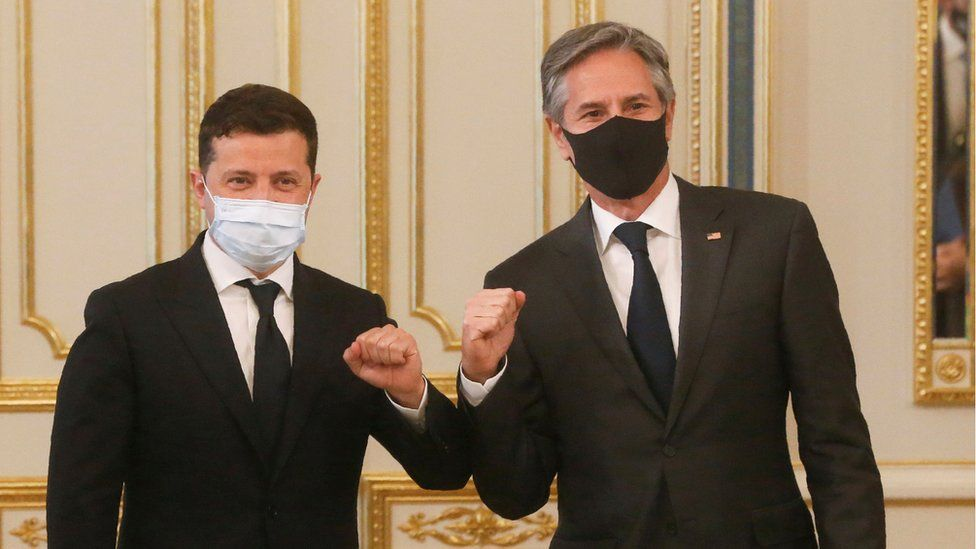 The US official made the comments at a meeting with the Ukrainian president in Kyiv (Photo: Reuters)
Speaking alongside President Volodymyr Zelensky, he said the US was looking to strengthen security co-operation and assistance between the two countries.
The visit comes just weeks after Russia deployed thousands of soldiers close to the Ukrainian border.
"We are aware that Russia has withdrawn some forces from the border... but we also see that significant forces remain there [and] significant equipment remains there," Mr Blinken said.
The top US diplomat said Washington was "monitoring the situation very, very closely".
He did not provide further details of any additional security support the US was considering.
Barbara Plett Usher, the BBC's State Department correspondent, says the visit was intended to signal that Ukraine is a high foreign policy priority for President Joe Biden's administration.
On Saturday, Ukrainian President Volodymyr Zelenskyy travelled with European diplomats to the pro-Russian breakaway eastern region of Lugansk to commemorate the end of WWII.