Russian Ambassador hails Vietnam's efforts as ASEAN Chair
Alexander Ivanov, Russian Ambassador to the Association of Southeast Asian Nations (ASEAN), has proclaimed Moscow's great appreciation for the country's efforts in its role as ASEAN Chair 2020, along with other mechanisms led by ASEAN.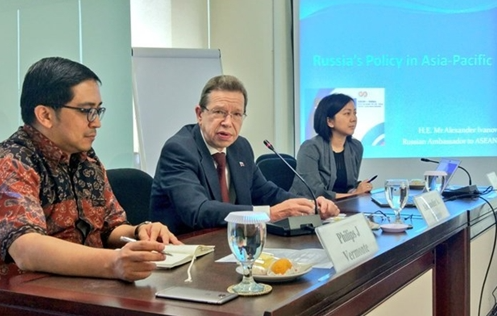 Russian Ambassador to ASEAN Alexander Ivanov (center). (Photo: People's Army Newspaper)
In an interview granted to the Vietnam News Agency's correspondents in Jakarta on the outcome of the 53rd ASEAN Foreign Ministers' Meeting (AMM-53) and related meetings, the Russian diplomat said Vietnam has successfully managed to perform its duties in the difficult time of COVID-19 pandemic.
"It is a real challenge for our Vietnamese friends and Russia is always trying its best to create favourable conditions for Vietnam in its capacity as ASEAN Chair 2020," the Ambassador added.
According to the Russian diplomat, the 10th East Asia Summit of Foreign Ministers (EAS) represents an important step in preparations ahead of the East Asia Summit, an event where leaders of various countries will discuss current affairs of the Asia-Pacific region.
During this year's summit it is anticipated that the most pressing issue will be the joint battle against COVID-19, along with its impact on socio-economic development.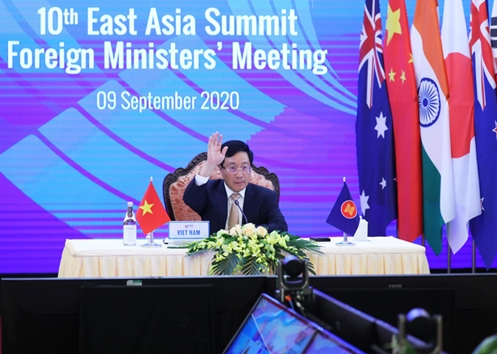 Deputy PM and FM Pham Binh Minh chairs the 10th EAS meeting. (Photo: People's Army Newspaper)
In this context, Russia has initiated the preparation of the EAS Leaders' Declaration aimed at strengthening collective capacity in pandemic prevention efforts and response measures. This document will serve to boost joint efforts being launched to address the current crisis, whilst also contributing to strengthening the region's resilience to fight against future pandemics.
Vietnam, China, Indonesia and Thailand are co-sponsoring this document that was also welcomed by all EAS Foreign Ministers as timely and very important, People's Army Newspaper quoted the Russian Ambassador.
According to Ambassador Ivanov, discussions at the 27th ASEAN Regional Forum (ARF) largely focused on key issues relating to regional stability, along with growing threats and new challenges, with Russia co-sponsoring the ARF Statement on Cooperation in Information Technology Security.
With regard to post-pandemic economic recovery, Ambassador Ivanov states that Russia is a co-sponsor of the EAS Leaders' declaration on co-operation as it promotes stable economic growth initiated by China.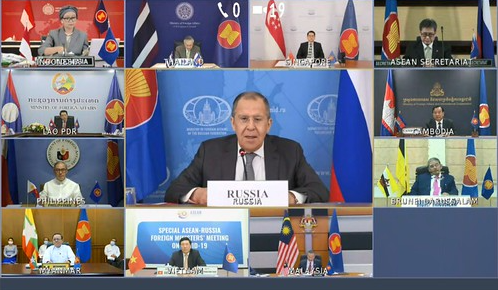 Special ASEAN-Russia Special Ministerial Meeting on COVID-19. (Photo: ASEAN)
Regarding the ASEAN-Russia cooperation, he said it is developing well, and both sides are promoting the strategic partnership in all directions.
Some of the joint activities have been transformed into the format of videoconferences, including the ASEAN-Russia Special Ministerial Meeting on COVID-19 where ASEAN and Russia agreed to exchange information and experience as well as work together on vaccine and many other issues.
The Russian diplomat explained that Russia initiated co-operation on the prevention of infectious diseases with ASEAN long before the outbreak of COVID-19. Indeed, several ASEAN experts have been trained at the International Research Center for Biosafety and Human Health in the Asia-Pacific region in Vladivostok, with Russia set to hold similar courses moving forward, he said.
With regard to regional security issues, Russia represents one of the main proponents on hosting EAS discussions on regional security, Ambassador Ivanov said. This dialogue is of particular importance in the context of increasing competition among regional powers, therefore affecting ASEAN and its central role.
Finally, Ambassador Ivanov noted that despite the COVID-19 pandemic, ASEAN-Russia co-operation is developing well with both sides promoting a strategic partnership across multiple fields, with some joint activities being launched on an online platform, VOV cited.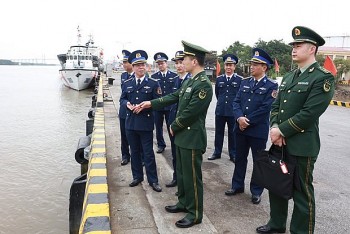 Focus
Vietnam Coast Guard exchanges with other countries