Russian PM thanks Vietnam for offering face masks amid coronavirus
Russian Prime Minister Mikhail Mishustin thanked Vietnam for offering 150,000 face masks to help his country deal with the COVID-19 outbreaks, VGP reported.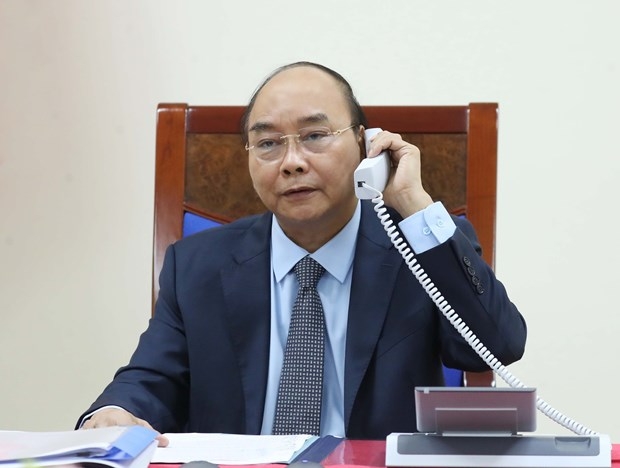 Prime Minister Nguyen Xuan Phuc has phone talks with his Russian counterpart Mikhail Mishustin on April 21 (Photo: VNA)
Vietnamese Prime Minister Nguyen Xuan Phuc and Russian counterpart have agreed to continue facilitating trade in goods between the two countries amid complicated developments of the COVID-19 pandemic.
The agreement was reached during the pair's phone talks on April 21.
As the COVID-19 pandemic has caused adverse impacts on the world's economy and the two countries, the PMs concurred in providing more optimal conditions for bilateral trade so as to fully capitalise on the free trade agreement between Vietnam and the Eurasian Economic Union, of which Russia is a member.
They also discussed on measures to accelerate joint energy projects and create favorable conditions for the two countries' businesses to expand cooperation in such fields like energy, oil and gas, and auto assembly among others.
The two leaders pledged to maintain regular contacts at all levels as well as activities within the framework of the Vietnam Year in Russia and the Year in for 2019-2020 after the COVID-19 pandemic is over.
They also agreed to continue supporting the affected Vietnamese and Russian citizens in each other's territories, promptly coordinating to deal with any problems emerging, and creating favourable conditions for the citizens who want to return to their countries.
PM Phuc extended congratulations to the Russian leaders and people on the occasion of the 75th anniversary of the Victory Day over Fascism (May 9) and invited PM Mishustin to pay an official visit to .
PM Mishustin spoke highly of 's outcomes in the COVID-19 fight and thanked Vietnam for offering 150,000 antibacterial cloth face masks to help his country deal with the COVID-19 outbreaks.
Russia recorded 5,642 new coronavirus cases in the last 24 hours, bringing its nationwide tally to 52,763, the Russian coronavirus crisis response centre said on Tuesday.
Fifty-one people with the virus died in the last 24 hours, pushing the death toll to 456, it said.
By contrast, Vietnam continued to report no new cases of the novel coronavirus in its April 21 evening update, keeping its cumulative tally at 268 cases with no deaths./.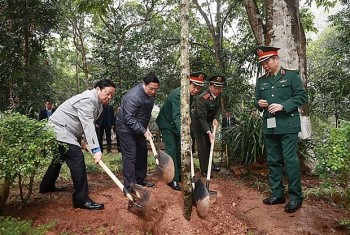 National
The Prime Minister launches a tree planting festival in Ba Vi on New Year of Cat.