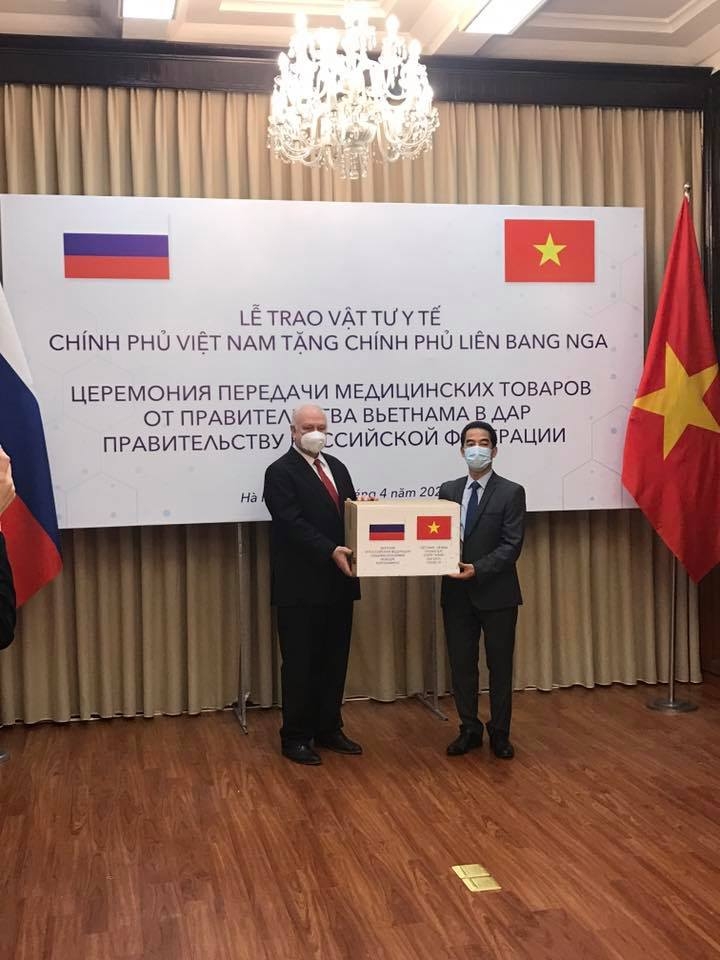 Deputy Foreign Minister To Anh Dung hands over made-in-Vietnam face masks to Russian Ambassador Konstantin Vnukov. Photo: Russian Embassy
Addressing the handover ceremony in Hanoi on April 13, Dung noted that the COVID-19 pandemic is currently evolving in a complex manner, posing unprecedented challenges for all countries.
"As a comprehensive strategic partner, in the spirit of mutual assistance and solidarity, the Government of Vietnam wants to allocate part of its resources to the Government and people of Russia in their fight against the COVID-19 pandemic," he said.
Dung thanked the Russian government for providing continued support for the Vietnamese community living in Russia in the difficult times.
The official emphasized the importance of strengthening international cooperation and solidarity in the current context, which he said will help find effective measures to protect people's health and safety, contributing to mitigating the negative effects of the COVID-19 pandemic on the socio-economic development of each country.
Vietnam stands ready to coordinate, exchange experiences and join hands with Russia in containing the epidemic, Dung stressed.
For his part, Ambassador Konstantin Vnukov thanked the Vietnamese Government and people for the valuable assistance to his country, and expressed his belief with solidarity and united efforts, the countries will together overcome the pandemic.
As of April 13, Moscow had the highest number of people infected with COVID-19 in Russia with over 11.500 cases, followed by the Moscow Oblast with more than 1.800 cases.
In total, 18,328 cases of COVID-19 were recorded in Russia, and 1,470 people were cured. The number of deaths due to COVID-19 in the country increased to 148.
Vietnam, which has reported 265 coronavirus cases, with no deaths, has also donated masks and other medical equipment to other countries, including China, Cambodia, Laos, the UK, France, Germany, Italy, Spain and the US./.
Coronavirus can travel up to 4 metres

A new study by Chinese researchers examining air samples from hospital wards with COVID-19 patients has found the virus can travel up to 4m – twice the ...
Hannah Nguyen