Vietnam through Russian tourists' mesmerizing drawings
Evgraf Plotnikov and Rita Shageyeva have put their soul and love for the vibrancy and simplicity of Vietnam in each painting, enthusing many foreigners to visit the S-shaped land.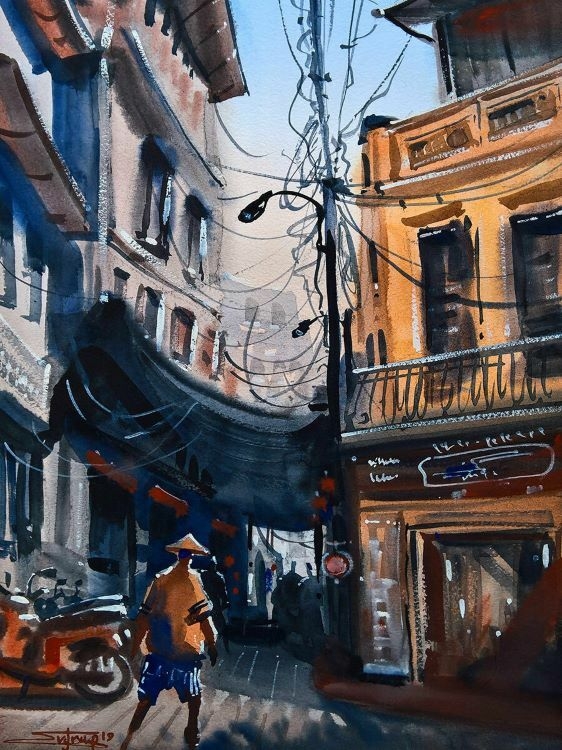 "Sunny street" in Hanoi Old Quarter by Evgraf Plotniko (Photo: VNE)

The duo has traveled across Europe, to China and Southeast Asia. The couple visited Vietnam last year, stopping at Da Nang, Hoi An, Ha Long Bay, Hanoi and couldn't travel more due to bulky drawings tools they had to carry around.The two travel enthusiasts had taken a sabbatical from office-based work five years ago to embark on a world tour, hoping to satisfy new-land-discovery passion and save their emotions through each painting.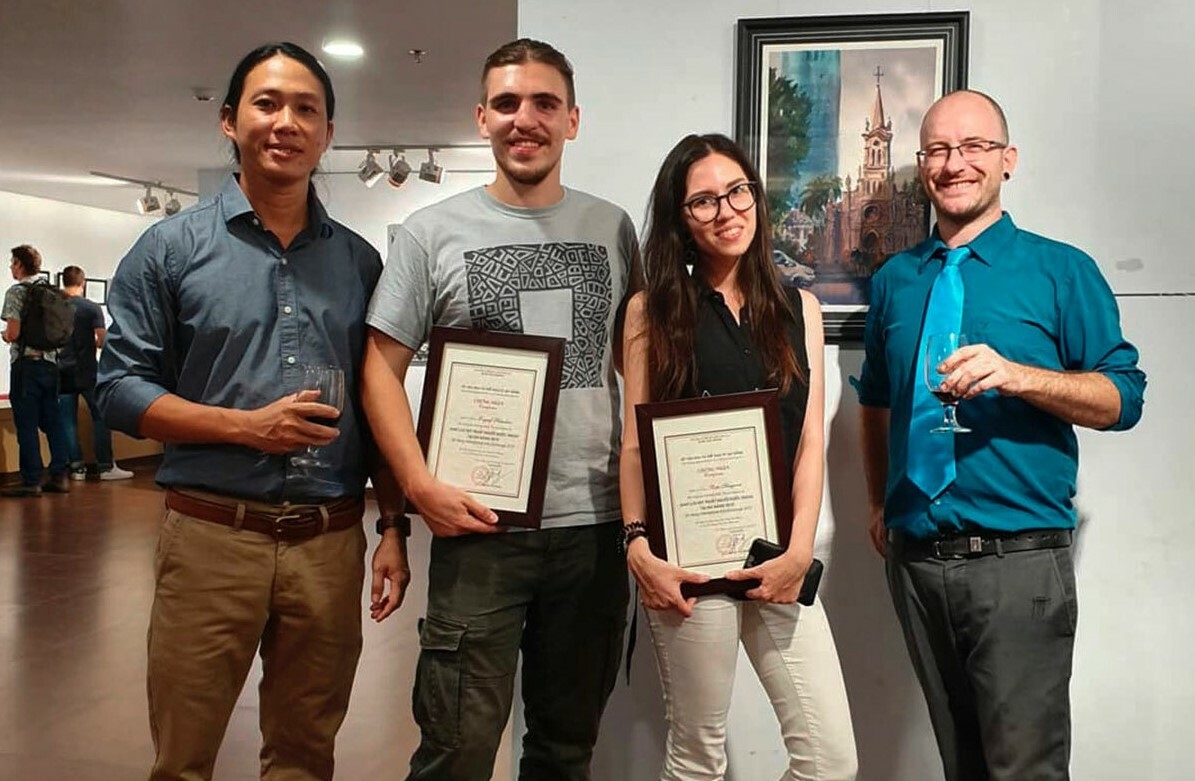 Evgraf Plotnikov (second left) and Rita Shageyeva (middle) at an exhibition of their paintings held in Da Nang City. They are graduates of the St. Petersburg Institute for Painting, Sculpture and Architecture. (Photo: VNE)

One of Evgraf's favorite places in Vietnam was a corner of the Da Nang Church, from which he had an interesting view of buildings fused between the traditional and modern, and Eastern and Western architectural styles, VnExpress reported.Evgraf and Rita found great inspiration from Mother Nature but humans, culture and the breath of life are also the other indispensable beauties that the artists want to bring to life in their artworks, which are inspired by Vietnamese culture with pretty much differences from Russian or European ones.
However, his favorite work is "Sunny street", which was crafted out in Hanoi Old Quarter. "I love it 'cause it portrays different things about Hanoi, from the sunlight, ancient houses, electric wires, motorbikes, people, to the iconic conical hats", Evgraf told VnExpres, adding that his paintings could bring people a sense of traditional cultural beauty and the daily life patterns.
"Many characteristics unique to Hanoi are depicted in the picture. I sure will show it to anyone asking me about Hanoi. It might not be a misty Hanoi near the Hoan Kiem Lake, but it was my strongest impression of this city," Evgraf said.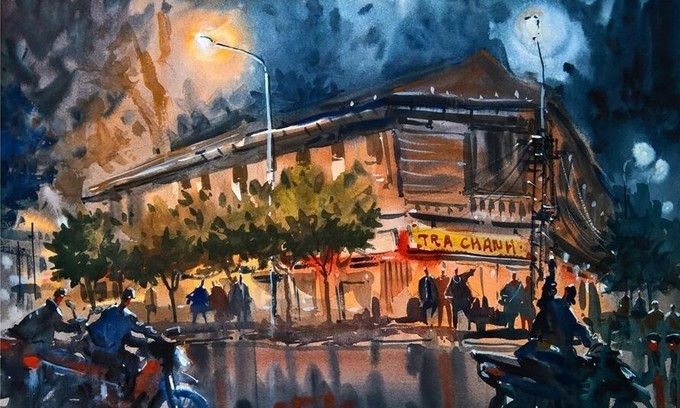 The painting named "Hanoi" by Evgraf Plotnikov (Photo: VNE)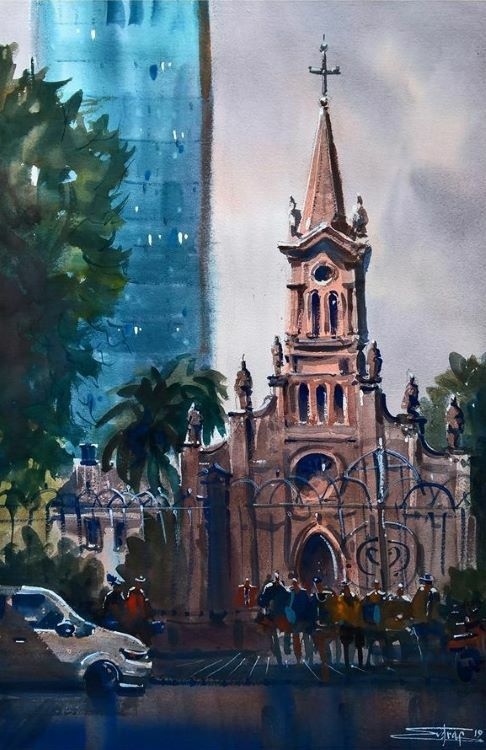 "The verticals of Da Nang", a painting on the Da Nang Church by Evgraf Plotnikov (Photo: VNE)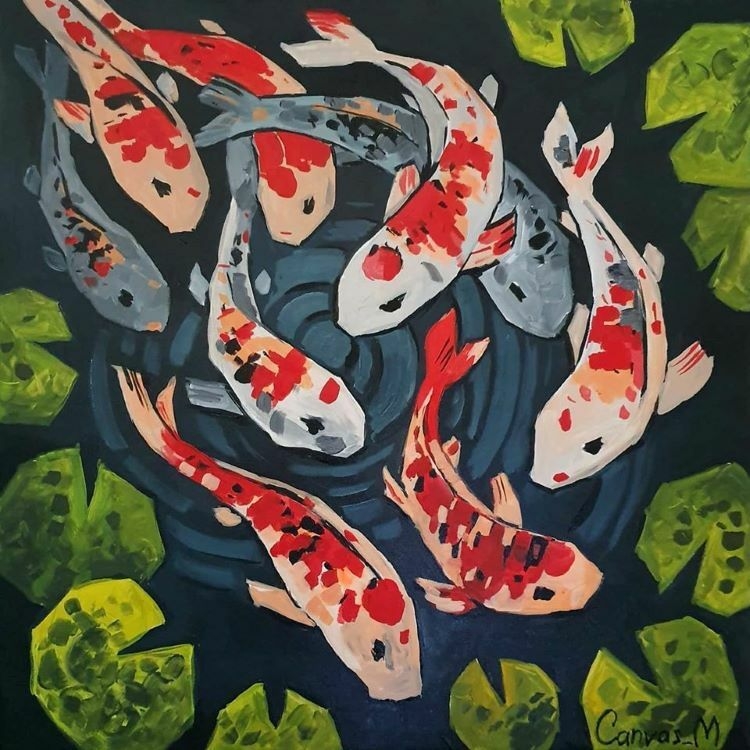 "Koi fish" by Rita Shageyeva (Photo: VNE)
The painter said many locals have lent her a helping hand during their stay in Vietnamese, helped she and Evgraf open art lessons and even a small exhibition in Hanoi named "Russian Artists and shades of Vietnam."Rita also impressed with the close-knit harmonization of nature and culture, of modernity and traditionality.
Hoang Lan, owner of an art gallery in Hanoi said: "Their paintings have many classic strokes, unique coloring and filled with emotions, proving that they really love and cherish our country".
Returning to Vietnam late January, the two artists held an exhibition of their paintings in Vietnam in St. Petersburg, which brought back many beautiful memories to visitors who'd visited Vietnam before and enthused others to visit the country in the future.
"They love the nature, sun, trees, conical hats, motorbikes and boats in Vietnam. All the details have inspired St. Petersburg residents," Evgraf said.