Samsung Chairman Lee Kun-hee dies at 78
Samsung Group Chairman Lee Kun-hee died on October 25 at 78. His death came six years and five months after he was hospitalized for a heart attack in May 2014.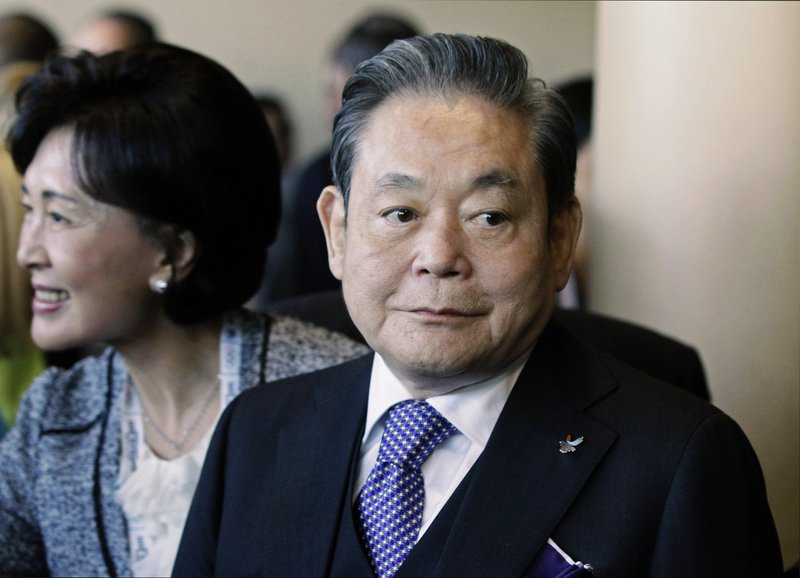 In this July 6, 2011, file photo, Samsung Chairman Lee Kun-hee, right, greets people from the RoK delegation in Durban, South Africa, for the 123rd International Olympic Committee (IOC) session that will decide the host city for the 2018 Olympics Winter Games. Photo: AP
Samsung Group Chairman Lee Kun-hee died on October 25 at 78. His death came six years and five months after he was hospitalized for a heart attack in May 2014.
Lee died with his family members by his side, including his only son and Samsung Vice Chairman Lee Jae-yong, the company said in a statement.
"All of us at Samsung will cherish his memory and are grateful for the journey we shared with him," the Samsung statement said. "His legacy will be everlasting."
President of the Republic of Korea (RoK) Moon Jae-in sent senior presidential officials to pass a condolence message to Lee's family at a mourning site. In the message, Moon called the late tycoon "a symbol of the RoK's business world whose leadership would provide courage to our companies" at a time of economic difficulties caused by the coronavirus pandemic, Moon's office said.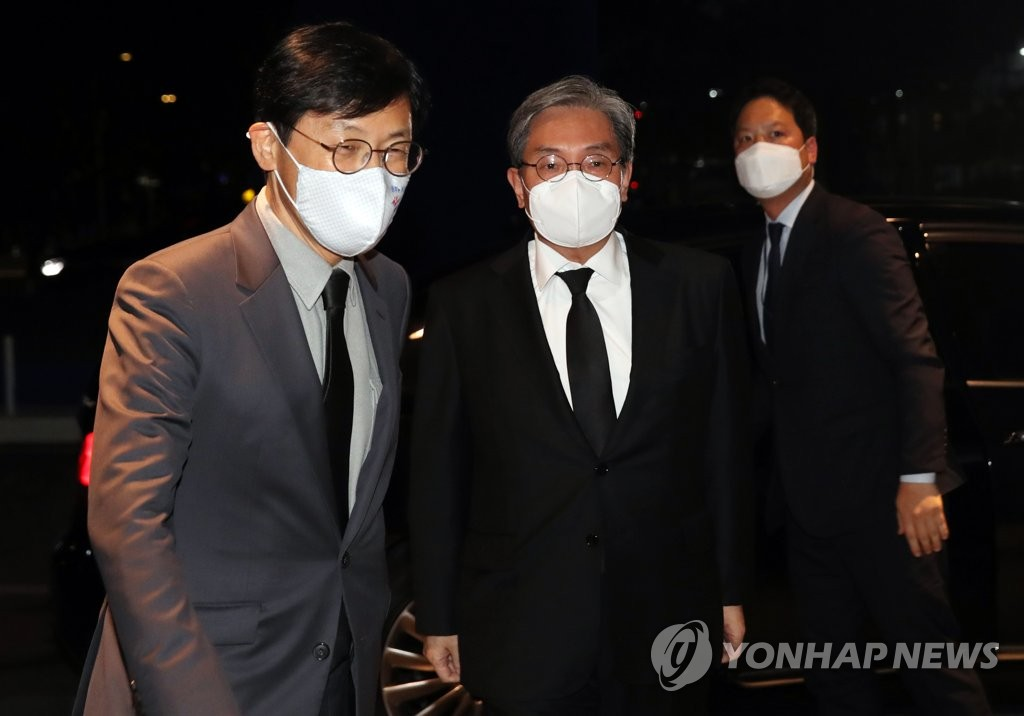 Noh Young-min (C), chief of staff for President Moon Jae-in, and Lee Ho-seung (L), Cheong Wa Dae's senior secretary for economic affairs, enter the funeral home for late Samsung Group Chairman Lee Kun-hee at Samsung Medical Center in Seoul on Oct. 25, 2020. Photo: Yonhap
Lee's family said the funeral would be private but did not immediately release details.
Lee inherited control of the company from his father, and during his nearly 30 years of leadership, Samsung Electronics Co. became a global brand and the world's largest maker of smartphones, televisions and memory chips. Samsung sells Galaxy phones while also making the screens and microchips that power its major rivals — Apple's iPhones and Google Android phones.
Its businesses encompass shipbuilding, life insurance, construction, hotels, amusement parks and more. Samsung Electronics alone accounts for 20 percent of the market capital on the RoK's main stock exchange, AP reported.
Potential restructuring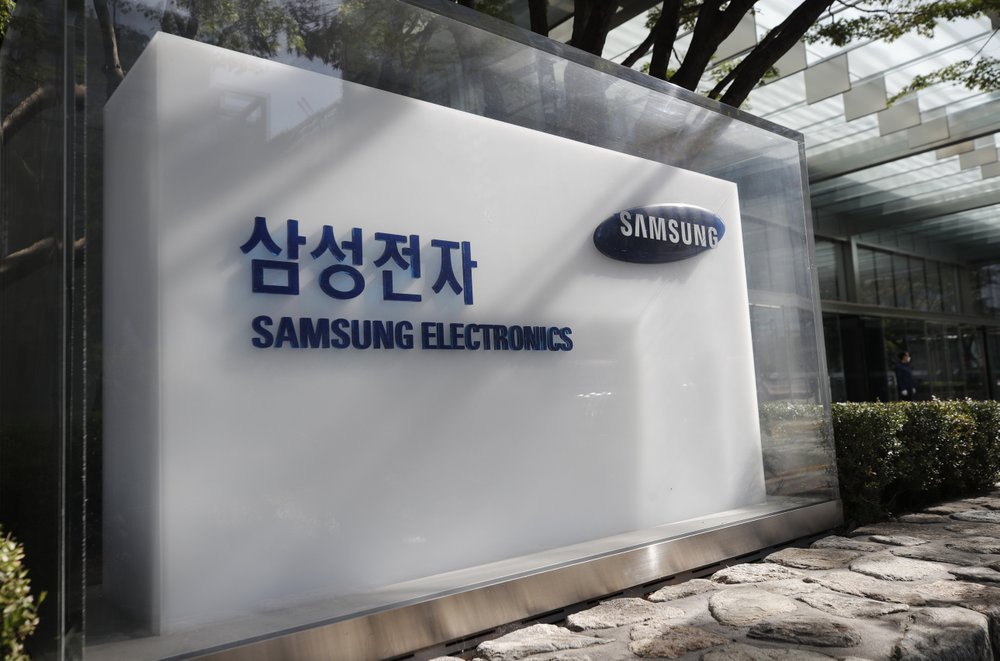 A logo of Samsung Electronics is seen outside of Samsung Electronics Seocho building in Seoul, the RoK, Sunday, Oct. 25, 2020. Photo: AP
Samsung Group affiliates' 326.7 trillion won ($289.6 billion) in 2019 revenue was worth about 17 percent of the RoK's gross domestic product, according to Fair Trade Commission data and a Reuters calculation.
The death of Lee, with a net worth of $20.9 billion according to Forbes, is set to prompt investor interest in a potential restructuring of the group involving his stakes in key Samsung companies such as Samsung Life Insurance and Samsung Electronics.
Lee owns 20.76 percent of the insurance firm and is the biggest individual shareholder of Samsung Electronics with a 4.18 percent stake.
Lee's son Jay Y. Lee, Vice Chairman of Samsung Electronics, has been embroiled in legal troubles linked to a merger of two Samsung affiliates that helped him assume greater control of the group's flagship Samsung Electronics.
The younger Lee served jail time for his role in a bribery scandal that triggered the impeachment of then-President Park Geun-hye. The case, being heard on appeal, is scheduled to resume on October 26. A separate trial on charges of accounting fraud and stock price manipulation kicked off this month.
"With Lee passing, Samsung Group is now facing the biggest governance shake-up since the merger between Cheil Industries and Samsung C&T" in 2015, said Ahn Sang-hee, a corporate governance expert at Daishin Economic Research Institute.
"For Jay Y. Lee, getting the most of that stake Lee Kun-hee holds is more important than ever," Ahn said. "The key here is with taxes. Coming up with enough taxes related to inheritance and avoiding possible disputes with his sisters are major hurdles."
It remains unclear how the elder Lee's three children and his wife will split his wealth, an issue that led to family feuds at other chaebols after the deaths of their patriarchs.
"It has been six years since Lee was hospitalised, so if there is a consensus among the children, Samsung will go through an orderly succession. If not, there is a possibility of a feud," said Park Sang-in, a professor at Seoul National University.
The conglomerate did not specify the cause of death and declined to comment on whether Lee left a will.
Lee became Samsung Group chairman in 1987 but had to resign more than a decade later after being convicted of bribing the country's president.
He was convicted again in 2008 of breach of trust and embezzlement, but the long-time member of the International Olympic Committee was pardoned to help the country's bid for the 2018 Winter Olympics, according to Reuters.
"Chairman Lee was a true visionary who transformed Samsung into a world-leading innovator and industrial powerhouse from a local business," Samsung said./.
PM strongly commits to aid Samsung Vietnam

The Vietnamese Government, ministries, agencies and localities will keep giving support for Korean businesses and corporations, including Samsung, to continue their business successfully in Vietnam, ...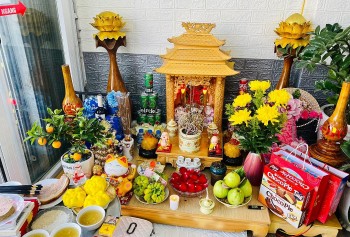 Handbook
Learn more about an ancient Vietnamese tradition that may bring you good fortune!