Samsung's smartphone factory in Vietnam. Photo: Vietnamnet
Samsung Vietnam has asked the government for a renewable energy pilot project that will enable the company to buy electricity directly from producers, instead of through the monopoly distributor Vietnam Electricity.
At a meeting with the Vietnamese Minister of Industry and Trade Nguyen Hong Dien last week, Choi Joo Ho, CEO of Samsung Vietnam, suggested that the ministry support the company to join the direct power purchase agreement (DPPA).
Nguyen Anh Tuan, director of the Electricity Regulatory Department, said the Ministry of Industry and Trade welcomes all companies meeting the requirements to participate in the DPPA. Besides Samsung, three or four other big companies also want to join the program, the Saigontimes reported.
According to the ministry's DPPA draft, manufacturing companies with a minimum of 22 kV power lines will negotiate and buy electricity directly from power plants. They must be committed to using renewable energy and buying at least 80% of the agreed amount of power in accordance with the contract in the first three years.
Solar and wind farms with a capacity of at least 30 MV are eligible to join the agreement. They will have to begin commercial operation within nine months of joining the program. Besides, they must have documents proving financial support from credit institutions.
With a total capacity of some 1,000 MW, the DPPA pilot program is set to start this year and run until 2023.
Samsung is the single-biggest source of exports from Vietnam. Production in Vietnam accounts for half of the smartphones shipped globally by the South Korean electronics giant.
Vietnam is set to cut up to 1.74 billion kilowatt-hours of renewable energy in the second half this year to deal with national grid overload, according to Vnexpress.
A plan proposed by the National Load Dispatch Center (NLDC), under the national utility Vietnam Electricity (EVN) intends to cut 180 million kilowatt-hours per month in the third quarter and 350-400 million kilowatt-hours per month in the last quarter.
This time frame corresponds with the expected third and further quarter annual flooding in the northern, and central-southern regions, respectively, when hydropower power supply would increase.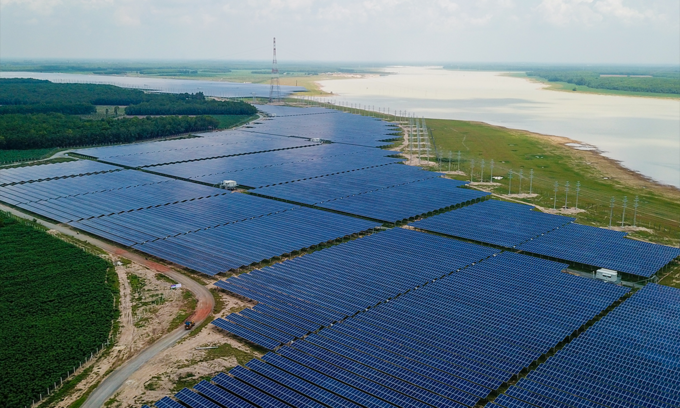 A solar power farm in the southern province of Tay Ninh. Photo by VnExpress/Quynh Tran.
The proposed amount of 1.74 billion kilowatt-hours is 34 percent higher than EVN's previous plan to cut 1.3 billion kilowatt-hours of renewable energy this year.
Cutting solar and wind power has been the go-to solution for EVN since last year after a surge in the number of such plants strained the national grid.
As solar power plants depend on the number of sunshine hours during the day, authorities still have to rely on traditional sources such as coal, gas, and hydropower to ensure grid stability.
Last year, authorities cut solar power by a total of 365 million kilowatt-hours after the Ninh Thuan and Binh Thuan grids were overloaded.
Malie Nguyen