Australia grants aid for Vietnamese-led research team
A research team led by Vietnamese national Nguyen Trong Hieu from the Australian National University (ANU) has been granted aid worth AUD1 million (USD 750,000) from the Australia Renewable Energy Agency for their new-generation solar cell development project.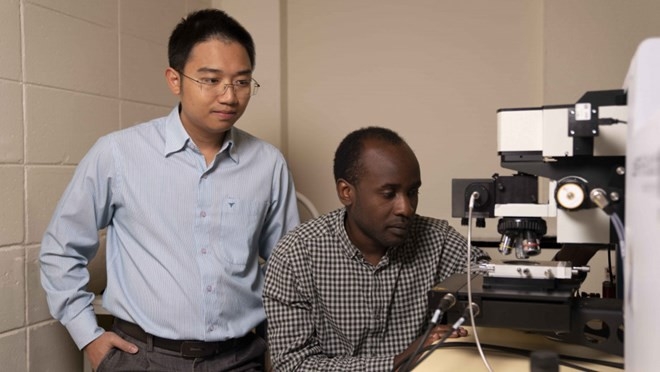 Dr Nguyen Trong Hieu (L) and his colleague. (Photo: ANU
Hieu said that his team will spend the money developing more advanced equipment to help researchers measure photovoltaic properties of solar materials more accurately.
This new technology will be a step forward in the process of harnessing photovoltaic potential as a clean, affordable and sustainable source of energy for everyone, he stated.
According to him, a small amount will be spent on training postgraduates on how to use and apply the advanced equipment.
The research team hopes to basically complete the installation of equipment by the end of 2021, which will be used for different energy materials provided by energy companies and other research teams.
Since 2016, Hieu's team has received a total of USD 6.4 million in aid for new-generation solar cell development projects.
In 2019, Hieu and his team had demonstrated for the first time the potential of ultra-thin 2D materials to generate electricity using sunlight.
While most research focuses on improving the quality of the core part inside solar cells, Hieu and his co-workers gathered strength on the thin film layer on the top of the cell, which is several thousand times thinner than human hair. The thin layer is used to conduct electricity from the cell and protect the core part.
The biggest significance of the discovery is that it helps solar cells become stronger and more effective because scientists have found a method which can control the hydrogen content inside the membrane so as to have better solar cells.
Solar energy is the cheapest and cleanest type of energy. However, everyone knows that the use of the clean energy could create an environmental disaster.
When solar panels age, they become garbage "bombs" which could be dangerous. Scientists are still fumbling about how to treat solar cells when their life circle finishes.
However, with Hieu's discovery, this could be delayed as the life expectancy of solar cells could be longer.
Born in 1988, Hieu received his PhD in engineering (photovoltaics) from the ANU in 2016. In 2017, he was a visiting scientist at the US's National Renewable Energy Laboratory. Currently, he is a research fellow and lecturer in the solar cell major at the ANU./.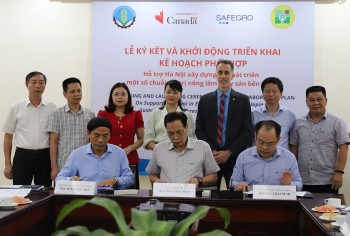 Make in Vietnam
As Vietnam furthers its international intergration, building agro-forestry-fishery high value chains is crucial for the sustainable development of the agriculture sector.