Seventh Vietnam – Brazil political consultation held
Permanent Deputy Foreign Minister Bui Thanh Son and his Brazilian counterpart Marcia Donner Abreu on November 6 held the 7th Vietnam – Brazil political consultation at the deputy FM level, in the form of a teleconference.
Permanent Deputy Foreign Minister Bui Thanh Son (Photo: VNA)
The two compared notes on the situation of their respective country, especially the fight against the COVID-19 pandemic and measures to restore the economy and ensure social security. They reviewed and assessed bilateral cooperation and discussed measures to bring bilateral comprehensive partnership to depth in the time to come.

The officials noted with joy the strong development of the bilateral economic relations and trade, and agreed to continue the close coordination so as to maintain the development momentum in the relations and promote trade and investment, especially in the trade of farm produce, among others.

At the event, the Foreign Ministries of the two countries agreed to push up the signing of agreements aimed at perfecting the legal framewor for bilateral cooperation in the fields of education, technology, investment, and national defence.

The two sides exchanged ideas on international and regional issues of common interest, and agreed to continue their mutual coordination and support at international organisations and multilateral forums to which both are members./.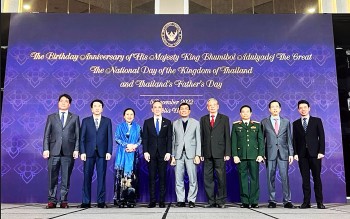 Friendship
The Royal Thai Embassy organises the reception on the occasion of celebration of the Birthday Anniversary of His Majesty King Bhumibol Adulyadej the Great, the National Day of the Kingdom of Thailand and Thailand's Father's Day on 2nd December 2022 in Hanoi.