Major Cities Set Up Pandemic Support for Foreigners
Da Nang and Hanoi supports foreigners facing difficulties due to the Covid-19 lockdown.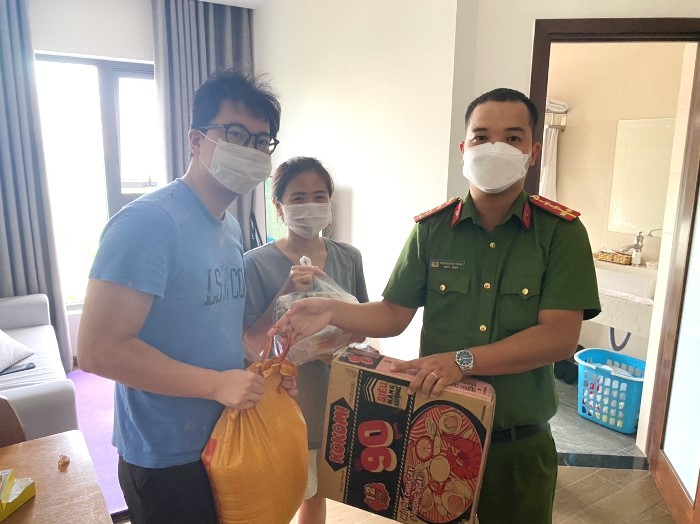 Da Nang policeman presents food to foreign family in the area. Source: Da Nang city goverment portal
Living through a pandemic in a foreign country is difficult experience. Fortunately, Vietnamese authorites are offering more help for foreign nationals working and living in Hanoi and Da Nang affected by Covid-19 and social distancing.
Da Nang is going through the days of social distancing with the "stay where you are" policy to prevent and control the Covid-19. However, the city still exudes supportive policies for the sake of residents, included foreigners. Its department of Foreign Affairs has announced a multilingual hotline service covering four languages, including English, Chinese, Korean and Japanese, aims to help foreign nationals as the city continue its lockdown.
Many foreigners living in the central coastal city of Da Nang who have met difficulties in buying food and necessities as well as getting medical examination and treatment have been promptly supported via the city's hotline.
So far the hotline has received about 180 calls requesting support from foreigners. Most of them are about buying food, transportation to get vaccinated, making medical examination appointments and buying necessities.
After receiving requests, the department immediately coordinate with local authorities to verify the information and bring food and other necessities to their homes; as well as provide necessary support such as transportation and registration for vaccination.
Da Nang reported 55 new Covid-19 cases on Sept. 1, of which, 26 were in designated quarantine facilities, 15 were self-isolating at home, 11 were identified in locked down areas and the remaining 3 were detected in the community.
The day's number has pushed the city's tally in the ongoing wave since July 10 to 4.104.
Hotline to support foreigners living in Da Nang:
- Available in English
Son Tra District: Dang Cao Ky, phone number: 0935.994.359, email: [email protected]
Ngu Hanh Son District: Nguyen Thuy Linh, phone number 0935.240,791, email: [email protected]
Hai Chau District: Nguyen Thi Cam Tu, phone number: 0913.830.038, email: [email protected]
Thanh Khe and Cam Le Districts: Nguyen Thi Phuong Huyen, phone number: 0934.797.275, email: [email protected]
Lien Chieu and Hoa Vang Districts: Nguyen Hong Linh, phone number: 0905.133.664, email: [email protected]
- Available in Chinese, Korean and Japanese:
Hotline in Chinese: Nguyen Thi Hong Hanh, phone number: 0916.681.599, email: [email protected]
Hotline in Korean: Tran Thi Phuong Nga, phone number: 0905.902.287, email: [email protected]
Hotline in Japanese: Thai Thi Ha Giang, phone number: 0349.589.943, email: [email protected]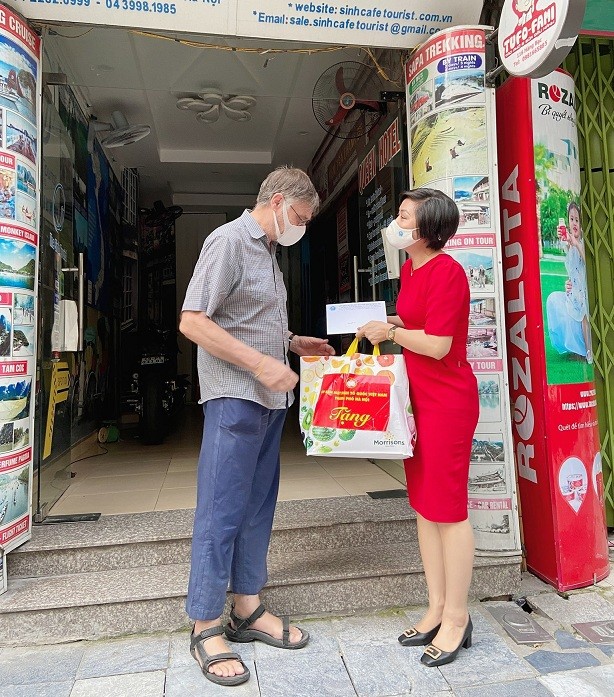 HAUFO's representatives come to give gifts to a foreigner. Source: HAUFO
Meanwhile, the Hanoi Committee of the Vietnam Fatherland Front and the Hanoi Union of Friendship Organizations (HAUFO) on Sept. 1 presented gifts included essential supplies, basic medicines and VND 500,000 each for 29 foreigners facing difficulties due to the Covid-19 living in Hoan Kiem district.
Vietnam reported 11,434 Covid infections, including 5 imported cases, the Ministry of Health announced. The new infections brought the country's total number of infections since the pandemic broke out in Vietnam in early 2020 to 473,530, ranking 56th among 222 countries and territories.
The capital city of Hanoi logged 51 cases in the past 24 hours to 5pm on Sept. 1, down 26 against the previous day.