PeaceTrees Vietnam Build New Kindergarten in Quang Tri
A new kindergarten sponsored by PeaceTrees Vietnam in Lia commune, Huong Hoa district, Quang Tri province, will be an important resource to the children of the region.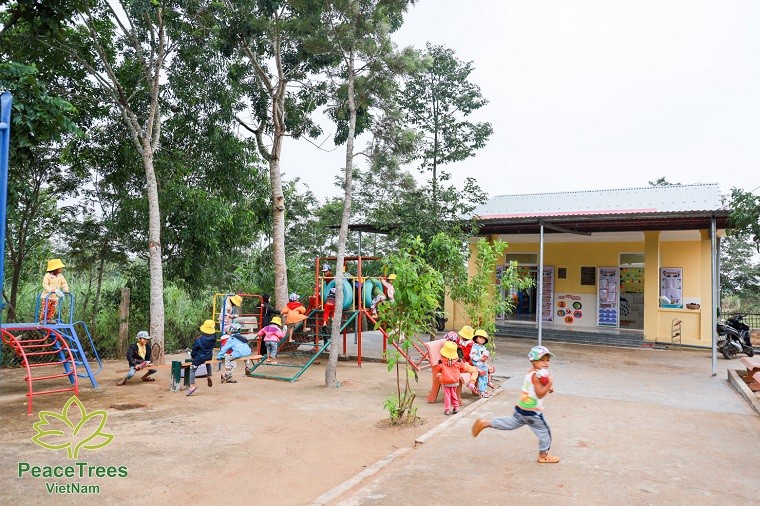 With the construction of a kindergarten, children of A Quan village will have access to an early childhood education. Source: PeaceTrees Vietnam
After the time of construction and evaluation, PeaceTrees Vietnam, a U.S.-based humanitarian organization, and local authority held a handover ceremony of kindergarten in A Quan village, Lia commune, Huong Hoa district, the central province of Quang Tri.
The project was implemented in cooperation between PeaceTrees Vietnam and Huong Hoa district People's Committee.
The kindergarten has one classroom, warehouse, toilet, and playground. While waiting for the construction would be completed to replace the old ones used for many years (also sponsored by PeaceTrees), 29 kindergarteners from 3 to 5 years old of A Quan village were studying temporarily at the village's community house. Right after the handover ceremony, they will start moving into this new kindergarten. Besides funding for construction, PeaceTrees also implements nutrition program that contributes to enhancing nutrition conditions for children.
This new kindergarten has created joy and happiness for all children, parents, and teachers. They now have such a nice and safer place to teach, study and play.
At the handover ceremony, representatives of local authority, PeaceTrees, and the school planted a tree together in memory of Jim Lewis, a friend of PeaceTrees and Quang Tri province, the ones who gave so much love and support for kindergarten of this village.
In 1995, PeaceTrees Vietnam was the first international non-governmental organization (NGO) coming to the province to help address post-war consequences through demining and mine risk education, victim assistance, community building projects and citizen diplomacy in partnership with the people of Quang Tri province.
The students and teachers are so excited to be learning in the new classroom. Source: PeaceTrees Vietnam
Last month, the multi-tasks team (MTT) of PeaceTrees Vietnam Quang Binh project was deployed to clear the land for constructing a two-story classroom building plus a separate toilet block at the Thanh Thuy primary school, Le Thuy district, Quang Binh province.
The team cleared 628 m2 to the depth of 2.3 meters and completed the land-release procedure to the Commune People's Committee. The new building replaces a small degraded facility which dated back to 1980s. Clearance operations help to ensure safety for teaching and learning activities for 32 teachers and administrative officers and 534 primary-school children.
In November, PeaceTrees Vietnam also supported the Quang Binh provincial authority in clearing two other development sites, one in Hoa Thuy commune for building a medical center and one in Son Thuy commune for constructing a kindergarten, all three projects are funded by the US Indo-Pacific Command.
With these three sites, PeaceTrees Vietnam has completed 10 sites serving the socio-economic development plan of Quang Binh province with a total area of 177,312 m2 of land. Since then, projects to build public welfare construction or sustainable livelihood activities will soon be implemented, bringing safe and developing life to people and communities.
Quang Binh project is implemented under the Consortium formed by MAG (Mines Advisory Group), PeaceTrees VietNam (PTVN), and Norwegian People's Aid Vietnam (NPA), funded by the U.S. Department of State, in the joined effort to address the issue of UXO contamination in Quang Binh province.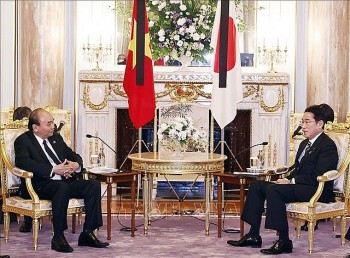 Friendship
Vietnam always treasures the extensive strategic partnership with Japan and views Japan as an important and long-term strategic partner, President Nguyen Xuan Phuc told Japanese Prime Minister Kishida Fumio in Tokyo on September 26.