Six destinations for hunt perfect sunset pics in Ho Chi Minh City
Many teens in Vietnam's Southern Metropolis have stormed famous architectures or rooftop shops to record the brilliant beauty of the sunset at the end of the day.
Possessing a view of the sunset on the river, some symbols of Ho Chi Minh city such as Bach Dang Wharf, Mong Bridge, Ho Ban Nguyet at Crescent Lake are suitable for devotees to enjoy immersing themselves in nature. Meanwhile, after a busy day, many people like choosing an elevated bar to relax, admire the rush of people on the street.
Saigon Water Bus
River bus route No. 1 is 10.8 km long, traveling from Bach Dang Wharf, District 1, Ho Chi Minh City, to Linh Dong Ward, Thu Duc District, Thu Duc City. In addition to serving tourists circulation, walking the river, this is also an ideal place to enjoy the beautiful sunset.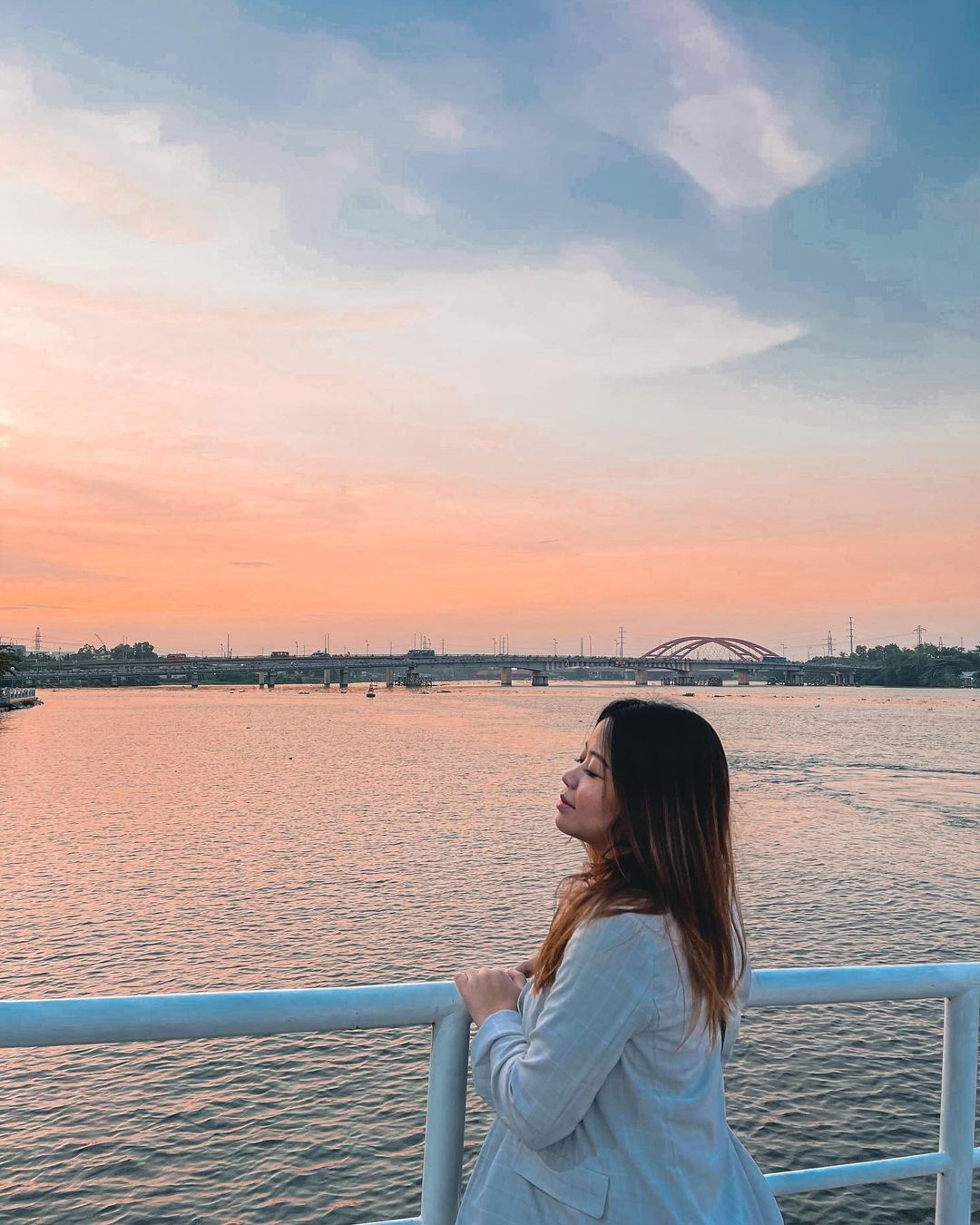 Iem.quin, lth.__, quinn.210, nhi.vyn.
From here, you can feel the vast and airy space of the windy river surface, the highlight is the modern architecture on both sides. River buses with a modern design and vibrant yellow make it easy to take photos of virtual life.
The best time frame to start watching the sunset is from 16:00 to 18:00. Ticket price is At 15,000 VND (O.65 USD) per person.
Mong Bridge
Mong Bridge, connecting District 1 and District 4, is a familiar sunset meeting point for Saigon youth. No longer a place of traffic, with mint green color, fancy design and view overlooking Bitexco, this place becomes a day-end check-in point attracting virtual followers.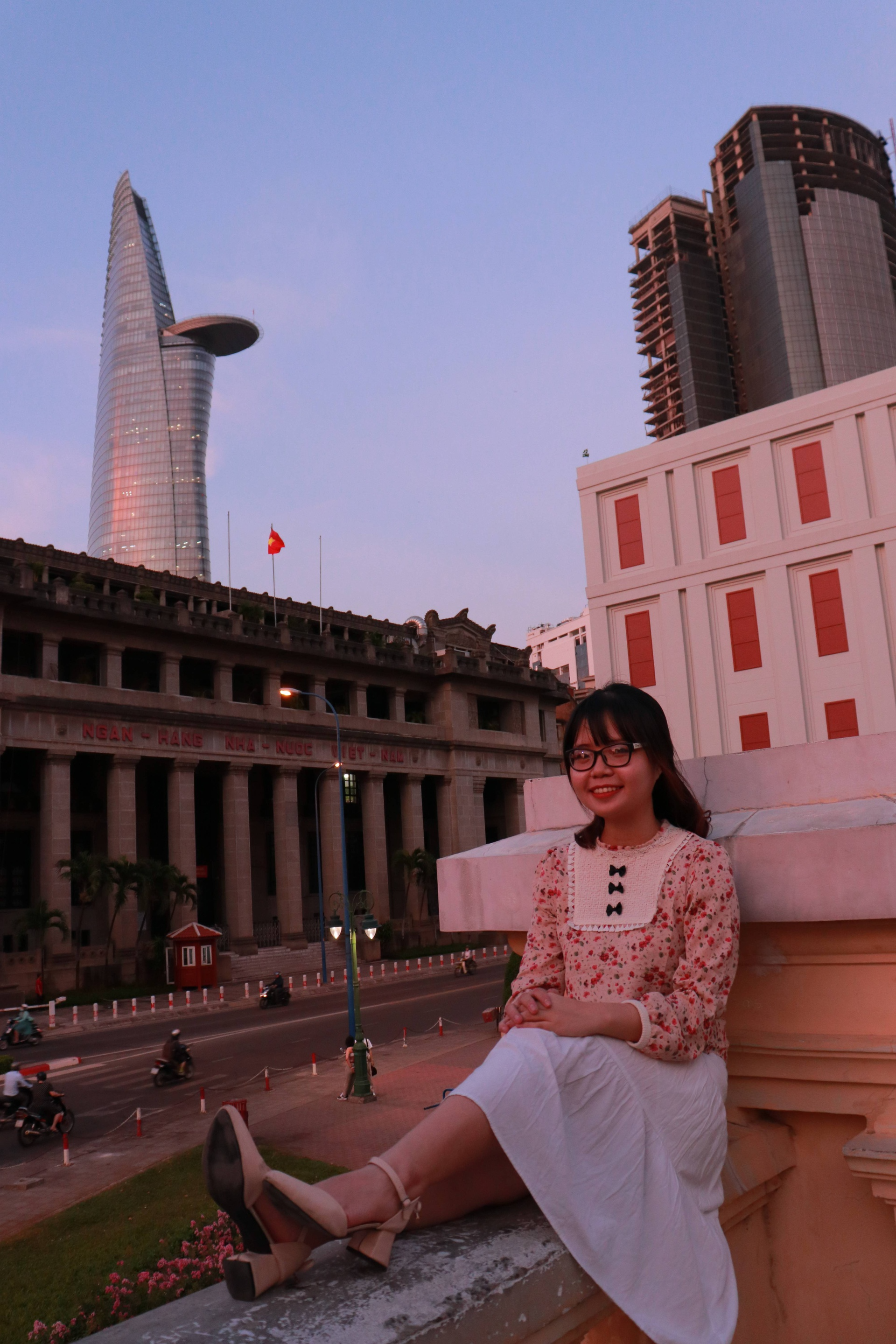 The bridge over a century stands out with its modern European architecture. Photo: Hải Nhi.
Around 17:00, when the sun falls on the city, visitors can walk on the bridge, immersing in a romantic yellow-orange space. The iris on the bridge is an interesting suggestion for you to create pictures taken through the frame.
Thu Thiem Bridge
Connecting District 2 and Binh Thanh, Thu Thiem Bridge is a favorite evening meeting place for many tourists in Ho Chi Minh City. Against the red and pink sky, the sun fades behind modern buildings, forming a check-in background for sunset that attracts young people.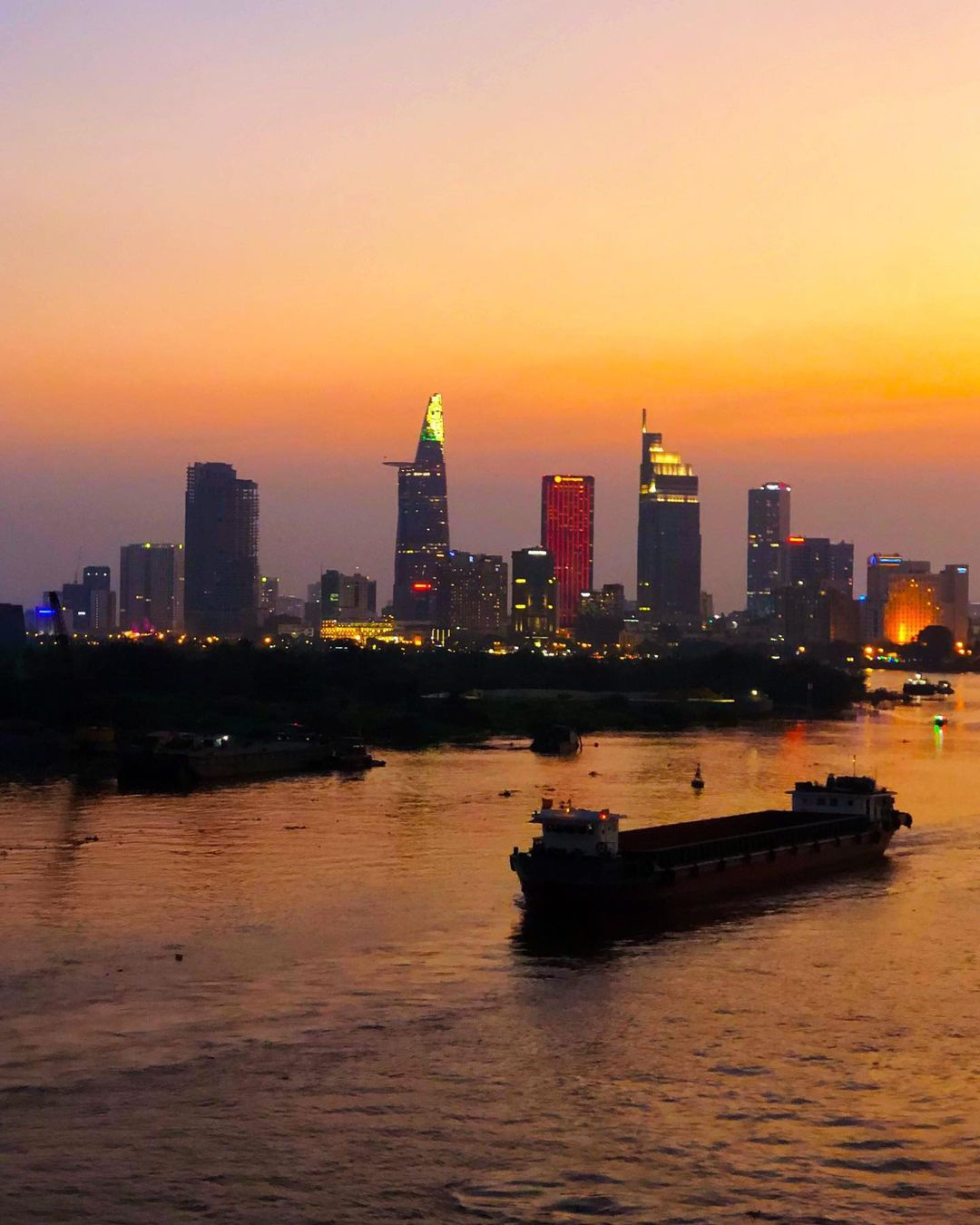 Many visitors come to Thu Thiem bridge to enjoy peaceful and relaxing moments at the end of the day. Photo: Hanagianganh, dwaroundtheworld.
From here, you can admire the panorama of District 1 across the river, concentrating on many famous symbols of Ho Chi Minh City, including Bitexco. Standing anywhere on the bridge, you can enjoy the sunset. Late afternoon from 17:00 to 18:00 will help you create brilliant photos.
Binh Loi Bridge
Binh Loi Bridge connects Binh Thanh and Go Vap districts, designed with large lanes, is a suitable place for tourists to walk, watch the sun "hitting the sack". Standing on the bridge, you can get a panoramic view of the Vinhomes urban area, notably the Landmark 81 building standing in the sky.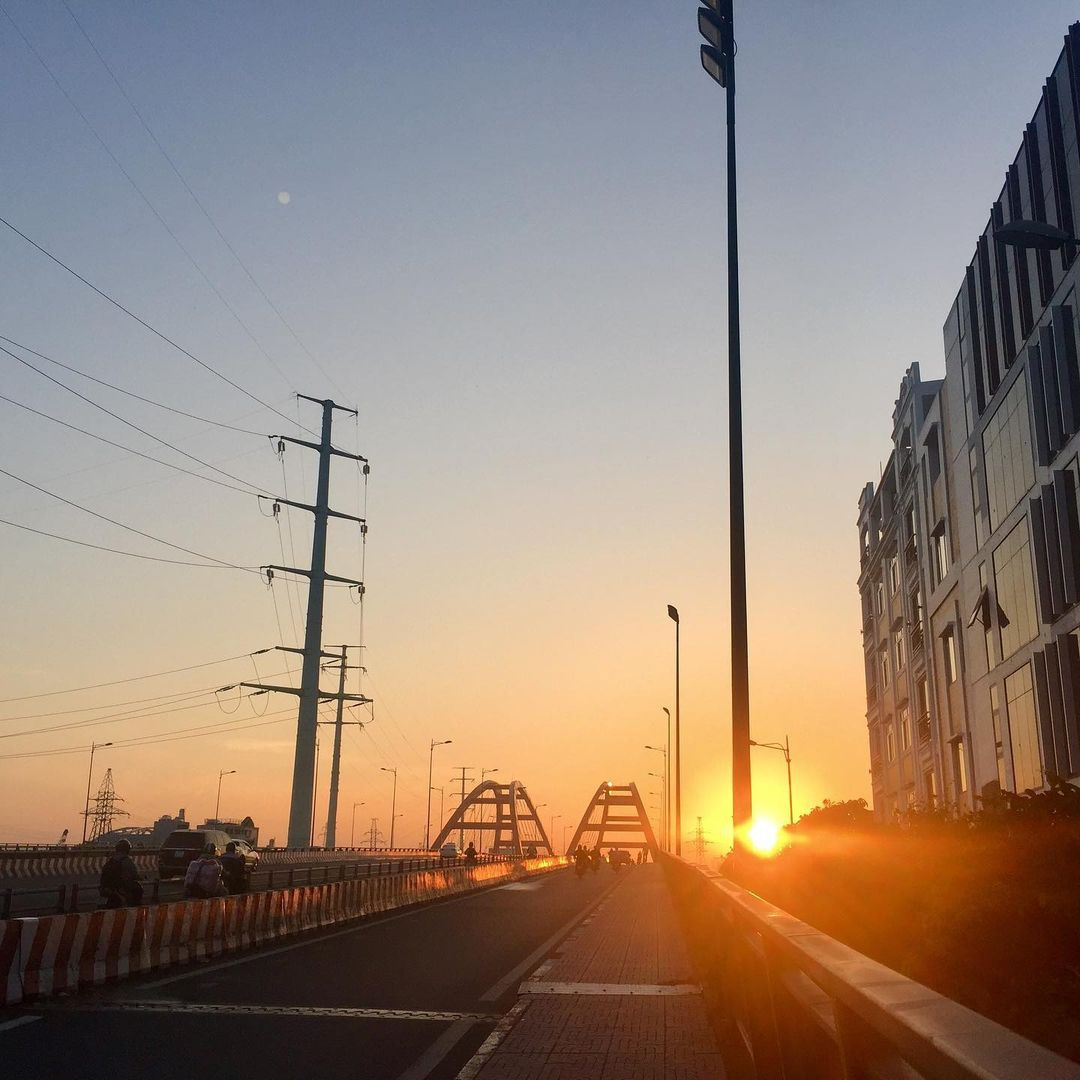 The eye-catching bright red spans against the splendid sky make it easy to create an artistic check-in frame. Photo: Jironguyen, lenguyenngocthach, gaugia2911, cao.minh.tri.
Walking or cycling is the most convenient way to watch the sunset on Binh Loi Bridge. Because parking on the roadway will be very dangerous and affect traffic on the bridge. You can enlist here at the time of 17-18h to enjoy the sunset to the fullest.
Ho Ban Nguyen or Cresent Lake
Ho Ban Nguyet is located in Phu My Hung urban area, District 7. With an open space, spacious, concentrated commercial centers, entertainment, this place becomes a check-in point with crowded crowds. in the evening and at weekends.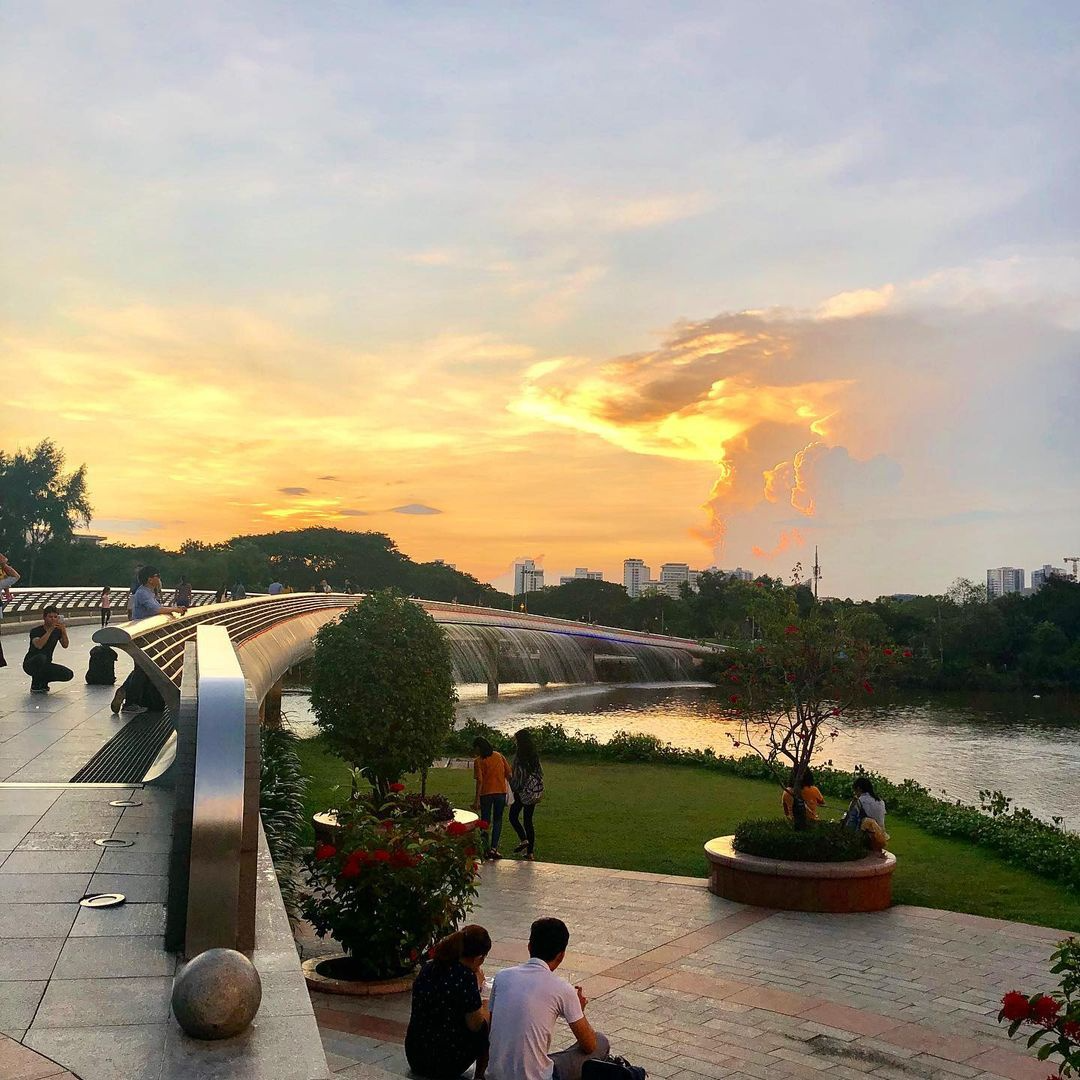 Although located quite far from the center, this is still a favorite destination for young Saigonese at sunset. Photo: Applegendary, saigonscenes, mamirhythms, vuongthidathao.
The time of 17:00 onwards makes it easy to admire the beautiful afternoon painting, and at the same time record sparkling moments when the Starlight Bridge here lights up.
Elevated coffee shops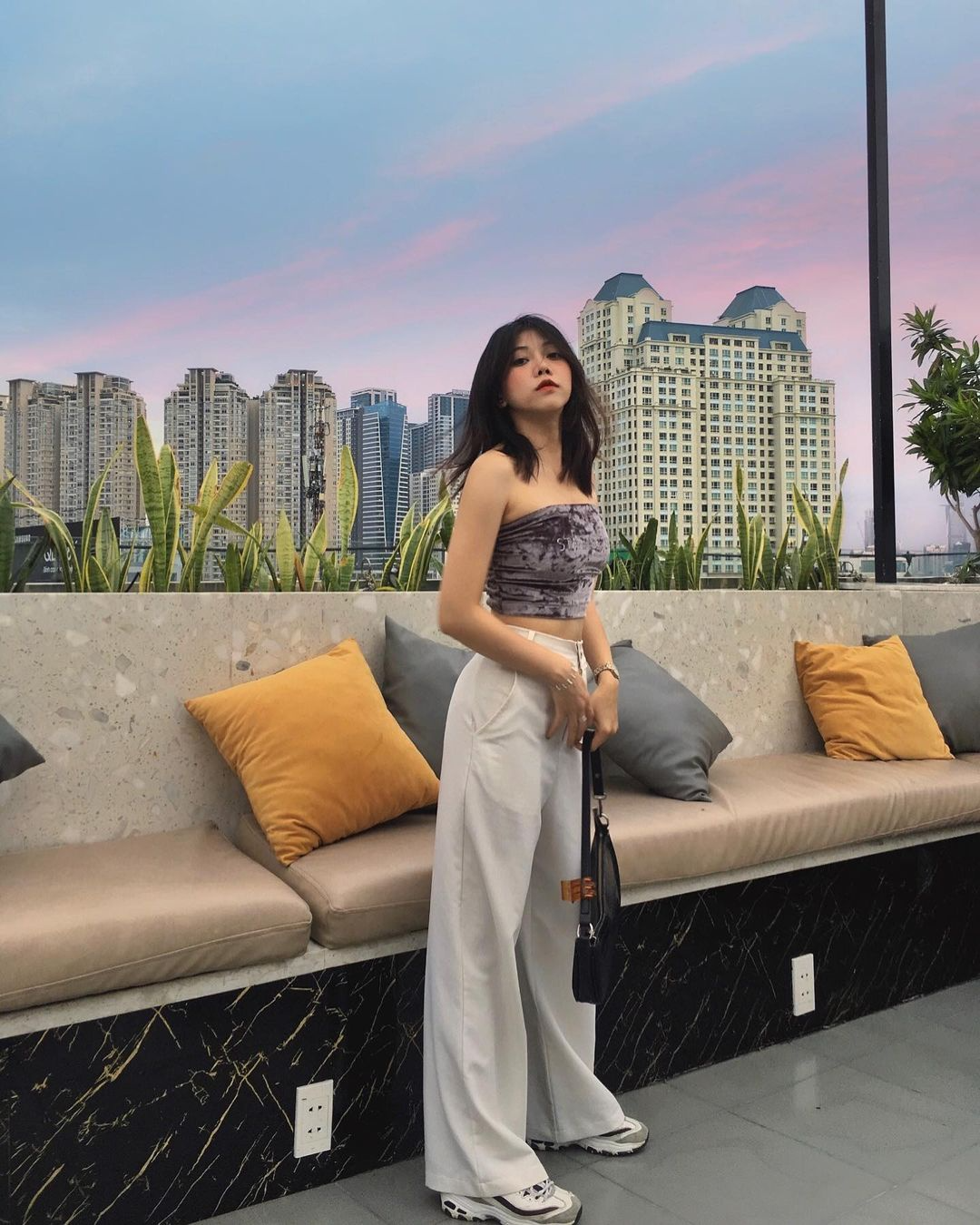 No need to move too much, you can still enjoy the sunset in your own way at the beautiful view shops. Photo: Gaugia2911, kampri.coffee, ha.hongduyen.
After a hard-working day, visitors can gather friends, go to the rooftop bars and coffee shops to enjoy the romantic sunset space. Some dining places have a view of Bitexco or Landmark 81, which allows diners to enjoy virtual life.
Suggested addresses: 2PM Coffee, High - Sky Garden & Lounge, Twilight Rooftop Beer, Kampri Coffee ...