Thailand's Cafe Amazon makes debut in Vietnam's Metropolis
Café Amazon chain from Thailand has recently announced to officially open its first shop in Vietnam's Metropolis – Ho Chi Minh City later this week after a silent debut in Vietnam last month.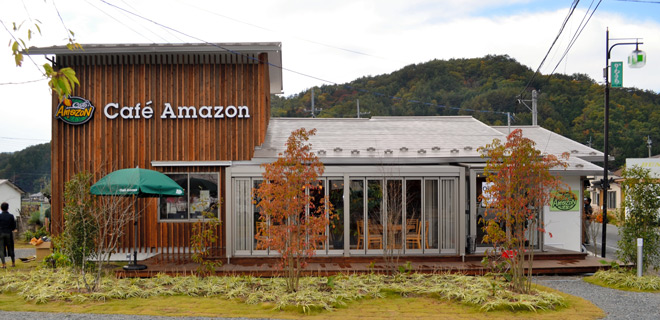 One store of Cafe Amazon in Japan.
It's Facebook official fan page shared that the beverage chain, which has stores across 10 countries, including China, Japan, Malaysia, and Singapore. It launched in the Philippines about this time last year.
The "Green Oasis" concept has still be retained with more "wall of trees" being built in Vietnam's store to create tropical-forest-like feelings for people to check-in.
Earlier in November, CaféAmazon had made official Vietnam's first Cafe Amazon was launched at Central Retail's BigC Go! Shopping center in Ben Tre province. The launch is a result of the partnership between PTT Oil and Retail Business, a subsidiary of Thai energy giant PTT and Central Restaurant Group.
In Thailand, Cafe Amazon officially started its journey with its first store at PTT petrol station in 2002. This is the most popular coffee chain in Thailand with 3,513 domestic stores with the "Green Oasis" concept.
Since 2011, Cafe Amazon began to expand overseas and is now present in 10 countries in Asia with 278 stores, attracting more than 2.4 million visitors each year and the number is still growing and strives to the goal of becoming a global coffee brand.
According to the information provided by Cafe Amazon Vietnam, in addition to the popular coffee lines available throughout the chain such as Mocha, Latte, and Amazon Signature, Amazon Cafe also adds signature dishes with coffee culture in Vietnam such as black stone, ice milk, faint silver.
In addition to coffee serving, the store also distributes Thai milk tea products for Vietnamese consumers with flavors such as lychee tea, peach tea, Thai red milk tea, matcha with black sugar pearls, and cakes.
Since its inception, Operational Resilience Collaboration Group (ORCG), which operates the coffee brand, has a charter capital of 57.6 billion VND (2.5 million USD). The company has three founding shareholders and foreign investors, including PTTOR International Holdings (Singapore) PTE. LTD is headquartered in Singapore with 60% common shares, corresponding to a total value of shares of 34.57 billion.