Six Most Famous and Sacred Pagodas in Binh Dinh
The pagodas in Binh Dinh are famous for their beauty and sacredness. If you like places of worship, you should visit the six most famous and sacred pagodas in Binh Dinh below.
Thien Hung Pagoda
Location: Thien Hung pagoda is located near National Highway 1 in Nhon Hung ward, An Nhon town, Binh Dinh province.
Thien Hung Pagoda is the most famous temple in Binh Dinh. This place is as beautiful as a picture of peaceful countryside. Considered the most beautiful place of worship in this land - Thien Hung Pagoda has been compared to the Vietnamese version of the "Ancient Phoenix Town".
The pagoda currently keeps the Jade Relic of Buddha Shakyamuni, which is honored as the Emerald Buddha of World Peace - an extremely sacred and precious treasure that contributes to the beauty of this spiritual place. This is a must-visit pagoda in Binh Dinh.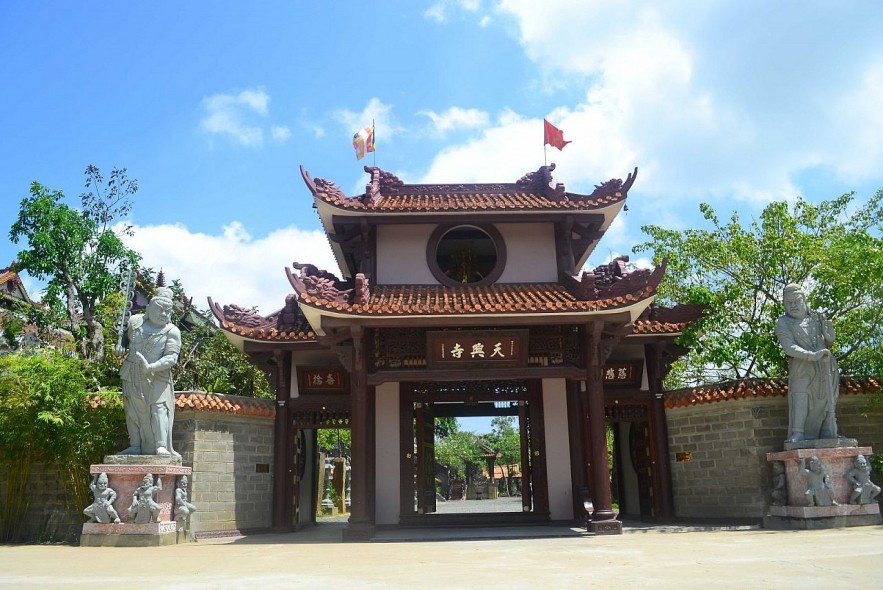 Photo: Chuachienvietblog
Bich Nam Pagoda
Location: Bich Nam pagoda is located in Phuong Hung commune (opposite the gas station), Tuy Phuoc district, Quy Nhon.
Not far from Quy Nhon, Bich Nam Pagoda was built on a very large scale and very majestic. Here you can pray for the New Year as well as take home many beautiful photos.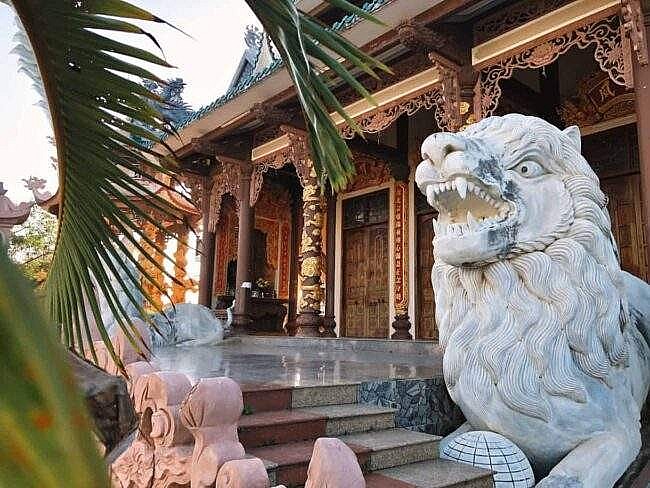 Photo: hiquynhon
Linh Phong Pagoda
Location: Bich Nam pagoda is located located in Cat Tien commune, Phu Cat district, Binh Dinh province.
Linh Phong Pagoda is also known as Ong Nui Pagoda. Located in the middle of the mountain, with a height of 69m, a foot diameter of 52m, and designed to be built inside a Buddha statue, this is currently the tallest Buddha statue in Southeast Asia as well as in Binh Dinh.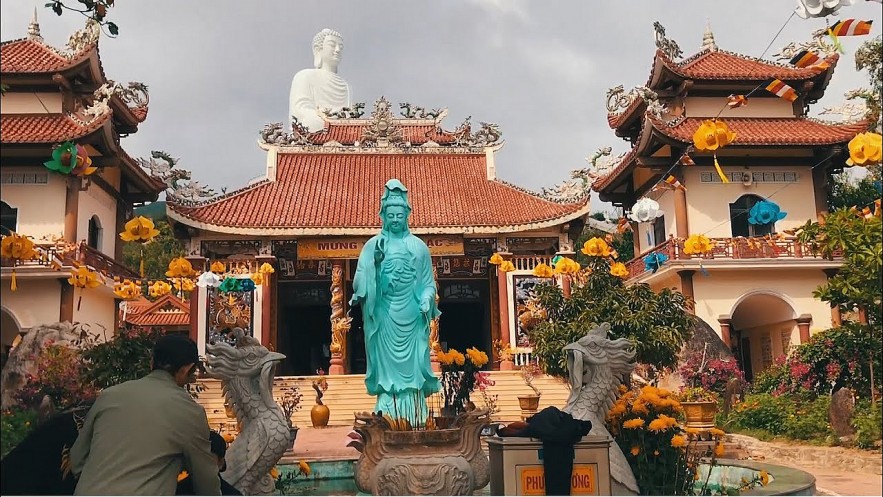 Photo: youtube
Ngoc Hoa Pagoda
Location: Ngoc Hoa Pagoda is located in Bai Bac, Ly Luong village, Nhon Ly commune, Quy Nhon city.
This pagoda was built in a place with great scenery and quite a thrilling story. Every year, it attracts countless tourists and Buddhists from all over the world.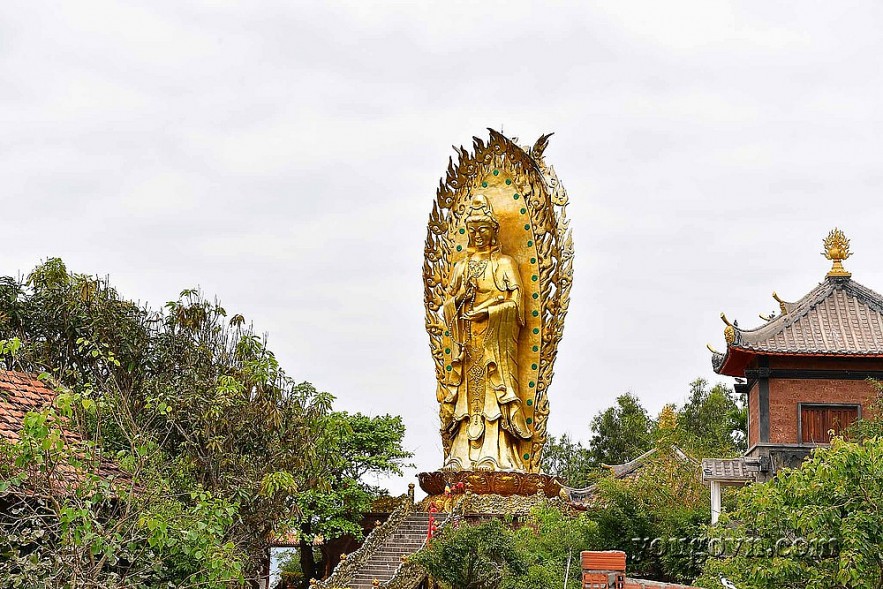 Photo: yougovn
Minh Tinh Pagoda
Location: Ngoc Hoa Pagoda is located at No. 35 Ham Nghi Street, Ngo May Ward, Quy Nhon City, Binh Dinh Province.
Minh Tinh Pagoda is distinguished by its tall yellow tower - the tower of the main hall of the structure. The architectural feature of this pagoda is a harmonious combination of ancient and modern oriental cultures, using imitation wood construction materials, and decorated with very unique motifs to create a dignified and pure atmosphere.
Although located in a small alley, this place is always visited by many tourists to pray and admire the scenery. They never forget to take pictures as well.
Thanh Luong Pagoda
Location: Thanh Luong Pagoda is located in My Quang Nam village, a fishing village in An Chan commune, Tuy An district, 10 km north of Tuy Hoa city center.
Not far from Quy Nhon, Thanh Luong Pagoda is a new spiritual attraction with the most unique underwater Buddha statue in Vietnam.
Not only attracting Buddhists to pilgrimage, but this temple is also an attractive attraction for tourists. Stepping into this pagoda, you can relax, and feel the peacefulness of the deserted beach.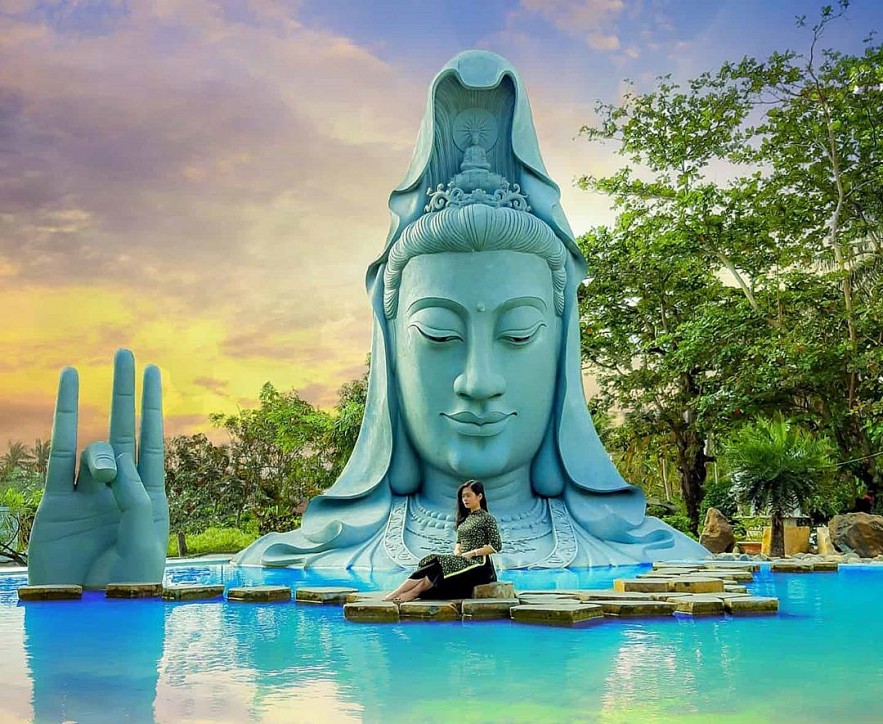 Photo: ivivu
The above pagodas are not only architectural works of great value but also spiritual destinations for anyone who wants to seek purity and peace.