Six Vietnamese billionaires make Forbes 2021 world's richest list
The annual Forbes list of the richest people in the world has the highest number of Vietnamese citizens in it, with six billionaires making the cut.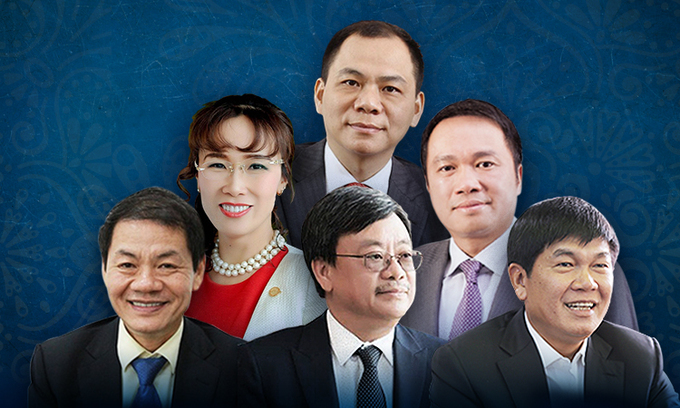 (From L), front row: Thaco Group Chairman Tran Ba Duong, Masan Group Chairman Nguyen Dang Quang, Hoa Phat Group Chairman Tran Dinh Long; second row: Vietjet CEO Nguyen Thi Phuong Thao, Techcombank chairman Ho Hung Anh; back: Vingroup Chairman Pham Nhat Vuong. Photo designed by VnExpress/Ta Lu.
The five men and one woman have a total net worth of $16.7 billion.
Pham Nhat Vuong, owner of Vietnam's biggest private conglomerate Vingroup and the country's first billionaire, is on the list for the ninth consecutive year. He remains Vietnam's richest man with a net worth of $7.3 billion (up $1.7 billion compared to 2020) and ranked 344th in the world. Vuong first made the list in 2013, when he was ranked 974th with a net worth of $1.5 billion.
Nguyen Thi Phuong Thao made the list for the fifth time with a net worth of $2.8 billion, ranking 1,111th. Thao is currently the vice chairwoman of HDBank, vice president and CEO of VietJet Air.
Tran Ba Duong, chairman and founder of the Truong Hai Auto Company (Thaco), has been in the Forbes list since 2018. His current net worth is $1.6 billion and he is ranked 1,931st in the world. Thaco initially sold only automobiles, but gradually expanded to car assembly for foreign brands like Kia, Mazda and Peugeot, as well as manufacturing Vietnamese branded buses and trucks.
Techcombank chairman Ho Hung Anh is on the list for the third time. His net worth is the same as that of Duong, Vnexpress reported.

Masan chairman Nguyen Dang Quang has returned to the list after being absent last year. His net worth is $1.2 billion.
Tran Dinh Long, chairman of the Hoa Phat Group, also re-entered the Forbes list after his first appearance in 2018. He is worth is $2.2 billion and ranked 1,444th in the world.
Forbes has said it created the list by evaluating an individual's assets based on the stock price and exchange rate as of March 5, 2021.
The richest person in the world this year is still Amazon founder and CEO Jeff Bezos, with a worth of $177 billion. Tesla CEO Elon Musk is second with $151 billion, followed by LVMH chairman and CEO Bernard Arnault ($150 billion) and Microsoft co-founder Bill Gates ($124 billion).
Vietnamese billionaires' worth up by $500 mln as stock market scales new high
The accumulative net worth of six billionaires in Vietnam expanded by nearly $500 million as the benchmark VN-Index hit a fresh peak on April 1.
The richest man in Vietnam, Pham Nhat Vuong, chairman of conglomerate Vingroup, saw his net worth up $342 million, or 4 percent, to $8.4 billion, according to VnExpress.
Vingroup's VIC ticker ended on April 1 with its seventh gaining session in a row, up by a total of 15 percent since March 23.
It was the top contributor to the gain of almost 25 points by Vietnam's benchmark VN-Index on the day, sending it to a new historic peak of 1,216 points.
Vuong was followed by Nguyen Thi Phuong Thao, CEO of budget airline Vietjet, with a net worth increase of $65 million from April 1, or 2.5 percent, to $2.7 billion.
The value of VJC of Vietjet has increased by 10 percent since this year's bottom at the end of January.
In third place is Tran Dinh Long, chairman of leading steelmaker Hoa Phat Group, whose net worth went up $85 million, or 3.75 percent, to $2.4 billion.
HPG of steelmaker Hoa Phat Group climbed to its own historic peak on March 29, having increased by nearly 16 percent this year.
The chairman of Vietnam's biggest private lender Techcombank, Ho Hung Anh, earned $7 million more, or 0.4 percent, to $1.6 billion.
Ticker TCB rose for the sixth consecutive session on March 29 and is 1.4 percent away from reaching its peak of March 19.
The net worth of Tran Ba Duong, chairman of leading automaker Truong Hai Auto Corporation (Thaco), remained unchanged at $1.6 billion as Thaco's shares are not listed.
Nguyen Dang Quang, chairman of conglomerate Masan Group, lost $3 million, or 0.22 percent, to see his worth fall to $1.2 billion. MSN was the only blue-chip ticker in the red on April 1, with a 0.2 percent fall.
Economy
Vietnam has a fast-increasing semiconductor ecosystem and possibilities to improve its position in the global supply chain. In the joint announcement of the US-Vietnam Comprehensive Strategic Partnership, the two countries acknowledged Vietnam's significant potential to become a key nation in the semiconductor industry, adding they "are supportive of the rapid growth of the semiconductor ecosystem in Vietnam."
September 22, 2023 | 09:22