Who is Sheldon Adelson, a billionaire mogul and power broker dies
Casino magnate Sheldon Adelson, one of the most prolific donors in conservative politics, died Monday night at the age of 87 due to complications from treatment for non-Hodgkin's lymphoma, according to a statement from Las Vegas Sands, the company he founded.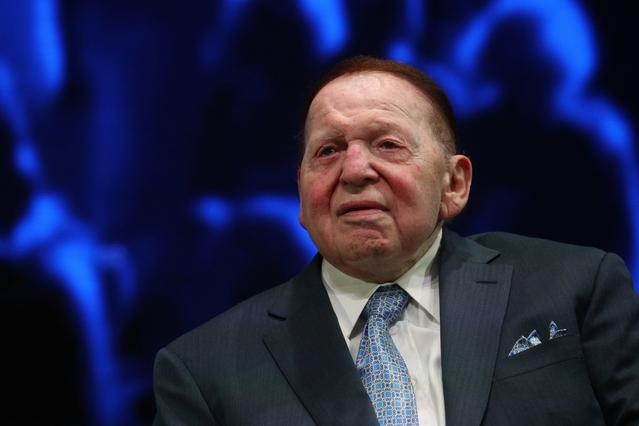 Casino tycoon Sheldon Adelson. Photo: Reuters
Sheldon Adelson, the billionaire mogul and power broker who built a casino empire spanning from Las Vegas to China and became a singular force in domestic and international politics, has died after a long illness, his wife said Tuesday.
Adelson died at 87 from complications related to treatment for non-Hodgkin's Lymphoma, Las Vegas Sands announced.
Adelson made his fortune — a net worth of around $35 billion according to an estimate by Forbes — in the casino hotel industry. He spent much of it backing conservative politicians in the U.S. and Israel, shaping the political debate of both countries.
He was in the first wave of superwealthy Americans to take advantage of the Supreme Court's controversial Citizens United ruling, which opened the doors to eight- and nine-figure political donations so long as the money goes to independent superPACs and not candidates or party committees.
Serial entrepreneur
Adelson grew up poor in Dorchester, Mass. His parents were immigrants. His father drove a cab. By age 16, he had bought his second business — vending machines. And he kept on selling — packages of toiletries, spray cans of windshield de-icer. He ran a tour business and got into venture capital.
Then, early in the personal computer era, he bought an influential computer trade show called Comdex and held it in Las Vegas.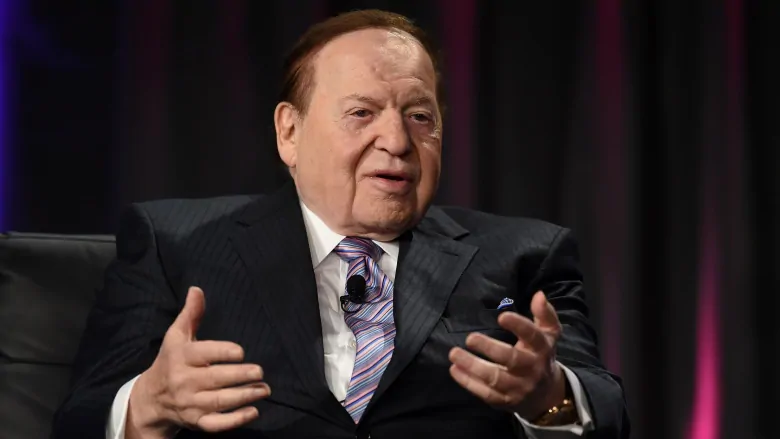 Casino mogul and influential Republican donor Sheldon Adelson is pictured at his Venetian Las Vegas casino in 2014. Getty image
The chairman and CEO of the Las Vegas Sands Corp. brought singing gondoliers to the Las Vegas Strip and foresaw correctly that Asia would be an even bigger market. In 2018, Forbes ranked him No. 15 in the U.S., worth an estimated $35.5 billion.
"If you do things differently, success will follow you like a shadow," he said during a 2014 talk to the gambling industry in Las Vegas.
Blunt yet secretive, the squatly-built Adelson resembled an old-fashioned political boss and stood apart from most American Jews, who for decades have supported Democrats by wide margins. Adelson was considered the nation's most influential GOP donor over the final years of his life, at times setting records for individual contributions during a given election cycle.
In 2012, Politico called him "the dominant pioneer of the super PAC era."
Adelson regularly hosted the party's top strategists and most ambitious candidates at his modest office, wedged among the casinos on the Strip. Throughout, he helped ensure that uncritical support of Israel became a pillar of the GOP platform, never more visibly demonstrated than when the Trump administration relocated the U.S. embassy from Tel Aviv to Jerusalem in 2018.
The inflammatory move had been adamantly opposed by Palestinians and was long a priority for Adelson, who had even offered to help pay for it, and for the Republican Jewish Coalition, of which he was the primary benefactor. Adelson and his wife, Miriam, were front and center at the ceremony in Jerusalem.
When asked at a gambling conference what he hoped his legacy would be, Adelson said it wasn't his glitzy casinos or hotels, it was his impact in Israel. He donated $25 million, a record sum for a private citizen, to Israel's Yad Vashem Holocaust Memorial. He established a think tank in Jerusalem. He was closely aligned with the conservative Likud party and funded a widely-read free daily newspaper called "Israel Hayom," or "Israel Today," so supportive of Prime Minister Benjamin Netanyahu that some Israelis nicknamed it "Bibi-ton."
Macau, a former Portuguese colony and Hong Kong neighbour known for gambling, reverted to Chinese rule in 1999. Foreign casino companies got their shot after a Hong Kong businessman's Macau gambling monopoly ended. By 2004 Adelson opened his first casino and Macau later became the world's top gambling centre. Las Vegas Sands' initial public offering in December 2004 made him a multibillionaire.
While visiting a Macau casino project in 2007, Adelson defended China's communist rulers against critics of the Asian giant's human rights record, including U.S. lawmakers.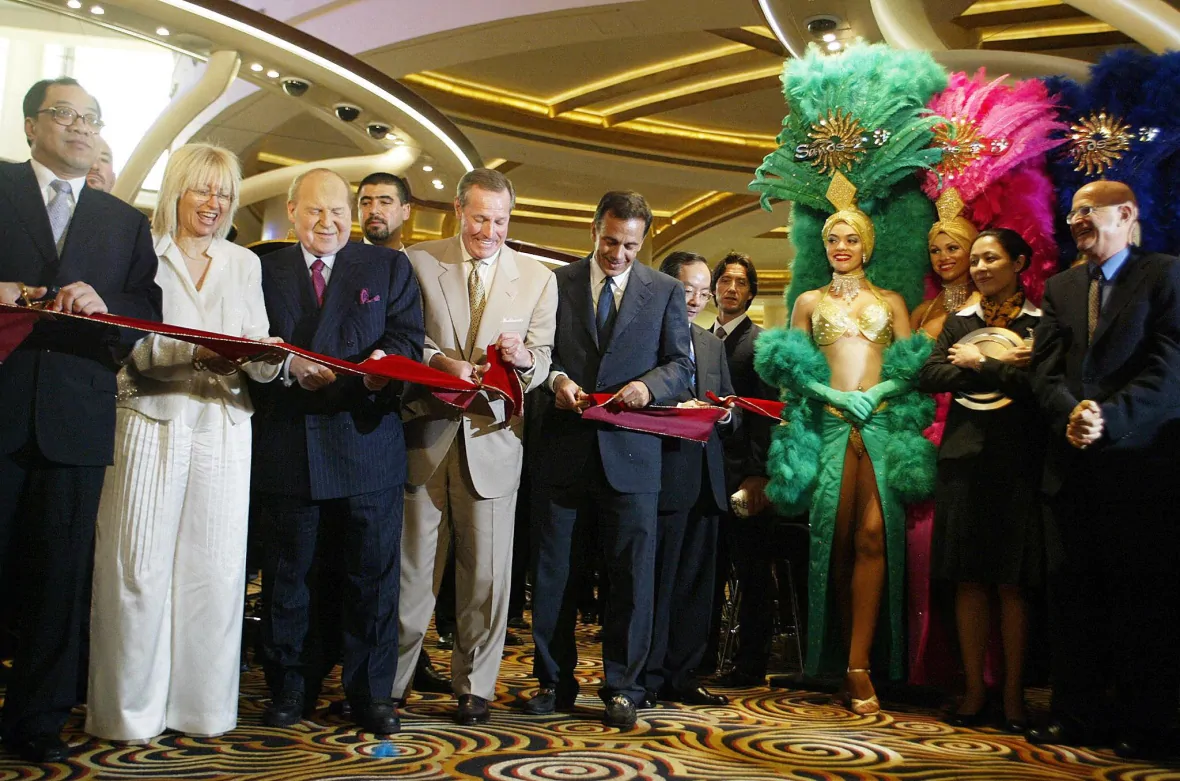 VIPs including Adelson cut the ribbon at the opening of the Sands Casino in Macau in 2004. Photo: AFP
His domain also included the $6 billion Marina Bay Sands in Singapore, which opened in 2010, and a casino in Bethlehem, Penn.
After his first marriage ended, in 1991 Adelson married Miriam Ochshorn, a doctor who specialized in drug addiction treatment. One of Adelson's sons from his previous marriage, Mitchell, died in 2005 at age 48 of a drug overdose.
In the U.S., Adelson helped underwrite congressional trips to Israel, helped build a new headquarters for the lobbying group the American Israel Public Affairs Committee (AIPAC) and later was a top supporter of the Israeli-American Council, whose conferences have attracted top Republicans (Vice President Mike Pence) and Democrats (House Speaker Nancy Pelosi). He sponsored "Birthright" trips to Israel for young Jewish adults that were criticized by some participants as intolerant of opposing views.
His attachment to Israel was life-long and so deep that he once said he wished his military service had been in an Israeli uniform instead of an American one.
According to the abc7, Adelson was a late bloomer in business and in politics. He didn't become a casino owner, or a Republican, until well into middle age. Through the 1990s and after his wealth soared and his engagement in politics intensified. He was a supporter of President George W. Bush and backed Republican Rudolph Giuliani for the 2008 presidential race, before turning to the eventual candidate, Sen. John McCain, who lost to Barack Obama.
Adelson came around slowly to Trump, who during the campaign had said he would be "neutral" in negotiations between Israel and the Palestinians. Trump even ridiculed his initial liking for Sen. Marco Rubio of Florida, tweeting in 2015, "Sheldon Adelson is looking to give big dollars to Rubio because he feels he can mold him into his perfect little puppet. I agree!" Adelson eventually endorsed Trump, but remained hesitant through much of 2016. He gave more than $20 million in the final weeks of the campaign after reports that he would contribute $100 million, and was more generous with congressional races.
But after Trump's surprise victory, the new president spoke often with Adelson and embraced his hardline views on the Middle East. He cut funding for Palestinian refugees and withdrew from the Obama administration's nuclear nonproliferation deal with Iran. He moved the U.S. embassy to Jerusalem even though earlier administrations - Democratic and Republican - avoided doing do because it directly challenged the Palestinian view that the ancient city should be part of any peace agreement.
Adelson, in turn, aided Trump financially, including $5 million for his inauguration, and supported him through his media holdings. Late in 2015, Adelson secretly purchased the Las Vegas Review-Journal - the paper's own reporters revealed he was the new owner - and soon raised concerns he was imposing his own views. Some longtime staffers left in protest.
In what was widely seen as a mark of the Adelsons' influence with Trump, Miriam Adelson was given a Presidential Medal of Freedom in 2018.
Adelson, who contributed more than $100 million to the 2018 off-year elections, held extraordinary power among Republicans even though he didn't always agree with them. In a 2012 interview with the Wall Street Journal, he called himself "basically a social liberal," pro-choice on abortion and supportive of immigrant rights. He cited taxes and differences over Israel as major reasons for leaving the Democratic party.
In statement Tuesday, Trump said, "His ingenuity, genius, and creativity earned him immense wealth, but his character and philanthropic generosity his great name. Sheldon was also a staunch supporter of our great ally the State of Israel."
While Adelson was a staunch supporter of the Republican Party, he wasn't always in sync with the party's positions, telling reporters in 2012, "On the social issues, I'm not pro-life; I'm pro-choice."
Adelson continued to support Trump in his reelection bid, though about a week after the election, his newspaper's editorial board said the defeated president was trying to "delay the inevitable." The editorial column blasted the unfounded claims of voter fraud Trump and his allies were perpetuating.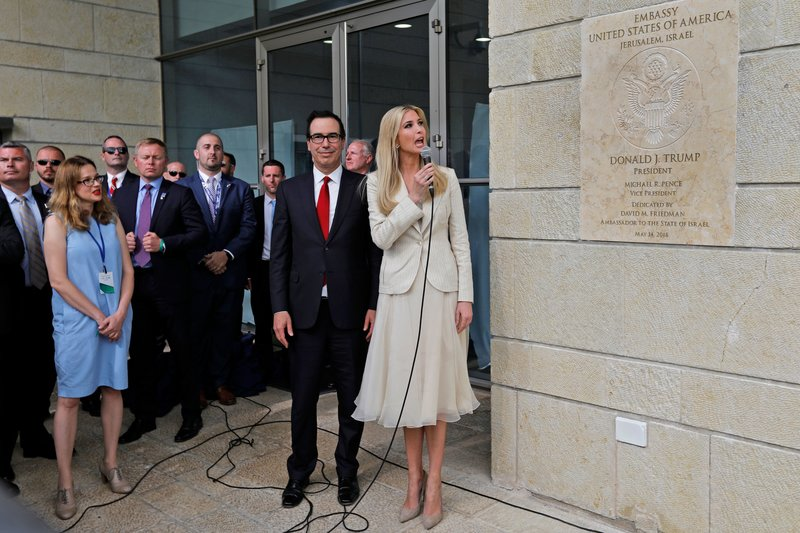 Treasury Secretary Steve Mnuchin and Ivanka Trump unveil an inauguration plaque during the opening of the U.S. Embassy in Jerusalem on May 14, 2018. Photo: AFP
Birthright Israel; Jerusalem embassy
Adelson also spent heavily on conservative causes in Israel.
He was a primary backer of Israeli Prime Minister Benjamin Netanyahu. According to a biography of the Israeli leader by journalist Anshel Pfeffer, Netanyahu helped the Adelsons secure unprecedented access to hold their wedding reception in the Israeli parliament building.
In 2007, Adelson launched Israel Today, a free daily that has become Israel's largest circulation newspaper. It features cheerleading coverage of Netanyahu and his family, a key asset in Netanyahu's longtime quest for positive press coverage in Israel. When Netanyahu addressed a joint session of Congress in 2015 against the Iran nuclear deal, Adelson was in the gallery.
Adelson also helped bankroll Birthright Israel, a program partially funded by the Israeli government to send Jewish youth from around the world to Israel on free guided trips.
He was a forceful advocate for moving the U.S. Embassy from Tel Aviv to Jerusalem. Adelson heavily supported former House Speaker Newt Gingrich's 2012 presidential campaign in part because of his support for moving the embassy.
While the George W. Bush and Barack Obama administrations rejected such a move, Trump's administration embraced the policy.
Adelson even offered to pay for at least part of the cost of building a new embassy, said the npr.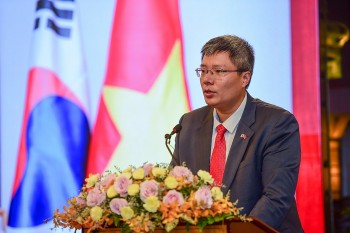 Viet's Home
Tran Hai Linh, member of the Central Committee of the Vietnamese Fatherland Front, chairman of the Vietnam-Korea Business & Investment Association (VKBIA) shared with the Vietnam Times about strengthening the capacity to promote Vietnamese culture to the world.