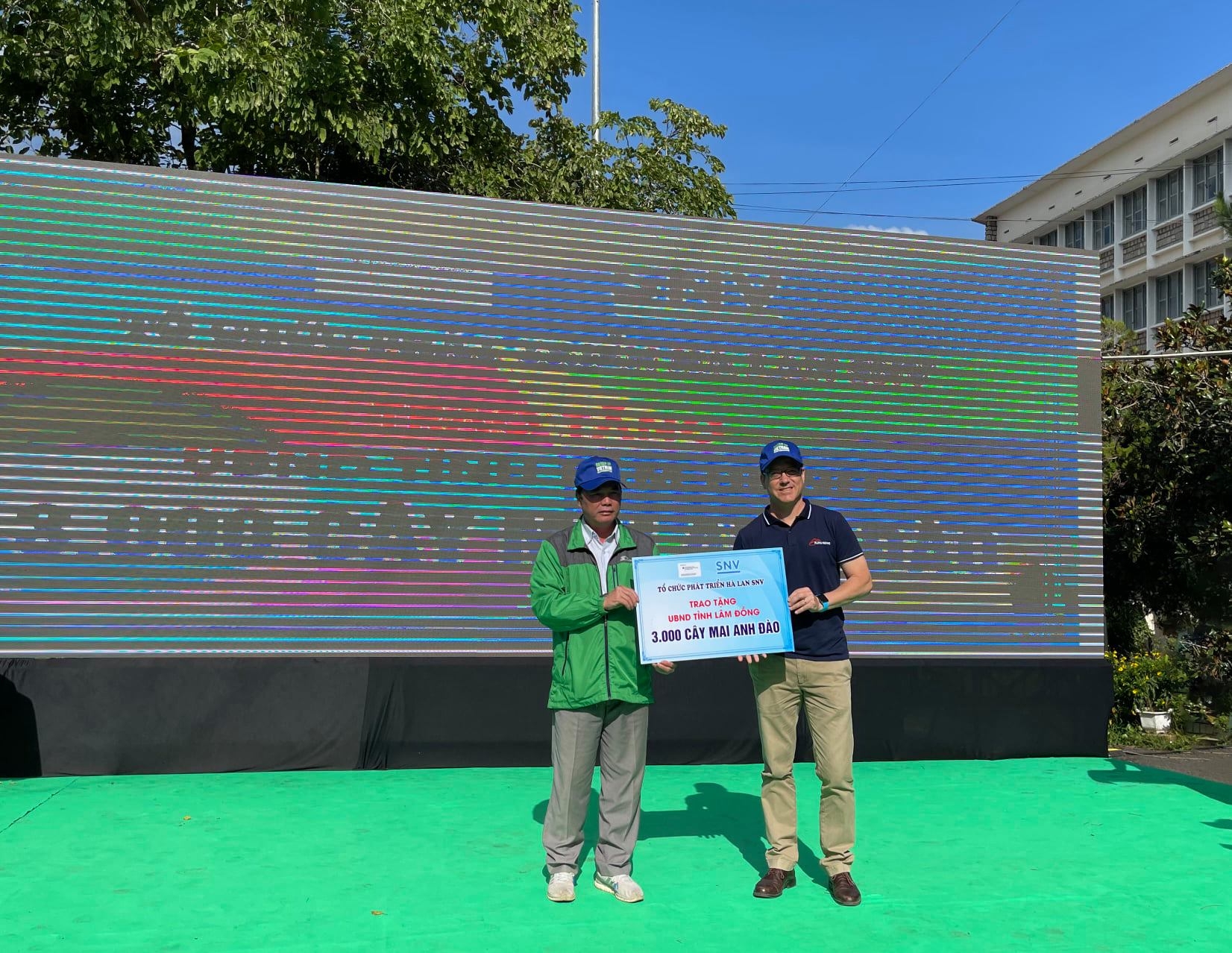 Representative of SNV Vietnam, Peter Loach presented 3,000 cherry blossom trees to the People's Committee of Lam Dong province.
On April 23 in Da Lat city, Lam Dong Provincial People's Committee in collaboration with Lam Dong Youth Union and agencies held a launching ceremony on tree planting with the aim of planting 50 million trees in the area of Lam Dong province in the period 2021-2025.
Through the project "Coffee Agroforestry and Forest Enhancement for REDD+" (Café-REDD), SNV Netherlands Development Organization contributed at the launching ceremony of 3,000 trees out of a total of 5,000 cherry blossom trees will be planted on Da Phu hill, Da Lat city, contributing to improving efficiency in the campaign on planting trees, creating a highlight in the implementation of the plan to plant 50 million trees.
The remaining 2,000 trees will be planted by the People's Committee of Da Lat city on the entire area of the hill to form cherry blossom hill.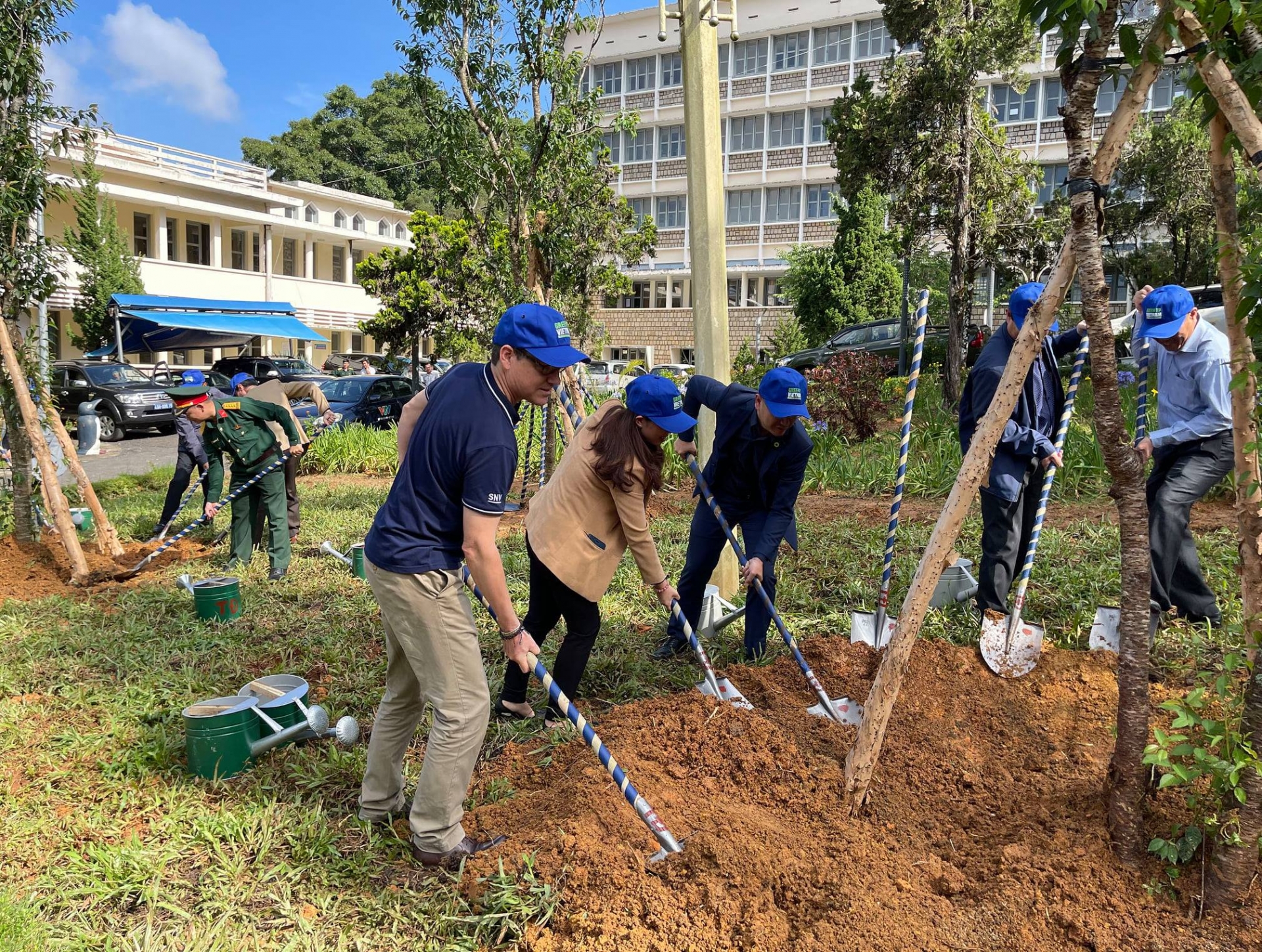 After the launch ceremony, delegates and local people planted cherry blossom trees on Da Phu hill, Da Lat city.
CAFE-REDD is funded by the German Ministry for the Environment, Nature Conservationand Nuclear Safety (BMU) and will run from 2018 to end 2021, with the total funding budget of approximately EUR 1.8 million.
The project focuses on The Lang Biang landscape (comprising Bi Doup Nui Ba National Park and Buffer Zone) - a priority protection landscape - located in Lam Dong. The overall objective of the project is to improve institutional capacity and public-private coordination around shared interests and visions for climate smart landscapes, which directly and indirectly reduce deforestation, forest degradation and restore forest landscapes.
Building on previous initiatives in the province, the CAFÉ-REDD project supports the Lam Dong government to implement key measures that will reduce deforestation and forest degradation and support the transition towards green growth as outlined in the Provincial REDD+ Action Plan (PRAP).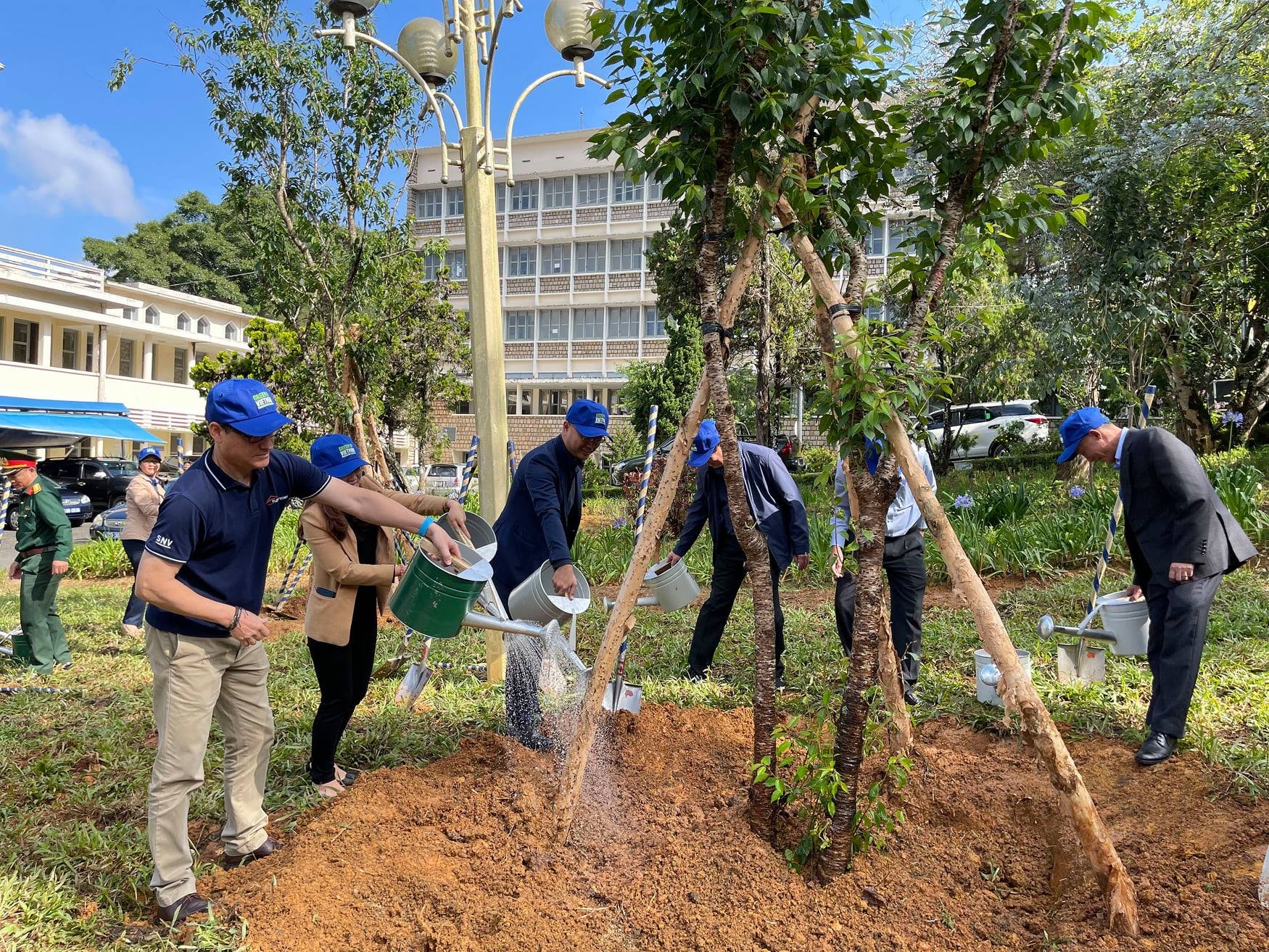 Delegates participate in planting trees on April 23.
The Prime Minister has issued a decision approving a project on growing 1 billion trees in Vietnam during the 2021 – 2025 period.
According to the project, of the 1 billion trees to be planted by the end of 2025, 690 million will be grown in urban and rural areas, and 310 million planted in protected, special, and production forests.
The project aims to protect the ecosystem, improve the scenery, respond to climate change, boost socio-economic development, improve the quality of people's life and foster the sustainable growth of the country.
As per the project, the target for 2021 is 182 million trees, with an average of 204.5 million trees to be planted each year in the 2022-2025 period.
Da Lat is also exceptional in the spring and known as the city of flowers with about 3,000 bright pink trees. These blossoms are popular too for their unique shape, many being five-leaf apricot trees./.
Hannah Nguyen