Solar Water Filtration System Benefits Villagers in Dak Lak
A community water filtration system, worth USD 18.300, was handed over to Sut M'Dung villagers of Dak Lak province.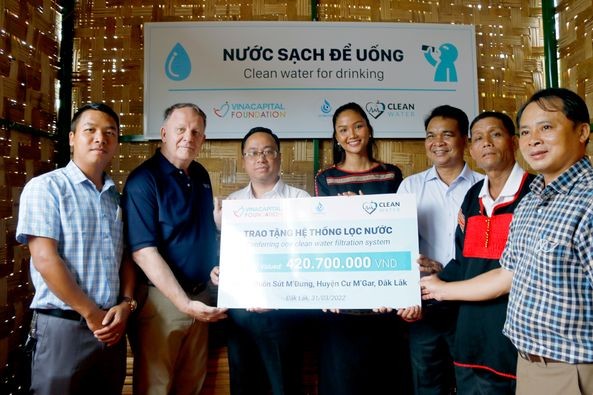 At the hand-over ceremony. Photo: VCF
The VinaCapital Foundation (VCF) on March 31 handed over one solar-powered clean water filtration system to Sut M'dung village, Cu Sue commune, Cu M'gar district, Dak Lak province.
The VND-420-million solar energy clean water system is implemented by the Clean Water program of VCF and benefits 1,757 people from 355 families in Sut M'dung village.
The Dr. Water brand of Phap Viet Environmental Technology JSC sponsored 30% value of the system and 20 portable containers to create the most favorable conditions for the local people to access, store and transport quality drinking water.
Sut M'dung village is Miss Universe Vietnam 2017 H'Hen Nie's hometown. The residents there have been using well water with iron content 20 times higher than the allowed level.
Excess iron in drinking water is classified as a secondary contaminant and over time can cause serious health problems like iron overload, hemochromatosis, internal organs damage. It is critical to find a solution for the village's contaminated water, which is fundamental to its agriculture and the population's health, especially the children.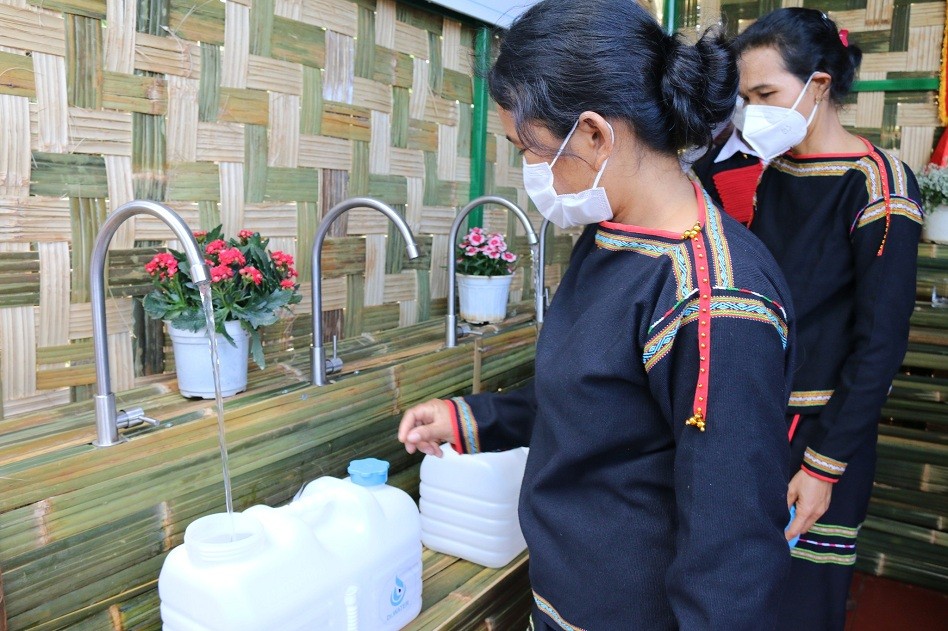 Villagers get clean water from the system. Photo: VCF
"It is VinaCapital Foundation's honor to have the support from our long-term partners in Dak Lak, Phap Viet Environmental Technology JSC, and Miss H'Hen Nie to provide access to potable water for underserved communities," said VCF CEO Rad Kivette, stressing that clean water is essential to everyone's health and helps reduce the disease of all types, it is especially important for children in rural areas.
For the past five years, Nie has accompanied many programs of VCF including scholarships for ethnic minority students; Brighter Path to empower and inspire ethnic minority girls to pursue their education; and Clean Water projects in Dak Lak.
She also participates in many VCF's fundraising campaigns such as Help Vietnam Breathe to bring ventilators and personal protective equipment to hospitals during the fourth Covid-19 outbreak in Ho Chi Minh City and surrounding areas, as well as fundraising campaign to help an ethnic clubfoot girl have her life-changing surgery.
Since 2017, the Clean Water program has successfully completed the installation and handover of 91 clean drinking water filtration systems, which benefit more than three million people in Quang Nam, Dong Thap, Bac Kan, Ninh Thuan, Tra Vinh, Binh Thuan, Yen Bai, Long An, Dak Lak provinces, and HCM city.