'Sometimes people need to fall, so that they will learn': Tran Uyen Phuong
A typical day for Tran Uyen Phuong begins at 4.30am, and it doesn't stop until late into the night.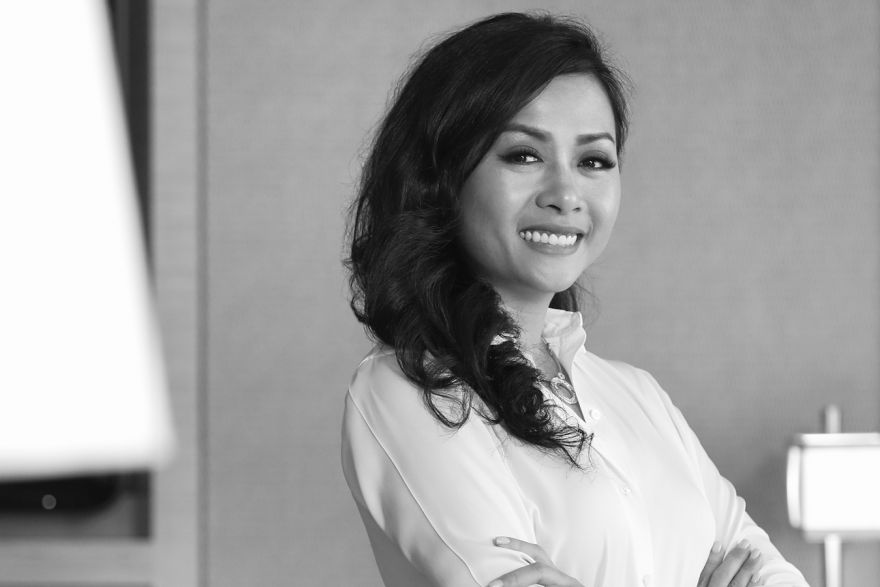 Tran Uyen Phuong.
It could be meeting with clients to seal a deal, or in the past several months, flying around the world for the launch of her second book, Competing with Giants. She recently flew in to Singapore from the United States, arriving in the early hours, giving three interviews during her one-day stay, before jetting off to India, and then to Ireland . The petite Ms Tran runs like an Energizer bunny, whizzing from one place to another nonstop - with nary a hair out of place.
The eldest of three children, Ms Tran, 37, took four years to complete the book, which tells the story of how her parents turned two bowls and four chopsticks - which was all they had in their possession - into a billion-dollar empire that is the Tan Hiep Phat (THP) Beverage Group. The book is currently published in English, but she has already received offers to have it translated into Japanese and Chinese. A Vietnamese edition will be available in December.
THP is Vietnam's largest private beverage company, producing herbal and green teas, sports and energy drinks, soya milk and purified water. It exports to 16 countries, including China and Australia. Her father, Tran Qui Thanh started the business manufacturing beers, but switched to soft drinks and tea when he calculated how much higher the profit margins were. Ms Tran's first book was about how he built up the business.
Ms Tran, who is single, joined the family business immediately after she finished university. She felt it was the best place for her to learn business, rather than to work for someone else. She loves her job so much, that she is stumped when asked what she does for leisure. Instead, she says that "work is like play. I never tire of it." Perhaps it is also the three bottles of unsweetened herbal tea from THP that she drinks daily, that keeps her going.
Why did you write Competing with Giants?
I had attended a management course at Harvard for owners or presidents of companies. While there, the participants were asking about how local companies can take on MNCs and not many of them had experience in that. I shared about how THP runs, our marketing, building our brand, and what makes us successful. The Coca-Cola Company came knocking on our doors with a lucrative US$2.5billion offer in 2012 to acquire a controlling interest, but we said no, because there was no mission and vision alignment. Today our bottled teas are outselling theirs.
I was asked to write a case study for Harvard and I thought if such lessons are valuable, why not turn it into a book.
I met with Forbes Books, and was told they didn't have such a publication, so I wrote the book. They were impressed with the title, Competing with Giants. My whole life has been about competing with giants. The biggest giant I'm competing with is myself. I have to be better today than I was yesterday. That is also the motto for the company. We need to keep getting better at what we are doing.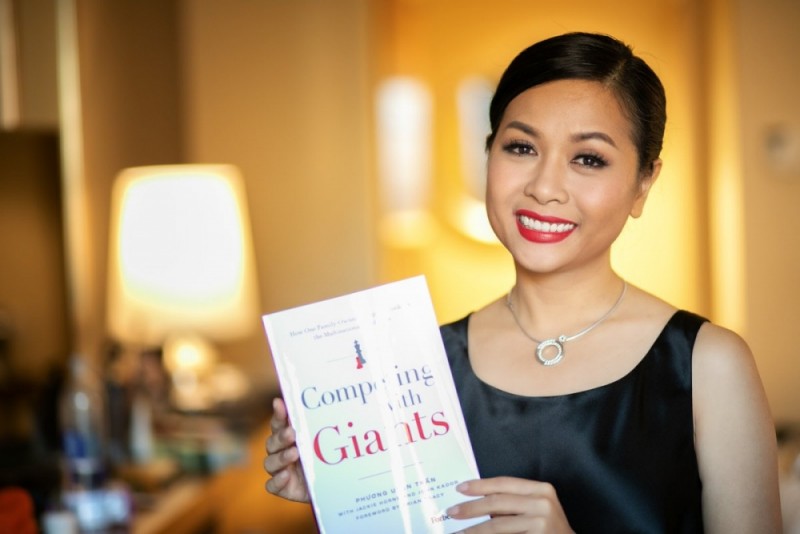 My whole life has been about competing with giants.
Your father, Tran Qui Thanh, has said that his CEO position is a responsibility that you and your sister, Ngoc Bich, who is also the deputy CEO, will have to earn. Could there be a day, when the two of you have to fight over the same position?
I wouldn't rule out the possibility of having an outsider fight with us for the role. But that is the great thing about the Tran family. We train to be leaders. So we are happy for whoever is the right person for any position. If that person can fulfil that role best, then it is better to let him or her do it. For example, in our family, we always say that if someone is good in art, they don't need to be doing business. Let them be the leaders in what they think they are good at.
My sister and I are very close, and we share a special time chatting every morning. She took part in a triathlon, and to show her moral support, I trained in the running segment with her, even though I hate running.
Except for your brother, everyone in your family is involved in the business. How do you live and work with your family all the time?
When your family are the people that you see both at work and outside of it, it pays to wear the right hat at the right time. When I'm at work i don't wear the daughter hat. Similarly when I'm at home, I don't wear the employee hat. Naturally, we do talk a lot about work at home. At work, I don't call my father "Dad" - I call him Dr Tran. For example, when in a business meeting, I never defend myself as a daughter but always as an employee. Keeping the lines clear helps. This applies not only for me, but for everyone in the family.
What lessons have you learnt from your father?
He has taught me many lessons, one of which is the need to speak up and to gain trust. Also, not to take advantage of the trust of the staff just because I'm the daughter of the owners. As the daughter of the founders, I need to constantly be a role model. My dad has also told me that if I do anything wrong, I will be punished more harshly than anyone else. Is it stressful being on guard all the time? When you've grown up in this sort of environment, you don't feel it is tough. It becomes natural.
What advice would you give to young women who may want to be entrepreneurs like yourself?
I don't usually give advice. People do come to me with their problems, and more often than not, they have the solutions. It is just that they don't dare to confirm their gut instincts, or they are looking for approval. For anyone who comes to me, I usually ask them a lot of questions, and try to help them overcome the barriers that they don't want to accept. Giving advice in general is not good, I learnt this from my father. If someone has a problem, let them figure it out. Sometimes people need to fall, so that they will learn.
www.businesstimes.com.sg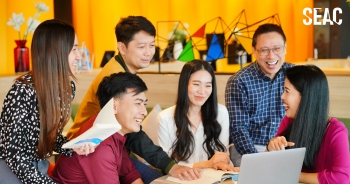 Economy
SEAC, a leading corporate and lifelong education innovator, is shaking up the Thai and ASEAN education market with significant investment to expand its SMART learning solutions across the ASEAN region.