Sour Shrimp Roll: A Royal Dish Popularized by Commoners
In the past, sour shrimp rolls were a favorite dish of kings and their royal family and were often present in their rice trays.
This dish is the perfect combination of royal cuisine and commoner cuisine. Sour shrimp rolls are not only a delicious dish but also sophisticated and delicate in every detail.
Tourists from all over the world, perhaps not many people know about this delicacy. This is probably because now in Hue, there are not many restaurants that sell this dish anymore.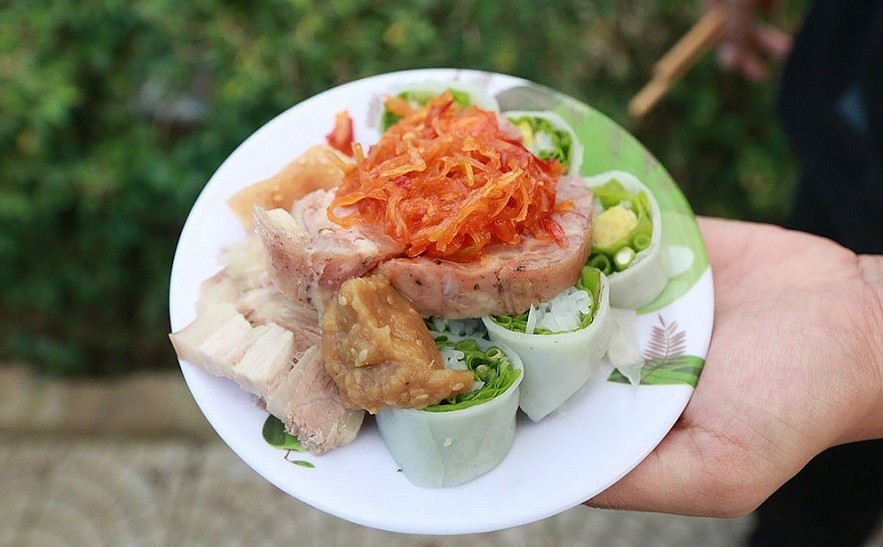 Photo:dulich.petrotimes.vn
However, in the past, this dish was once loved by kings and royalty. On the king's dining table, there were often plates of these attractive sour shrimp rolls.
Although it looks simple, every step to making this dish requires meticulousness and sophistication. This makes the diners feel the effort and enthusiasm poured into each roll by the chef.
Sour shrimp roll is a Hue delicacy that is transformed from the original wet version but has Hue flavor and a sophisticated presentation. The main ingredients to make this dish include sour shrimp, boiled meat, wet cake, and green vegetables.
The ingredients are so simple, but to make a delicious and beautiful plate of sour shrimp rolls takes meticulous and skillful hands. These rolls are neatly rolled, cut into bite-sized pieces, and topped with pieces of meat and sour shrimp.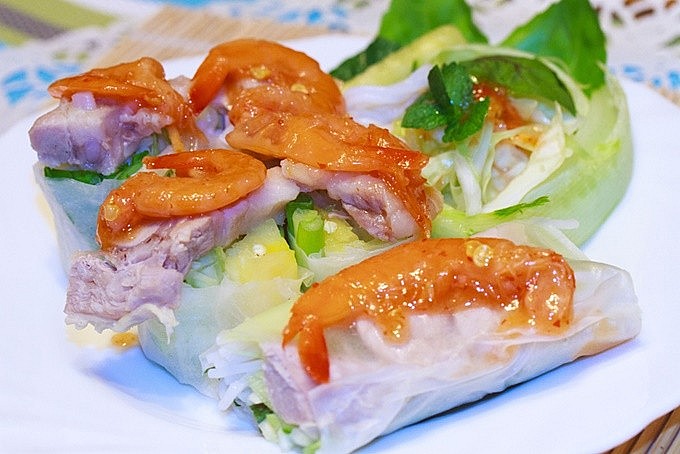 Photo: diemhendulich.net
First, the cook will gently spread each wet rice paper on a flat plate, arrange raw vegetables, sweet potatoes, and vermicelli and then roll it up firmly so that it is neither too tight nor too loose.
After that, the rolls are cut into pieces about 2 fingers long and then arranged on a plate. The cook puts on top of the roll a slice of pork belly and sour shrimp. Next, they prepare some more raw vegetables such as lettuce and herbs. They only take the crispy young water spinach so that when people eat it, they make a special sound, which makes the dish more interesting.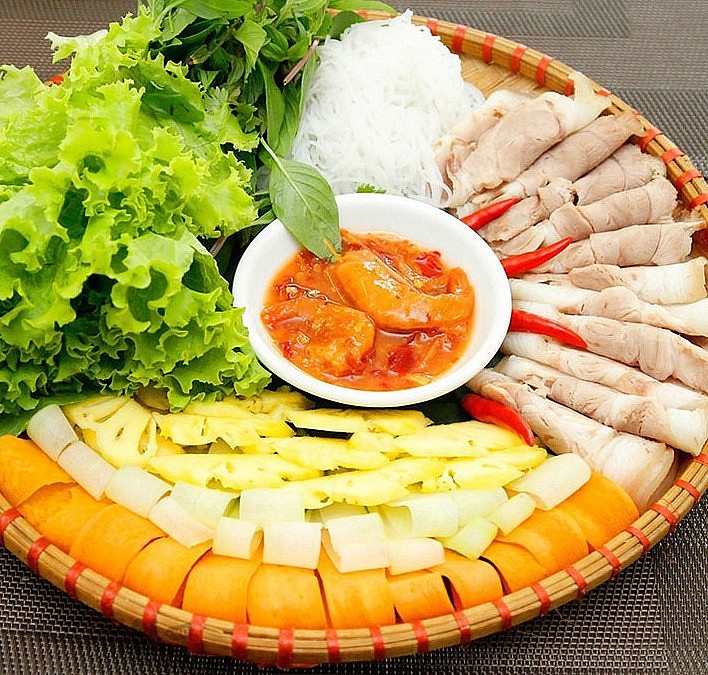 Photo: hotdeal.vn
A plate of sour shrimp rolls also converges all the eye-catching colors of a healthy dish such as the green of vegetables, the apricot yellow of potatoes, the clear white of vermicelli, and the red color of sour shrimp. The dipping sauce has a very attractive golden brown color.
To find a shop selling sour shrimp rolls in Hue, visitors can visit the foot of Kho Ren bridge, where there is a food stall of Mother Hanh. In order to eat Hanh's wet and sour shrimp rolls, many people have to "stalk" and wait at the spots she often passes by. This stall only has three dishes but the most popular is the sour shrimp rolls. Taking off the bamboo mat tinged with the glossy brown of kitchen smoke, spreading banana leaf sticky rice on top, she prepared a roll dish that only appeared in the meals of the ancient Hue royal families
Sour shrimp rolls are no longer as famous as before, but it is still a delicious, beautiful, and delicate dish that deserves to be known more by foodies.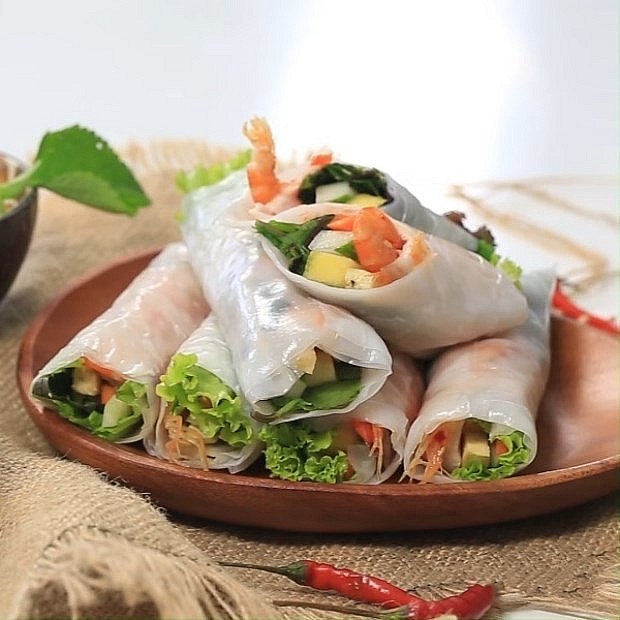 Photo: dienmayxanh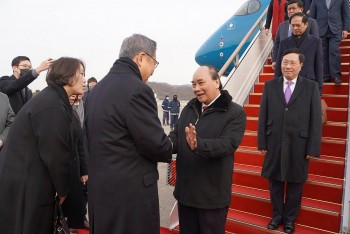 National
Vietnam News Today (Dec. 5): Additional 204 Covid-19 cases recorded on December 4; State President warmly welcomed in Seoul on RoK visit; Vietnam, Venezuela boast potential for fishery cooperation; Northerners feel chill as cold wave intensifies.