Vietnamese Spring Rolls Becomes A French's Favorite Food
Vietnamese spring rolls are considered one of the favorite dishes of French people, according to a famous French television channel.
French television channel TF1 on February 7 aired a report on the trend of French people who are becoming more interested in foreign cuisine. According to the report, this is not a new phenomenon, but it has become more obvious over the past 10 years.
Food and related items from Mexico, Vietnam, or India are increasingly attracting customers. Previously, foreign food only occupied a small area in the Carrefour supermarkets, but now the shelves are always filled with food and goods from many countries around the world.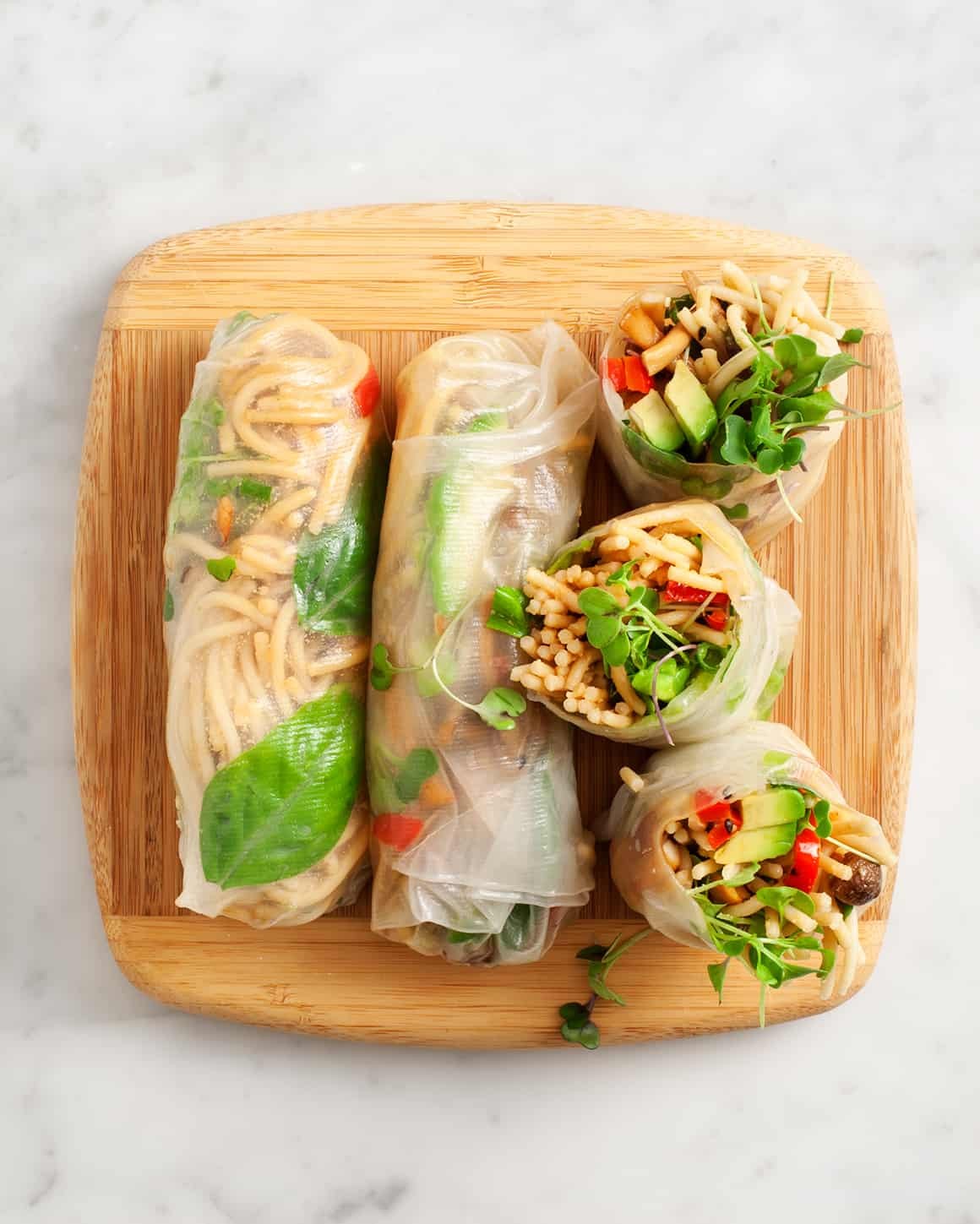 Photo: Love and Lemons
According to Stefen Bompas, Carrefour's customer experience manager, foreign goods have been arranged on 2-3 shelves of the supermarkets, adding that in the past, there was only a small corner with a few products from neighboring countries.
Carrefour supermarkets currently sell about 3,000 products imported from 24 countries. They do not only include products from such neighboring countries as Italy, Portugal, and Spain, but also those from Asian nations like Vietnam, Thailand, Japan or Mexico, and Brazil of Latin America. Revenue from these imported culinary and agricultural products increased by 20 percent last year and are now considered as potential "gold mines" for the supermarket chain to exploit.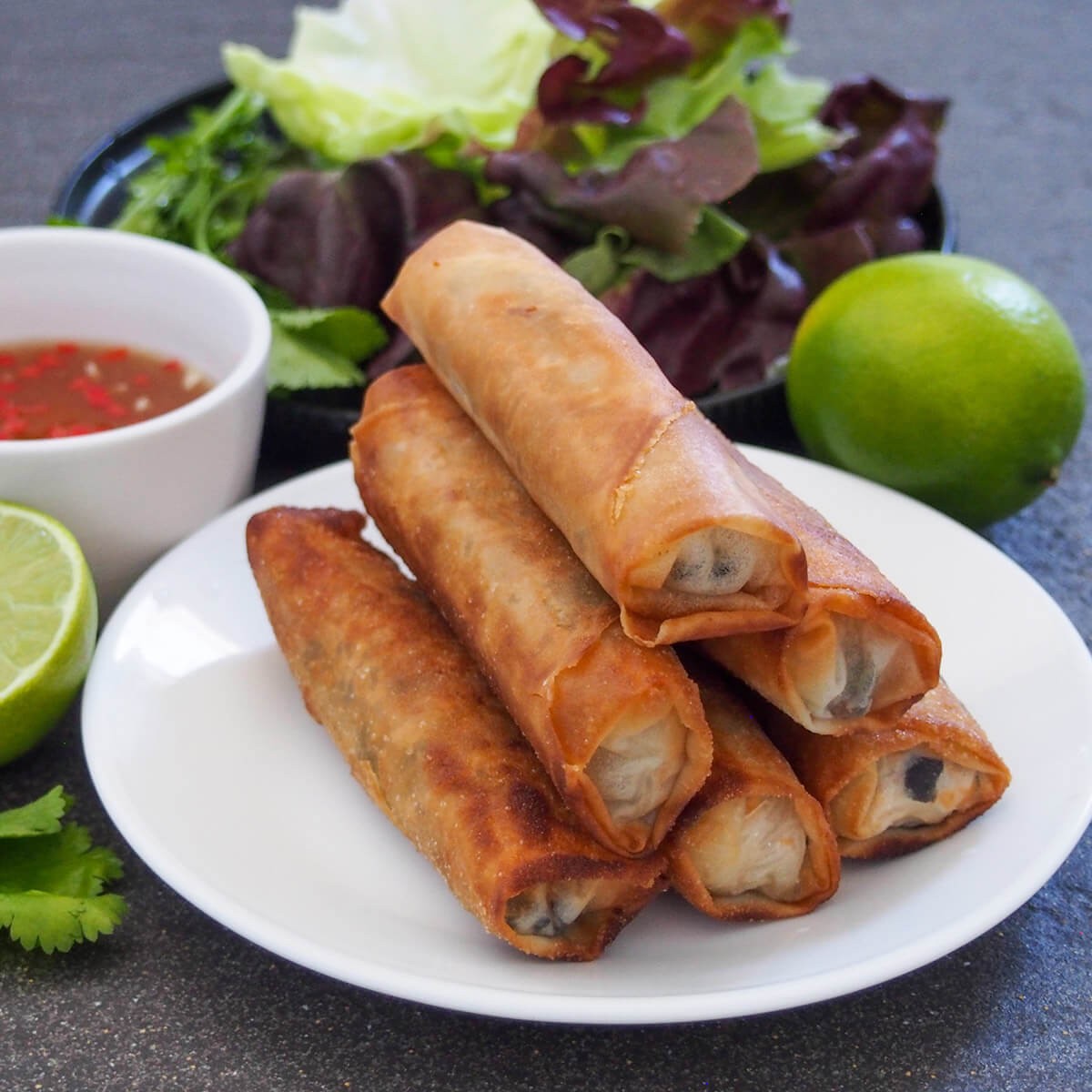 Photo: Carolina's Cooking
Statistics of the Carrefour supermarket chain in France showed that among the most popular foreign culinary products, Japanese sushi topped the list, accounting for 45 percent of sales, followed by American popcorn and Macaroni. Vietnam's traditional spring rolls ranked third, accounting for 19 percent of sales of foreign goods last year.
Vietnamese Spring Rolls – A Delicious Traditional Dish
Goi Cuon, salad roll, summer roll, fresh spring roll, spring roll, or rice paper roll, is a Vietnamese dish traditionally consisting of pork, prawn, vegetables, bún (rice vermicelli), and other ingredients wrapped in Vietnamese Banh Trang (commonly known as rice paper or cold roll). Unlike other spring roll dishes which are believed to be originated from China, Vietnamese Goi Cuon is the country's creation using rice paper.
Goi Cuon is served fresh while others are served fried, like the Vietnamese Cha Gio. They are served at room temperature (or cooled) and are not deep-fried or cooked on the outside. These rolls are considered to be a very popular appetizer with customers in Vietnamese restaurants.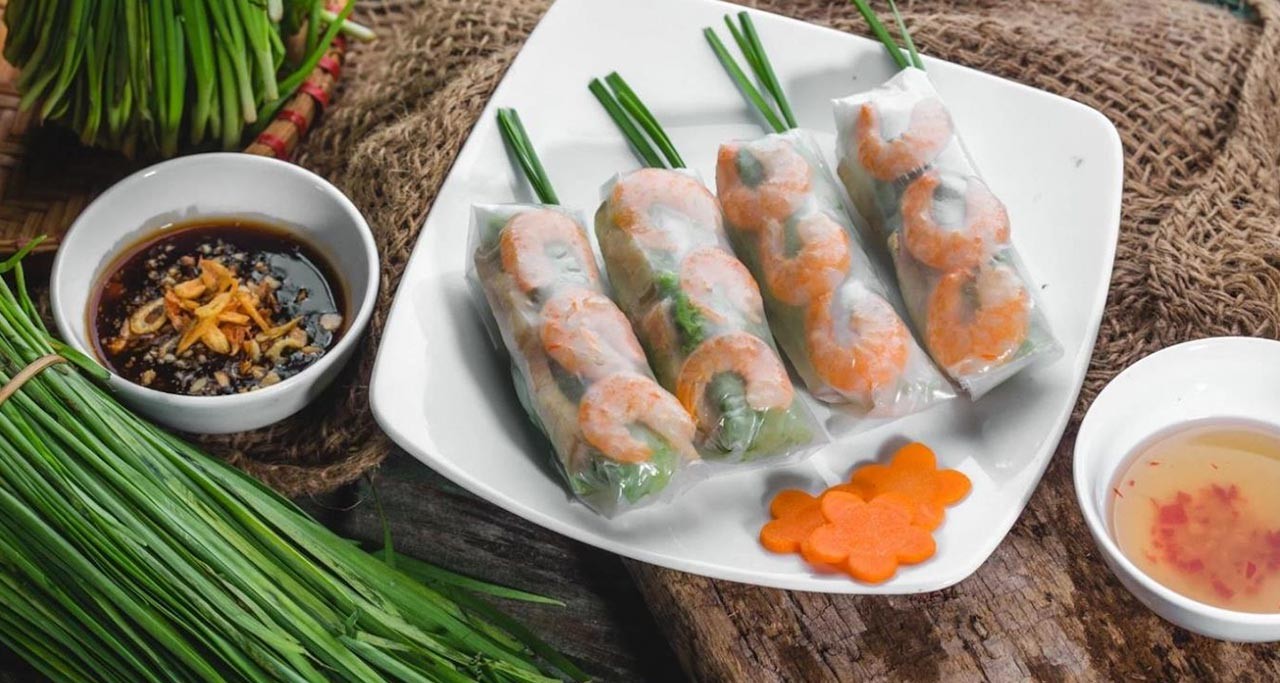 Photo: Travel Vietnam
These spring rolls are a refreshing change from the usual fried variety and have become a family favorite. They are great as a cool summertime appetizer, and are delicious dipped in one or both of the sauces.
The Banh Trang (rice paper) is dipped in water, then laid flat on a plate with the desired amount of ingredients placed on top. The fresh gỏi cuốn is then rolled up and ready to be eaten. Goi Cuon can be served with Tuong Xao (also known as hoisin sauce), before being stir-fried with garlic and some sugar and then sprinkled with chili powder and ground peanuts. Alternatively, Goi Cuon can be served with peanut sauce or other Vietnamese dipping sauces, such as nước chấm, a condiment based on fish sauce.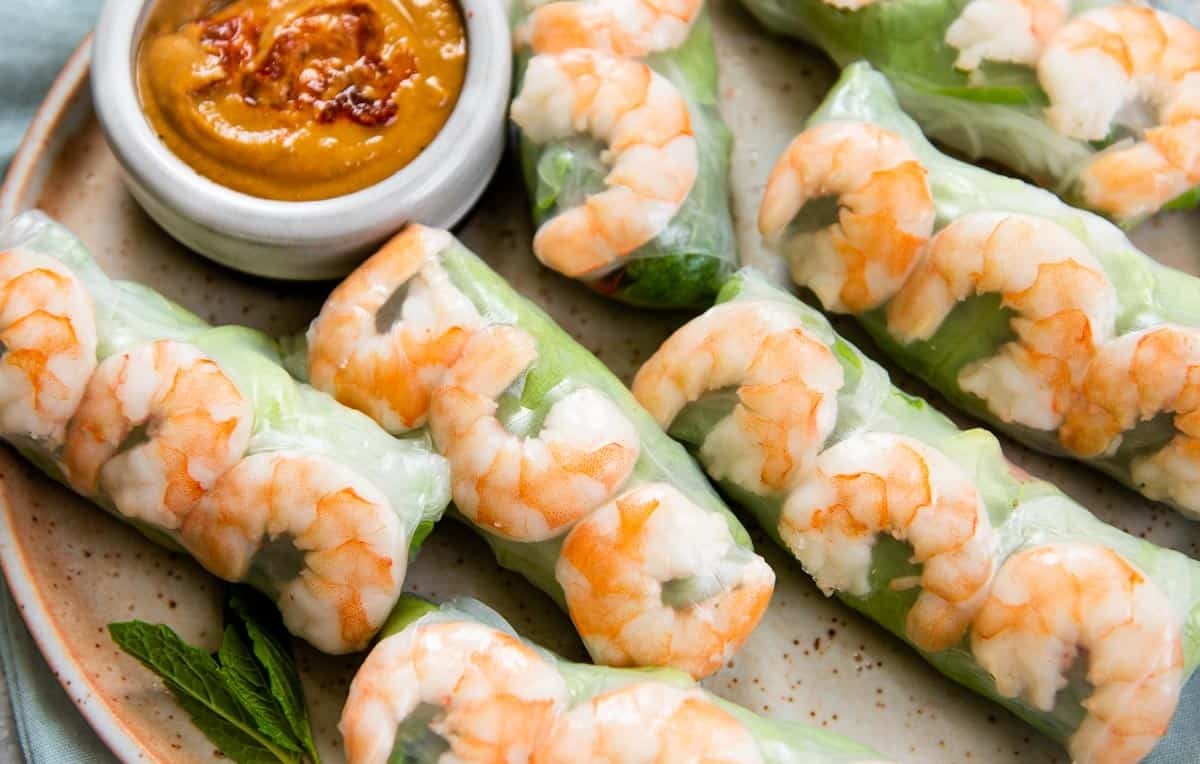 Photo: Healthy Nibbles
Fresh rolls are easily distinguished from similar rolls by the fact that they are not fried, and the ingredients used are different from (deep-fried) Vietnamese egg rolls. In Cambodia, Vietnamese Goi Cuon is called nime chao, meaning "raw rice paper"; they are produced by a different technique in the Siem Reap and Battambang areas from that in Vietnam. Another dish called kuy tieu kat ("cut rice noodles") is created from steaming the water mixture and adding meat, vegetables, and other assorted condiments. In Japan, they are called nama harumaki (生春巻き, "raw spring rolls"), and are typically filled with shrimp.
The fillings can vary from the standard pork slices, pork sausage slices, and shrimp; fish, pan-fried seafood (such as squid), beef poached in a lemongrass broth, tofu (for vegetarians), grilled sausages, braised pork, and egg are among some of the other popular spring roll variations.
How to make Vietnamese Spring Rolls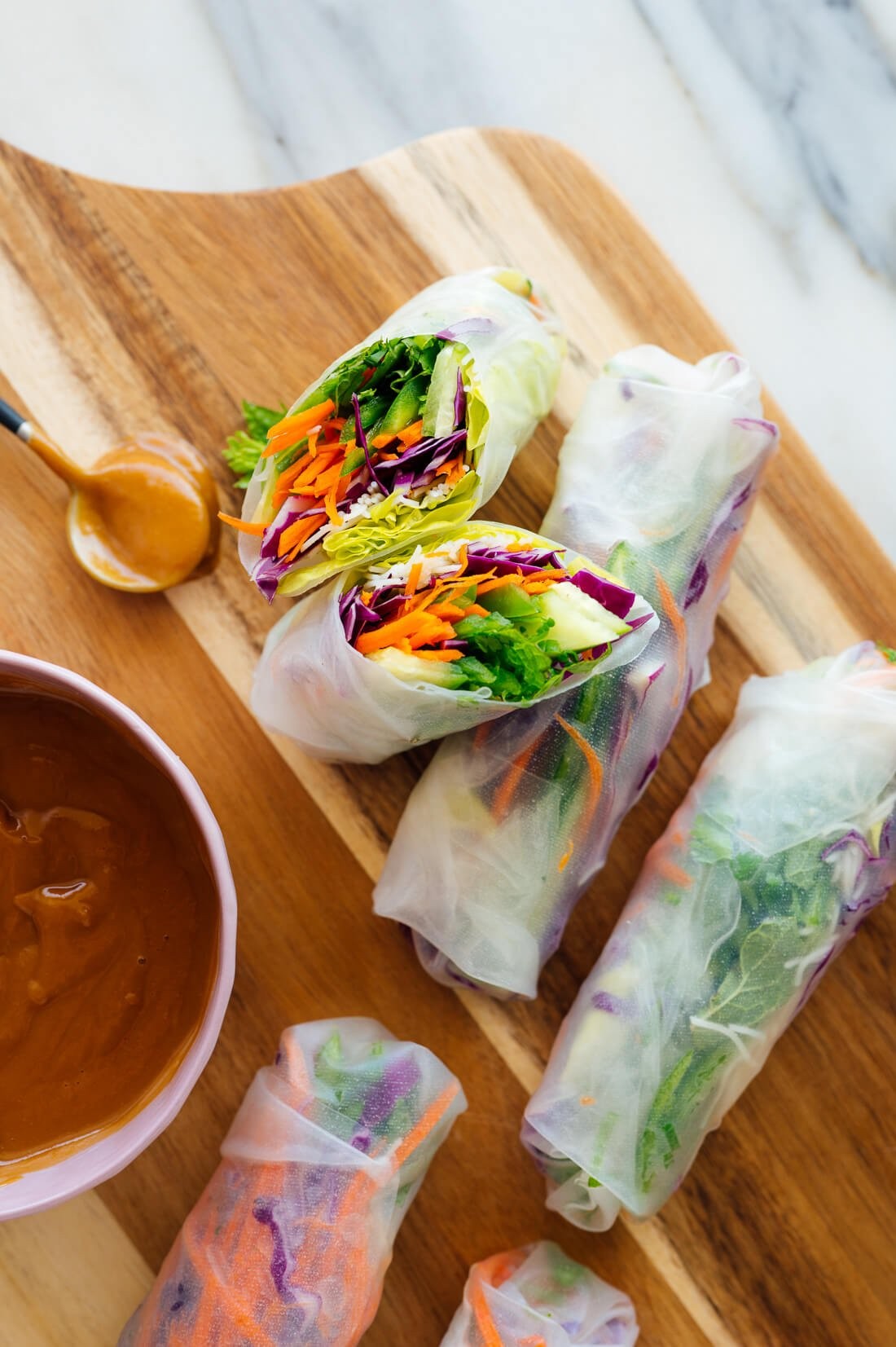 Photo: Cookie and Kate
Step 1
Bring a medium saucepan of water to boil. Boil rice vermicelli for 3 to 5 minutes, or until al dente, and drain.
Step 2
Fill a large bowl with warm water. Dip one wrapper into the hot water for 1 second to soften. Lay wrapper flat. In a row across the center, place 2 shrimp halves, a handful of vermicelli, basil, mint, cilantro, and lettuce, leaving about 2 inches uncovered on each side. Fold uncovered sides inward, then tightly roll the wrapper, beginning at the end with the lettuce. Repeat with remaining ingredients.
Step 3
In a small bowl, mix the fish sauce, water, lime juice, garlic, sugar, and chili sauce.
Step 4
In another small bowl, mix the hoisin sauce and peanuts.
Step 5
Serve rolled spring rolls with the fish sauce and hoisin sauce mixtures.