South Korea supports Vietnam 40 thermal imaging scanners
The South Korean has presented 40 thermal imaging scanners worth nearly $1 million to Vietnam to support the country in its Covid-19 fight.
The handover ceremony was held in Hanoi on May 28 and attended by Health Minister Nguyen Thanh Long, South Korean Ambassador to Vietnam Park Noh Wan, Director of Korea International Cooperation Agency (KOICA), and representative of the United Nations Office for Project Services (UNOPS) in Vietnam.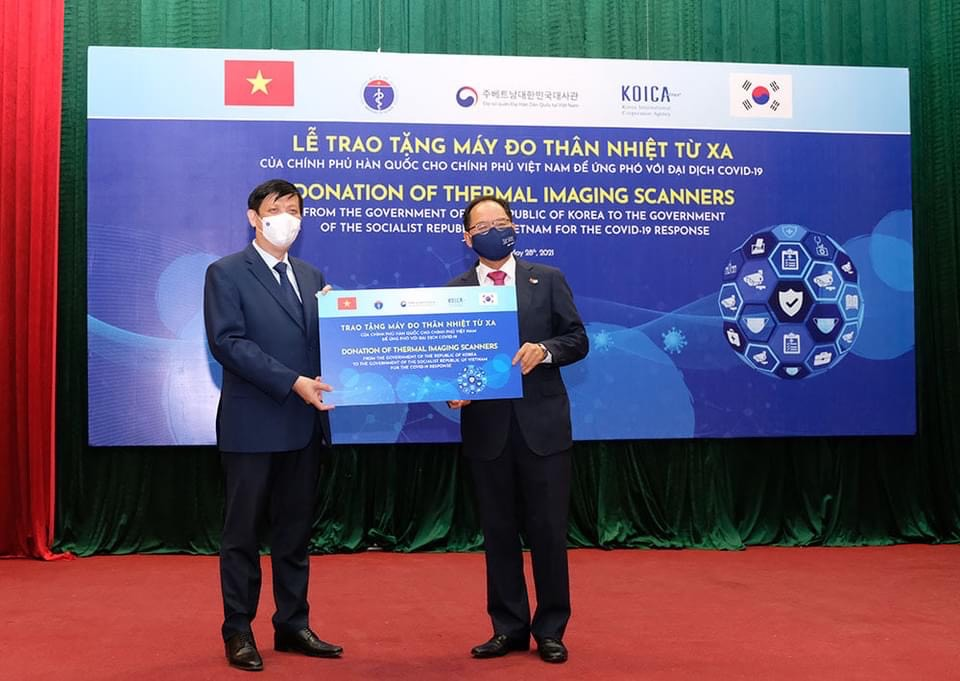 Health Minister Nguyen Thanh Long receives the aid from South Korean Ambassador to Vietnam Park Noh-wan. Photo: VGP
40 thermal imaging scanners will be installed at 10 international airports across Vietnam. South Korea has planned to organize training on using the equipment for Vietnamese medical workers. Thermal imaging scanners help to ensure safety for both passengers and staff at airports.
Besides, South Korea will provide Vietnam with non-refundable aid worth $2.5 million in 2021 to support Vietnam's Covid-19 vaccination rollout.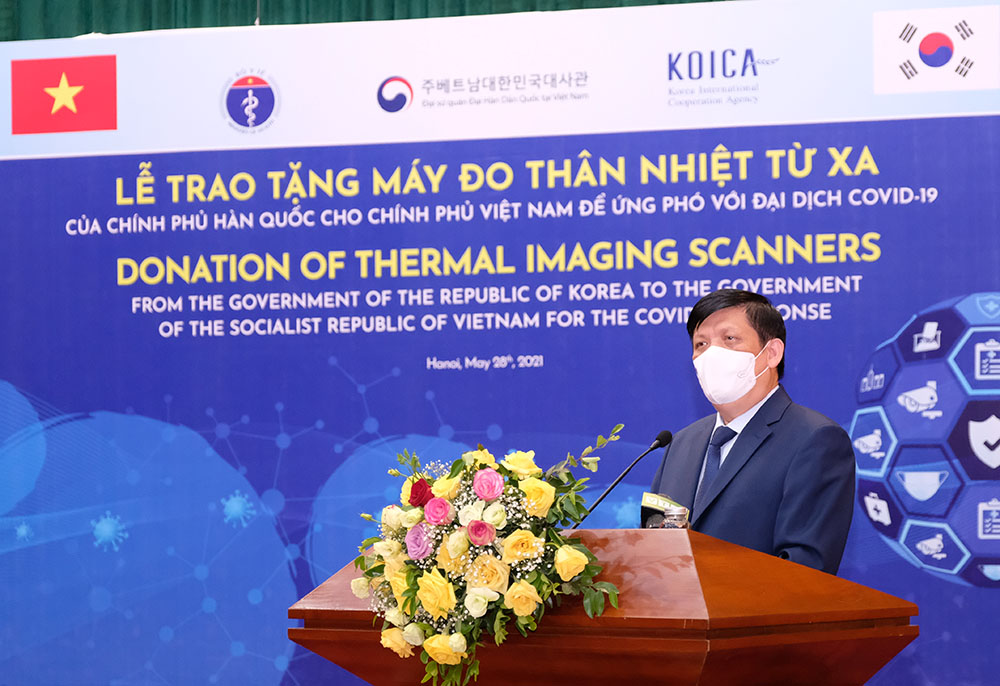 Health Minister Nguyen Thanh Long speaks at the ceremony. Photo: VGP
Speaking at the ceremony, Health Minister Nguyen Thanh Long expressed his thanks to the Government and people of South Korea for assisting Vietnam over the past years, especially for the health sector in the Covid-19 battle. He affirmed the donation was a manifestation of the good relationship between the two countries.
Minister Long hoped that South Korea would continue supporting Vietnam with medical equipment and supplies, especially Covid-19 vaccines. In addition, if South Korea has a vaccine supply, Vietnam will be ready to cooperate with it in providing vaccines to the Korean enterprises in Vietnam.
South Korean Ambassador to Vietnam Park Noh Wan said the Korean Government and KOICA had unceasingly accompanied with the development of many countries, including Vietnam.
Previously, in July 2020, South Korea aided $5.15 million for six developing countries, including Vietnam to deploy digital and green projects and cope with the Covid-19 pandemic.