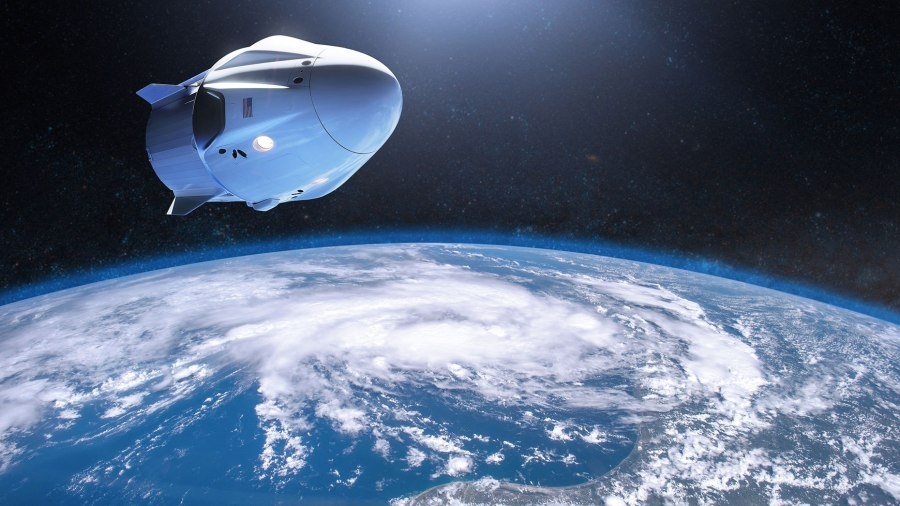 The SpaceX Crew Dragon will fly over the Atlantic in its latest mission. Photo: Adobe Stock
Latest News SpaceX launch: SpaceX prepares to launch NASA astronauts from Kennedy Space Center. iftoff with Crew Dragon and astronauts Doug Hurley, Bob Behnken set for 4:33 p.m.
After a nearly nine-year remission, it's launch day for NASA astronauts from Kennedy Space Center again as SpaceX prepares to become the first private company to send humans into orbit and onto the International Space Station.
Beginning Wednesday morning, you can expect live countdown updates and video in this story from News 6 and ClickOrlando.com as NASA prepares to launch American astronauts from U.S. soil for the first time since 2011.
Elon Musk's private company SpaceX is set to launch two NASA astronauts onboard the Crew Dragon spacecraft on a mission known as Demo-2. The Falcon 9 rocket is set to lift off at 4:33 p.m. from KSC Launch Complex 39A. After liftoff, Crew Dragon will take 19 hours to fly to the International Space Station.
Veteran NASA astronauts Bob Behnken and Doug Hurley are the lone passengers onboard the Crew Dragon spacecraft. They both have been training for more than five years for this mission. They also happen to be amazing husbands, fathers and all around great guys.
Since the end of the space shuttle program, America has paid Russia to ferry its astronauts to and from the space station. As part of NASA's commercial crew program, the U.S. space agency selected SpaceX and Boeing to develop spacecraft to fly NASA astronauts. This launch will mark the first of the program with people on board.
The SpaceX launch is estimated to cost around $US55 million per astronaut per ride, less than the $US86 million charged by Russia.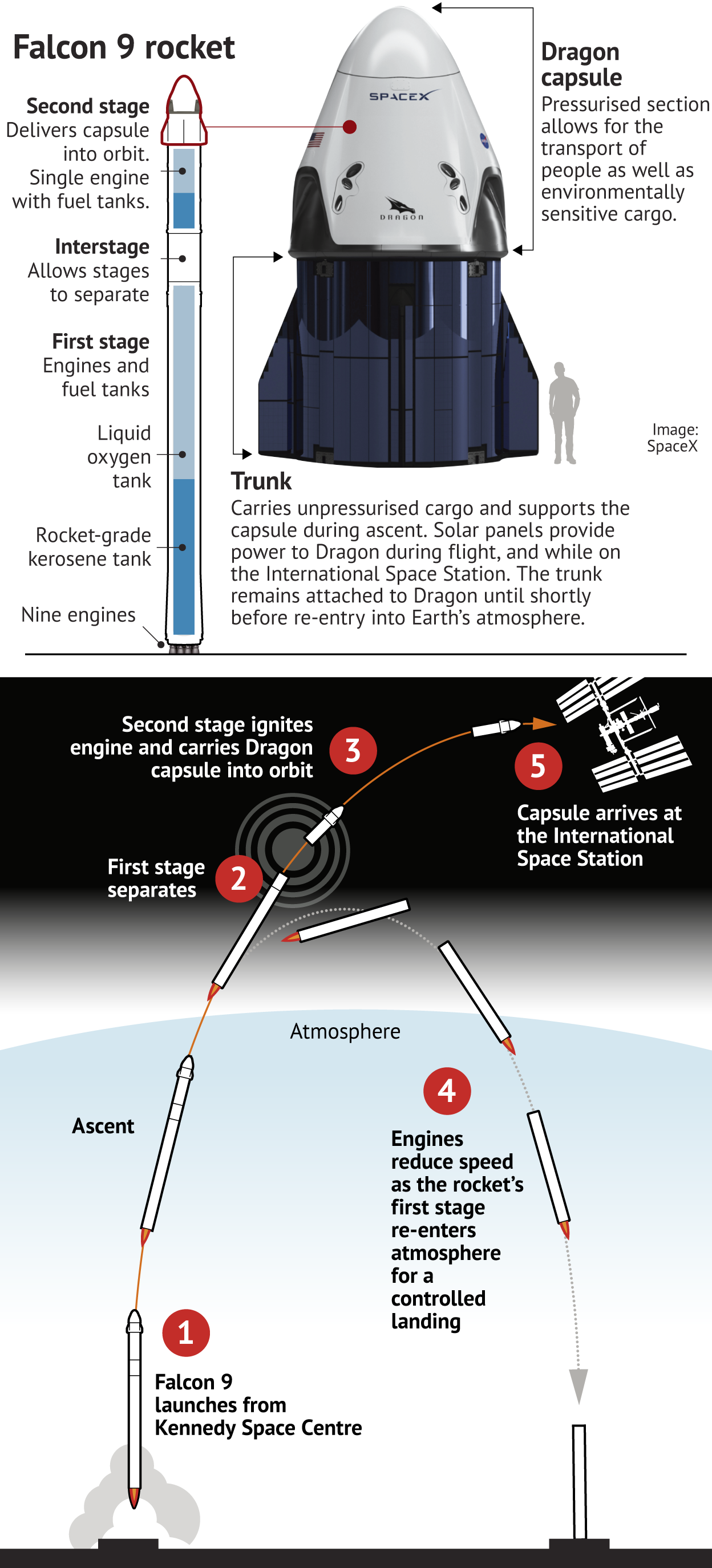 NASA astronauts Robert Behnken and Douglas Hurley will fly on SpaceX's Dragon capsule spacecraft, launching on a Falcon 9 rocket on May 27 bound for the International Space Station. Sources: SpaceX and NASA. Graphic: Jamie Brown
How to watch today's historic launch
NASA will provide live coverage of pre-launch and launch activities for the SpaceX test flight beginning at 11:15 a.m. You can stream it in the player at the top of the article and on the KHOU 11 News app.
You can stream it in the player above and on our app, Facebook page, YouTube channel and on Twitter.
Key moments and times heading into today's historic launch:
6 hours prior to launch – Astronauts will wake up so that their sleep cycles will time up for when they arrive at the International Space Station. They will also eat some breakfast and get some exercise.
4.5 hours prior to launch – Weather briefings and putting on their "comfort garments," or space underwear. Then, they will put on their space suits in same room that astronauts have been using since Apollo and make sure they are working properly. Then, they will get in the TESLA cars and head over to the launch pad.
2.5 to 3 hours prior to launch – The astronauts will take an elevator up to the Dragon spacecraft, where a "closeout crew" will get them sealed in the cockpit.
45 minutes prior to launch – SpaceX protocol has them go through a "poll" to make sure all crew involved in the launch are ready to start fueling the engines/spacecraft. This is the critical point that would be the final call to scrub the launch.
30-35 min prior to launch – Fueling begins.
Weather updates for SpaxeX launch
As of Wednesday morning, the Space Force 45th Weather Squadron is predicting a 60% chance of good liftoff conditions at 4:33 p.m. However, that does not include recovery conditions in case of a launch abort. SpaceX, NASA and Space Force weather officials will be monitoring both liftoff and recovery conditions to make the decision of "go" or "no go" closer to the launch window.
Tropical Storm Bertha: The second named storm of the season formed Wednesday morning near the Carolinas. The same system brought two days of rain to Central Florida earlier this week, but today's weather concern is sea breeze storms. Rain could put today's historic 4:33 p.m. launch in jeopardy.
The Falcon is set for lift off from Florida's Kennedy Space Centre at 4.33pm ET, which means it will be 9.33pm in the UK.
The rocket will be visible from the UK around 15 minutes after take off, so long as the skies are clear of cloud or fog.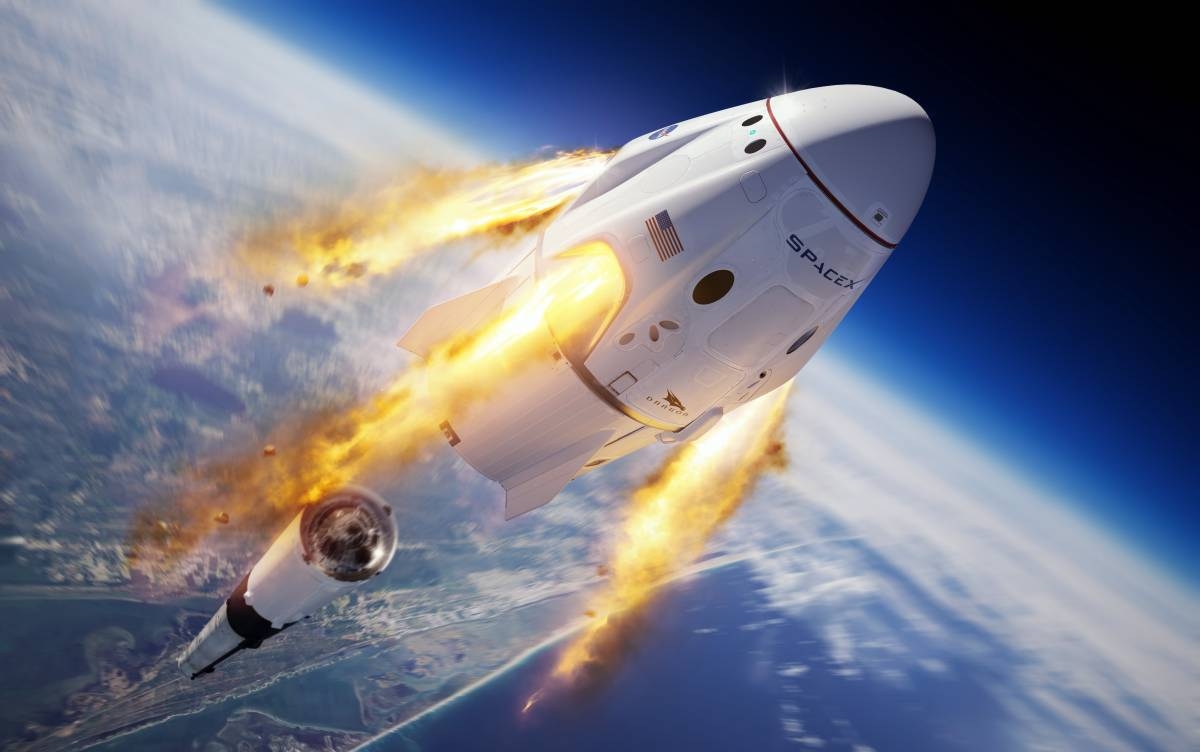 This illustration made available by SpaceX depicts the company's Crew Dragon capsule and Falcon 9 rocket during the un-crewed In-Flight Abort Test for NASA's Commercial Crew Program. SpaceX via The Associated Press
The mission has been organised in order to demonstrate SpaceX's safety when it comes to space travel.
It appears to be the final piece of evidence needed for Musk to get his spacecraft approved by NASA for future missions.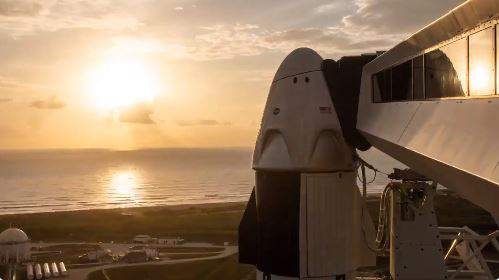 Sunrise at Kennedy Space Center Launch Complex 39A where Crew Dragon is ready to launch NASA astronauts Doug Hurley and Bob Behnken. (Image: Elon Musk/SpaceX) (WKMG 2020)
When SpaceX launches its Demo-2 mission from a Florida launch pad on Thursday morning, Australia will be watching closely. Lift-off of the Crew Dragon, set to happen at 6.33am on Thursday morning Australian eastern standard time.
The Australian Space Agency was formed in 2018 to help the country take advantage of commercialised space, the sort that SpaceX, under the helm of Elon Musk, has helped pionee, SMH cites.
The Australian Space Agency sets a goal of tripling the space sector's contribution to GDP from $3.9 billion in 2018 to $12 billion by 2030, creating an extra 20,000 jobs in that time.
The UK Space Agency aims to capture a full 10 per cent of the global space economy by 2030, estimated to be worth more than $US100 million.
Reusable rockets, such as those pioneered by SpaceX, have dropped the cost of launching objects in space from $US20,000 a kilogram of cargo a decade ago to closer to $US2000 today.
At the same time, advances in computing have shrunk satellites from cumbersome contraptions weighing well over 1000 kilograms to tiny one-kilogram cubes, opening up new opportunities for start-ups.
What happens if something goes wrong?
They did one of these tests on January 19, 2020 – everything went as planned during that test.
ff something goes wrong with the Falcon 9 rockets, they will engage the Super Draco thrusters, which push spacecraft away from Falcon 9 in case of emergency
Those Super Dracos can accelerate the Dragon capsule 0.5 mile in 7.5 seconds, bringing it to 436 mph from a standstill.
They ran an unmanned crew last year, and have done more than 700 tests on Super Dracos alone.
SpaceX launch time: Impacted by weather

SpaceX launch time: Elon Musk's SpaceX has moved into a higher landmark as it is unprecedentedly in the history that commercial aerospace will fly humans into ...
VNT