According to CNN, the launch of SpaceX's Crew Dragon spacecraft is moving forward despite the Covid-19 pandemic, which has shuttered both private and government operations across the US. NASA says it must carry on with the mission in order to keep the International Space Station, a giant orbiting laboratory, fully staffed with US astronauts.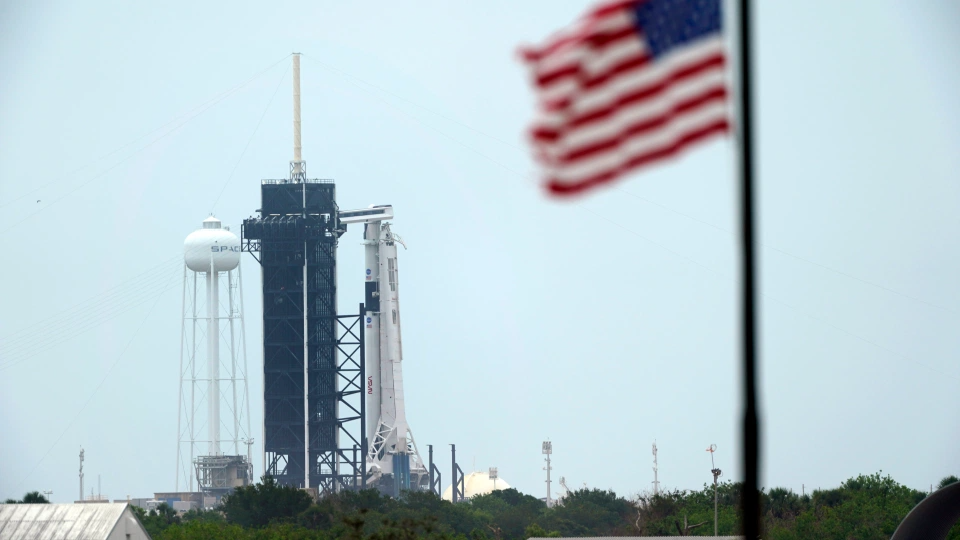 The SpaceX Falcon 9, with the Crew Dragon spacecraft on top of the rocket, sits on Launch Pad 39-A, Monday, May 25, 2020, at Kennedy Space Center, Fla. Two astronauts will fly on the SpaceX Demo-2 mission to the International Space Station scheduled for launch on May 27. (AP Photo/David J. Phillip)
What is the purpose of the mission?
First Coast News reported that the Demo-2 mission is final flight test for Space X to determine the full operational capabilities of its spacecraft, to successfully send humans into space, and to dock with the International Space Station.
When and where is liftoff?
SpaceX and NASA planned launch time for 4:33 p.m. Wednesday. Photo Credit: WTSP_weather
NASA and SpaceX are currently targeting Wednesday at 4:33 pt ET for liftoff from Florida's Kennedy Space Center in Brevard County, Florida. If bad weather or technical issues get in the way, NASA has May 30 and May 31 down as backup days.
As of Monday evening, there looked to be about a 60% chance of favorable weather conditions. On launch day, officials will evaluate weather at six hours, four hours and 45 minutes before launch.
The rocket will take off from "Pad 39A," a historic site that has been the starting point of missions dating back to the Apollo era, including the first moon landing in 1969. SpaceX is currently leasing the launch pad from NASA.
SpaceX and NASA will be cohosting a webcast during takeoff, and they'll keep that live coverage rolling at least until Crew Dragon docks with the space station about 19 hours after launch.
CNN and other news networks will also be sharing live updates on TV and online.
Who are the astronauts?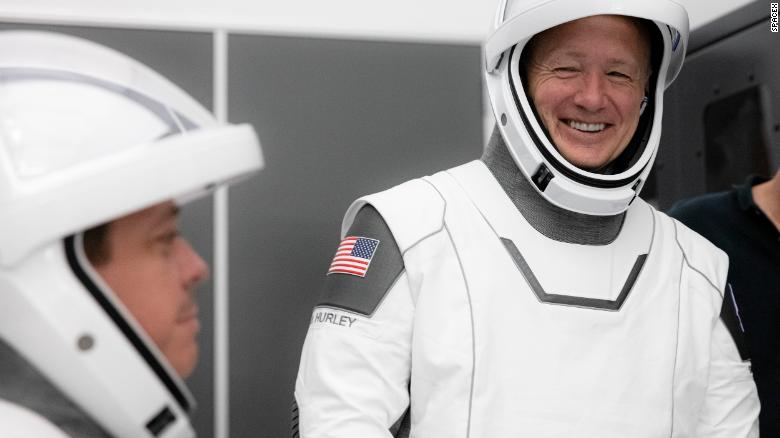 In March, SpaceX and NASA teams executed a full simulation of launch and docking of the Crew Dragon spacecraft, with NASA astronauts Bob Behnken (left) and Doug Hurley.
Two veteran astronauts: Robert Behnken, 49, and Douglas Hurley, 53.
They work for NASA, but they've worked closely with SpaceX and have been trained to fly the Crew Dragon capsule, which will become only the fifth spacecraft design — after the Mercury, Gemini, Apollo, and Space Shuttle vehicles — that NASA has certified as safe enough for humans.
Behnken and Hurley both began their careers as military test pilots and have logged hundreds of hours piloting supersonic jets. They also both flew on previous Space Shuttle missions. When NASA selected them for this mission in 2018, it continued a long lineage of military test pilots who were deemed to have the "right stuff" for groundbreaking moments in human spaceflight history.
NASA wants to keep Behnken and Hurley on the space station until another Crew Dragon capsule is ready to send more people on its next mission.
The astronauts told reporters last week that they're expecting to spend one to three months in space. The maximum length is 110 days, according to NASA.
When Behnken and Hurley return home, they'll board Crew Dragon, journey back through the atmosphere while the vehicle deploys parachutes and then land in the Atlantic Ocean.
Crew Dragon
It's a gumdrop-shaped capsule that measures about 13 feet in diameter and is equipped with seven seats and touchscreen controls.
Crew Dragon and the astronauts will ride into orbit atop a SpaceX Falcon 9 rocket, and the astronauts will board the vehicle the day of launch using an aerial "crew access arm." After the rocket fires the Crew Dragon into the upper atmosphere, the spacecraft will separate and fire up its own thrusters to begin maneuvering toward the space station.
The Crew Dragon capsule is fully autonomous, so the astronauts will mostly need to just monitor the systems and keep in touch with mission control unless something goes awry.
About the liftoff
The Crew Dragon will be pushed into orbit at 17,000 mph. At approximately 11:30 a.m. EDT on Thursday, May 28, the crew will rendezvous with the ISS. Docking is done automatically, but the crew can take over if they need to.
SpaceX launch may be impacted by tropical disturbance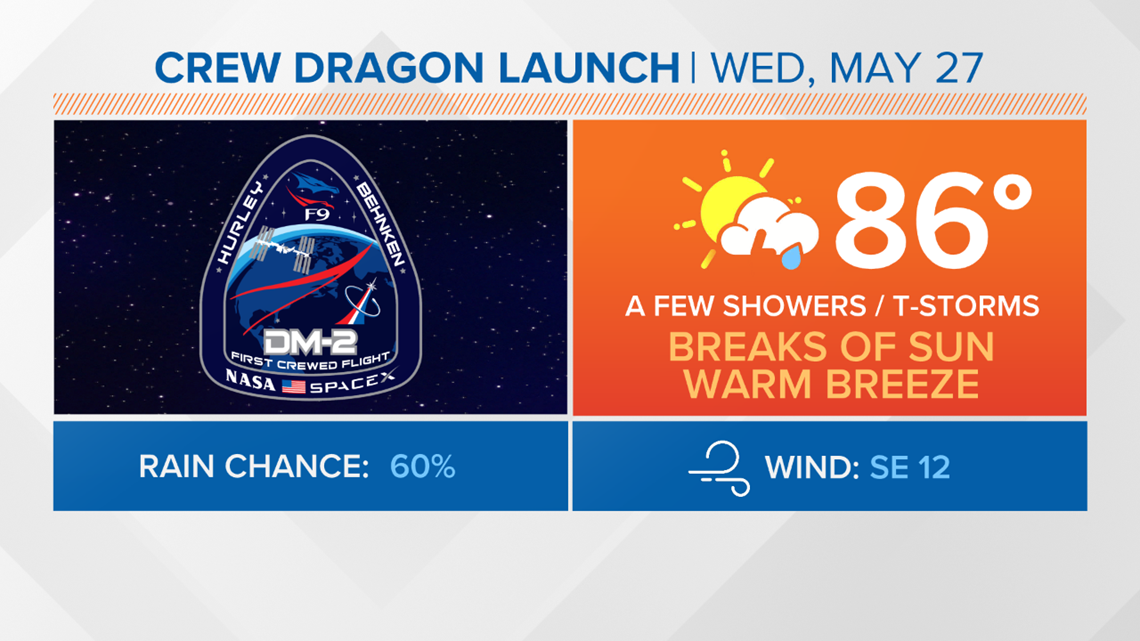 Breaks of sun with a solid chance for some showers and thunderstorms. Photo credit: Credit: wtlv weather
A total of 2 to 6 inches of rain will help the drought situation in the Sunshine State, but also will cancel a lot of outdoor events and possibly delay the SpaceX launch on Wednesday, Fox News reported.
Forecasters put the odds of acceptable launch weather Wednesday afternoon at 40 percent, but that doesn't include the conditions up the U.S. and Canadian coasts and across the sea to Ireland.
Hans Koenigsmann, a vice president for SpaceX, told the Associated Press the launch control team will incorporate global weather patterns and models to determine whether it's safe to launch.
While WTSP said Space Force forecasters as of Monday afternoon predict 60-percent "go" conditions for the 4:33 p.m. Wednesday liftoff from Kennedy Space Center's Launch Complex 39A as Florida's summer-like showers and storms could put a damper on the day.
The SpaceX Falcon 9, with the Crew Dragon spacecraft on top of the rocket, sits on Launch Pad 39-A May 25, at Kennedy Space Center, Fla.
"If the weather gods are working with us," Koenigsmann said, liftoff will occur at 4:33 p.m. SpaceX has a split-second launch window.
Back up plan for SpaxeX launch time
According to First Coast News SpaceX has set two backup launch times for this weekend.
It's why the U.S. Air Force 45th Weather Squadron is predicting a 40% chance of favorable weather conditions - with the primary concern being precipitation and thick/dense cloud coverage during flight.
It would be easier to plan the launch around the weather, sure, since it plays such a critical role. However, launches like this are planned around a specific window of time in the Earth's orbit around the sun, it's rotation, and the position of the International Space Station as it orbits Earth. Believe it or not, astronomy is much more exact than meteorology, so launch dates can be planned months, if not years in advance.
The first is Saturday, May 30, at 3:22 p.m.
If that one is also postponed, then it will move to Sunday, May 31, at 3:00 p.m
Lyan Vu