How to Live Stream Brooklyn Nine-Nine season 8?
Brooklyn Nine-Nine's final season is out. Here's a closer insight into the latest update of the series and how to stream it from all over the world.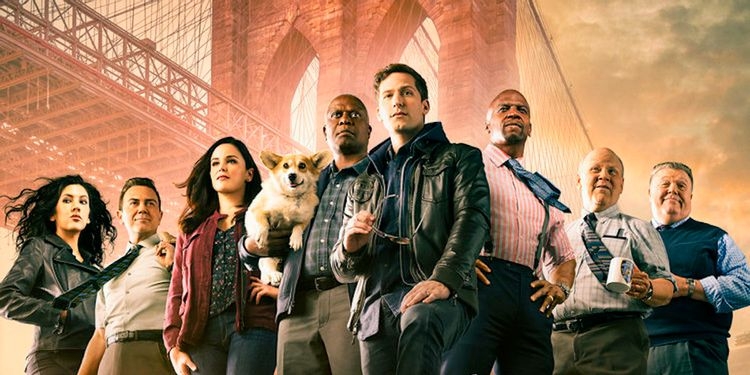 Photo: NCB
The final season of the hit series Brooklyn Nine-Nine comes to television on August 12th, 2021. The show stars Andy Samberg as the fun-loving detective, Jake Peralta.
Jake and the rest of his co-workers in Brooklyn's ninety-ninth precinct have brought joy to millions for the past decade. They've survived cancellation, switching networks from FOX to NBC, and will finally ride off into the distance like Alan Ladd in Shane. The final season of Brooklyn Nine-Nine is bittersweet, but we can't see what the team behind the show has in store.
This pandemic has changed how we consume entertainment. Movies are going to streaming services, the Olympics aired on Peacock, and we still have good old basic cable. Today, we're going to explain the various ways you can watch Brooklyn Nine-Nine Season 8.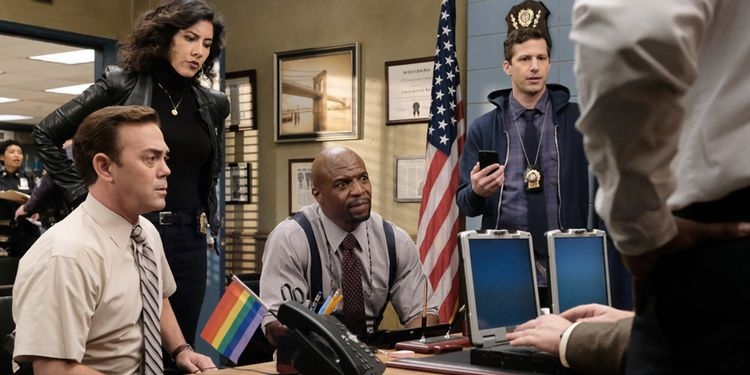 Photo: Collider
What Is Brooklyn Nine-Nine About?
Writers Michael Schur and Dan Goor conceived the idea of the comedy during their time working on another NBC hit, Park and Recreation. Oftentimes television highlights the dramatic elements of being a police officer, so Schur and Goor thought it would be interesting to approach the concept from a more comedic angle.
As reported by Collider, the series takes us into the lives of Detective Jake Peralta (Samberg) and his colleagues. Whether they're pursuing the Pontiac bandit, going undercover, or just having fun in the office, the officers and detectives of the Nine-Nine know how to have a good time. Alongside Samberg, the show features the incredible cast of Melissa Fumero (Amy Santiago), Jo Lo Truglio (Charles Boyle), Stephanie Beatriz (Rosa Diaz), Terry Crews (Lt. Terry Jeffers), and Andre Braugher (Capt. Raymond Holt).
Much like Parks and Rec, Brooklyn Nine-Nine manages to balance its cast's goofy, immature antics with solid character growth and maturity. The cast really brings these characters to life, and that balance of heart and humor is what makes the series so special.
How to catch up on seasons 1-7?
The first seven seasons of Brooklyn Nine-Nine are available to stream on Hulu and Peacock Premium.
How many episodes will be in season 8?
Brooklyn Nine-Nine Season 8 will be significantly shorter than the previous seasons, with only ten episodes.
What Is Season 8 About?
We don't have much information regarding storylines or plot details, but we know that the season saw a major overhaul last year. In the wake of George Floyd's murder, writer Dan Goor felt they needed to start from scratch after conversations with the cast and crew. The series follows a group of police officers, captains, and detectives. The subject of police brutality is unavoidable for the series.
Actor Terry Crews said: "We've had a lot of somber talks about it and deep conversations, and we hope through this we're going to make something that will be truly groundbreaking this year. We have an opportunity, and we plan to use it in the best way possible. Our showrunner Dan Goor, they had four episodes all ready to go, and they just threw them in the trash. We have to start over…."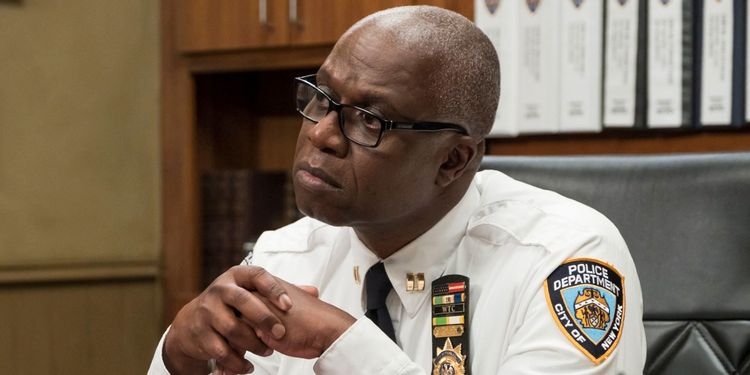 Photo: Collider
How to watch Brooklyn Nine-Nine season 8 from anywhere on Earth
Just because NBC isn't available everywhere doesn't mean you need to miss Brooklyn Nine-Nine season 8 if you're away from home. Watching along with the rest of the internet can be pretty easy. With the right VPN (virtual private network), you can stream the show from wherever you go, according to Tom's Guide.
Not sure which VPN is right for you? We've tested different services and our pick for the best VPN overall is ExpressVPN. It offers superb speeds and excellent customer service.
Using a VPN is incredibly simple.
1. Install the VPN of your choice. As we've said, ExpressVPN is our favorite.
2. Choose the location you wish to connect to in the VPN app. For instance if you're in the U.S. and want to view a U.K. service, you'd select U.K. from the list.
3. Sit back and enjoy the action. Head to your website or streaming service of choice and tune in.
How to watch Brooklyn Nine-Nine season 8 in the US
In the U.S., fans can watch Brooklyn Nine-Nine season 8 premiere with two episodes today (Thursday, August 12) at 8 p.m. ET on NBC.
After that, two episodes will air weekly on Thursdays.
NBC can be accessed with one of the best TV antennas or through a cable TV package.
If you've already cut the cord and don't have cable, you can watch NBC on a live TV service, like Sling TV, FuboTV, Hulu With Live TV, YouTube TV and AT&T TV Now.
Of these options, we recommend Sling and FuboTV, two of the best streaming services on the market.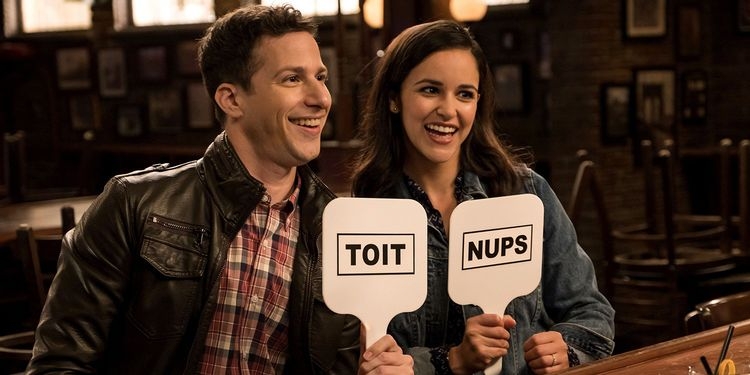 Photo: Collider
How to watch Brooklyn Nine-Nine season 8 on Peacock and Hulu
With Peacock Premium you can catch up on the previous seven seasons of Brooklyn Nine-Nine, plus watch new episodes the day after they air on NBC.
How to watch Brooklyn Nine-Nine season 8 in the UK
Good news and bad news for Brits. In the past, Brooklyn Nine-Nine has aired on E4, and it's likely that will be the same case with season 8.
However, E4 hasn't yet announced the UK premiere date. It may be a few weeks or months after the U.S. debut.
For Americans abroad who want to use the services they already pay for, check out ExpressVPN.
How to watch Brooklyn Nine-Nine season 8 in Canada
Canadians can tune into Brooklyn Nine-Nine season 8 on CityTV the same day and time as American fans. So, the first two episodes air Thursday, August 12 at 8 p.m. ET.
Brooklyn Nine-Nine season 8 cast
All of the main Brooklyn Nine-Nine cast members are returning for the final season, including:
• Andy Samberg as Jake Peralta
• Andre Braugher as Raymond Holt
• Melissa Fumero as Amy Santiago
• Joe Lo Truglio as Charles Boyle
• Stephanie Beatriz as Rosa Diaz
• Terry Crews as Terry Jeffords
• Dirk Blocker as Michael Hitchcock
• Joel McKinnon Miller as Norm Scully
Former series regular Chelsea Peretti is back as Gina Linetti, who departed the precinct in season 6.
Fans will also be happy to see some familiar faces: Craig Robinson as Doug Judy, Peralta's nemesis-turned-friend; Nicole Byer as Trudy Judy, Doug's shady sister; and Jason Mantzoukas as the unpredictable Adrian Pimento.