Speeding Up Vaccine Coverage Rate Among Ethnic Minority Community In Lam Dong and Dak Nong
Thousands of people from ethnic minority groups across Vietnam have accessed to Covid-19 vaccines, showing attention of the Party and the State paid these vunerable minorities living in the most remote parts of the nation.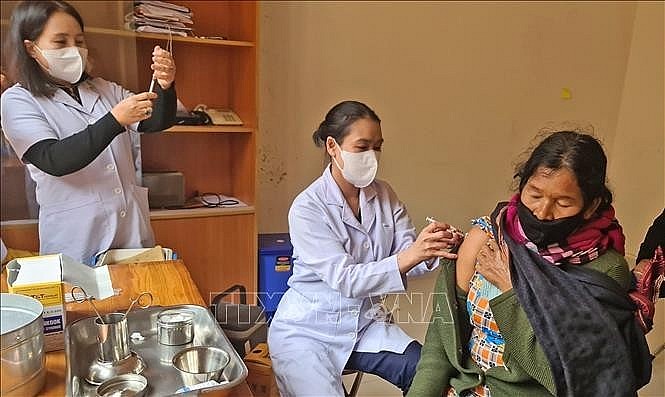 An elderly in Dung K'No Commune, Lac Duong District, Lam Dong Province, gets vaccinated. Photo VNA
Increasing vaccine coverage in Lam Dong's ethnic minority areas
After returning to normalcy and reopening socio-economic activities, the number of infection cases in the Central Highlands province of Lam Dong has constantly increased and reached over 4,000 cases as of early December.
Local authorities have focused on the pandemic prevention and control work and accelerated the second dose vaccination campaign, especially for local people in remote and ethnic minority areas.
In Tam Bo - an ethnic minority commune in Di Linh District, Lam Dong Province, local people have been instructed to submit necessary documents at the vaccination venues and keep their distance while waiting for health screening and consultation before vaccination.
K'Duong, a kindergarten teacher in Hamlet 4, Tam Bo Commune, has just been administered the second vaccine dose.
She said she felt happy receiving the vaccine. As a teacher who has to interact with children very often, she feels safe with full doses of vaccine to reduce transmission risk for her students who have not been vaccinated.
Nguyen Thi Ngoc Tuyet, head of Tam Bo Commune healthcare center, said Tam Bo was home to a large number of ethnic minority people. To meet vaccination progress, the center has cooperated with the village's healthcare network to encourage people to get vaccinated.
The health station has instructed local people with measures on how to prevent the virus in their living areas, Tuyet said.
According to Di Linh District's healthcare center, as of November 8, more than 130,000 vaccine doses have been administered in the district. About 98.48 percent of the population aged over 18 has received the first dose. The second dose coverage rate has been more than 50 percent.
From November 12, the district's authorities have continued the vaccination campaign for all residents in 19 communes and towns.
Dr. Le Thanh Quang, director of Di Linh District healthcare center, said that if there were enough vaccine sources, it was expected that by the end of November, the locality would achieve a vaccine coverage rate of over 90 percent of the population aged over 18 years old.
"We have mobilized more human resources to remote communes, ethnic minority areas and arranged more vaccination venues in densely-populated towns and communes to ensure that averagely about 10,000 doses per day are injected," Quang said.
According to Lam Dong Province's health department, as of mid-November, more than 1,5 million doses of Covid-19 vaccines have been provided to the province.
Local authorities have completed 20 vaccination phases and are continuing the 21st phase for people in all 12 districts and cities.
It was expected that at least 80 percent of people aged over 50 would receive full doses in November.
Excited over vaccination
The Central Highlands province of Dak Nong is home to nearly 213,000 ethnic minority people, accounting for 31 percent of the province's population.
Ethnic villagers across the province are all excited about being vaccinated against Covid-19.
The attention of the Party and State, as well as all-level authorities, have granted strength to the community to get united in the fight against Covid-19, stabilize their life and production in the new normal.
Over the past few days, Ea Tling Town healthcare center has been always crowded with local people coming to get vaccines.
From early morning, ethnic people of Ea Tling Town have lined up in order to wait for their vaccine turn.
Holding a vaccination certificate in his hands, Y'Bhit Niê KDăm, an elderly in Ea Tling Town, said before he got the vaccine, he felt excited but nervous. After careful health screening without any problem, he felt calm.
"After getting the vaccine, I felt safer. When in contact with many people, I still adhere to wearing a mask.
"My family has five members, four of whom have been vaccinated. Only one 13-year-old child has not.
"I hope the State will soon cover the vaccine for all population so that everyone feels safe. I also hope that the pandemic will be soon pushed back so that we can return to normal life," he said.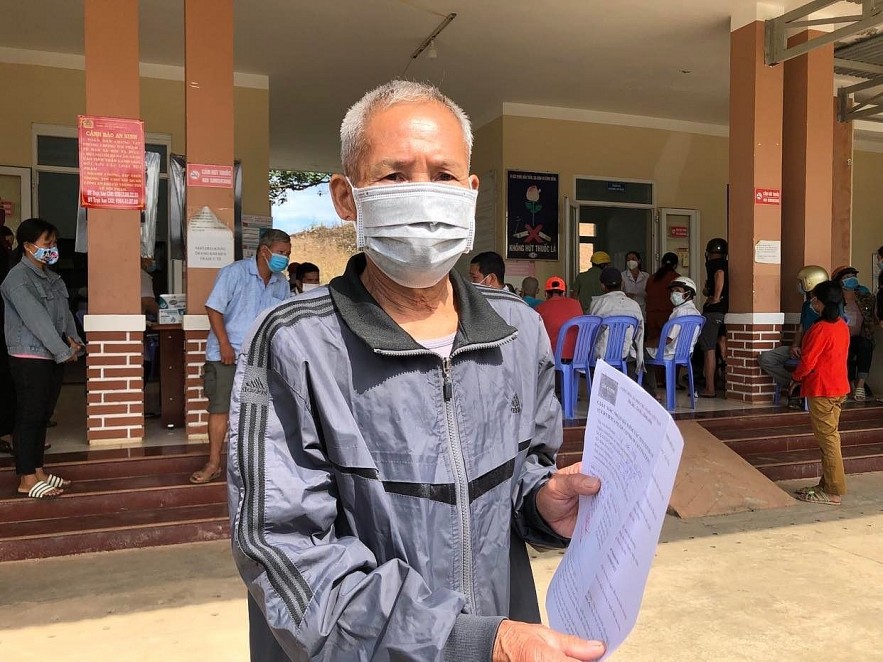 Vu Van Dat feels excited and safe after getting a vaccine dose. Photo Vietnam Times
Vu Van Dat, 54 years old, from Mong ethnic group in Cu Jut District, said he was worried watching TV reports on an increasing number of local cases among ethnic minority communities over the past time.
"Four adults in my family have been vaccinated. Now we feel safe each time we go out or work on the field," he said.