Vietnam Temporarily Accepts Vaccine Passports from 72 Countries, Territories
Vietnam has temporarily accepted Covid-19 vaccine passports from 72 countries and territories.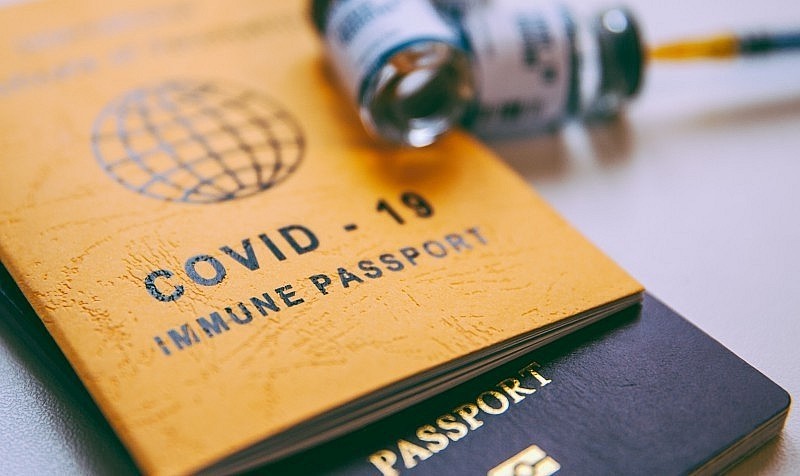 Vietnam is temporarily accepting vaccination certificates, also known as "vaccine passports", from 72 countries and territories. Photo: Regulatory Review
The country is also discussing the matter with 80 others, spokeswoman of the Ministry of Foreign Affairs Le Thi Thu Hang said at a press conference on October 21.
"Vietnam is temporarily accepting vaccination certificates, also known as "vaccine passports", from 72 countries and territories that have been recommended to the Ministry of Foreign Affairs through representatives," Hang said while responding to queries about Vietnam's policies and measures to allow fully vaccinated foreigners to enter the country.
She cited the Government's Resolution No. 128/NQ-CP dated October 11 regarding safe, flexible adaptation to and effective control of the pandemic.
People traveling from overseas with documents showing that they have either been fully inoculated or recently recovered from Covid-19 can enter Vietnam and would undergo seven-day quarantine at concentrated establishments in line with regulations set by the Ministry of Health.
The foreign ministry is also discussing with nearly 80 partners about for the mutual recognition of vaccine passports, she said, adding that in fact, Vietnam's vaccination certificates have also been accepted by certain countries and can be used to enter those countries.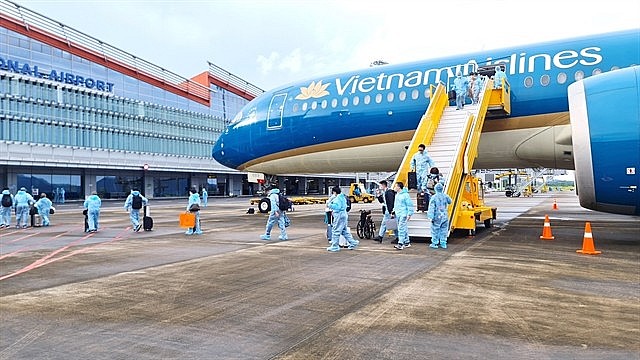 Vietnamese nationals from France arrived at Van Don International Airport in Quang Ninh province under a trial programme in September. Photo: VNA
Under the Prime Minister's instructions on facilitating the travel and work of foreign laborers, experts and investors and other specific groups, the foreign ministry has also consulted ministries, agencies and local authorities, and proposed competent agencies further ease the approval process for the entry of foreigners into Vietnam, especially the process of granting visas to take into account vaccination certificates, Hang said.
This would mean more streamlined administrative procedures and further decentralization of the authority within the apparatus, she noted.
Last month, Van Don Airport in the northern province of Quang Ninh welcomed several flights with vaccine passport holders on a trial basis, allowing hundreds of Vietnamese from the US, France and Japan to return home.
All passengers were fully vaccinated and in good health conditions, and presented coronavirus negative test results done within 72 hours before their departure.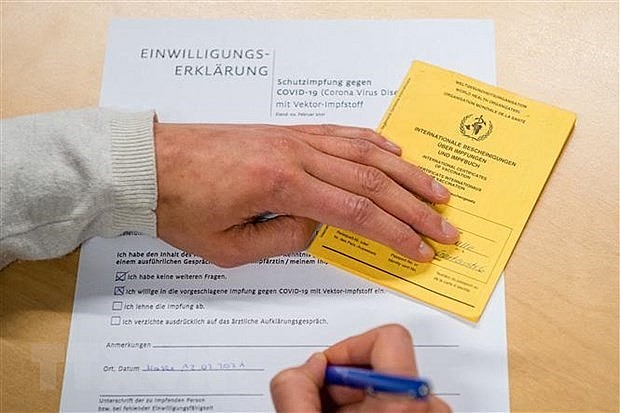 Vietnam temporarily recognizes vaccine passports from 72 countries and territories. Photo: AFP
The list of 72 countries and territories whose Covid-19 vaccination and recovery certificates currently accepted by Vietnam: Poland, UAE, South Korea, Kazakhstan, Mongolian, Oman, Thailand, Romani, Japan, New Zealand, Sri Lanka, Czech, Morocco, Arab Saudi, Armenia, Germany, Russia, United Kingdom, Austria, Norway, Sweden, Israel, France, Turkey, Azerbaijan, India, Switzerland, mainland China and Taiwan, Pakistan, Ireland, Greece, Kuwait, Colombia, Netherlands, Australia, Finland, Hungary, Belarus, Cambodia, Algeria, Indonesia, Nepal, Mexico, Bolivia, Croatia, Iceland, Portugal, Turkmenistan, Palestine, Qatar, Libya, Egypt, Timor Lest, Ukraine, the Philippines, Malaysia, Luxembourg, Argentina, Jordan, and Brunei.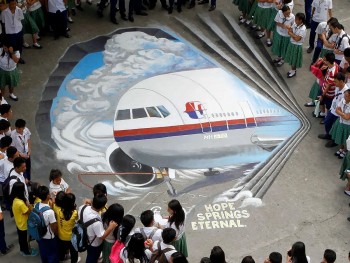 World
The world might never know what really happend when these planes went off the radar. Let's take a look at some of the unsolved mysteries of aircraft disappearances.